Our current rising music artist always comes with a little extra. Meg tha Stallion is getting her degree in health administration, and Lola Monroe started her company, Blue Rose Dynasty. So, it was refreshing to speak with Typhanie and hear how she was also breaking the box wide open. From the DMV area, this rising female artist and entrepreneur display dominant creative and business operations skills. Her passion opens the door for the incredible work ethic she portrays. We chatted about her elegant cannabis brand and her rising music fame.
I've never seen Typhanie spelled like yours, which is really cool. How are you? How are you feeling?
I'm pretty good. Got a good productive start to my day. I just hate that the weather's all dreary. I'm in the DMV in Silver Spring right now. How are you today? 
I'm good. Let's jump right in. I love the entrepreneurial and creative side of you. I'm pretty sure that can bring challenges. What made you want to attack two different industries at once?
Yeah, honestly, doing them at the same time wasn't intentional, but I was already doing music. Right at the start of quarantine, I just had this idea to do it. It really started off as a way to replace one of the little rose boxes that I had got a while ago, with the Everlasting Roses. So, I'm looking online trying to replace it. And I'm like, 'Oh, these are expensive. Let me just get into making those.' But I knew I wanted to make it different. I need to add something that I also use a lot that goes with roses. And I was like, you know what? I've tried smoking out of rose petals plenty of times before and I loved it. 
Let me try to make an easy way to use organically for people to have access to this instead of using pesticide roses from the grocery store. So, that's what made me want to get into it, making it accessible and easier to use for people to actually enjoy smoking out of roses, instead of backwoods and/or papers.
Explain exactly what the product is used for.
So, Canna Rosa, are organic rose petals dried out, cured in order to be smoked out of. Whatever herb of your choice. The organic rose petals are either rolled into shells with glass tips for you to stuff your own cannabis into. Or they come in paper versions that you can roll your own cannabis into as well. 
So, it's for your smoking. I just happened to package that along with the Everlasting Rose petals because I really love the rose arrangements. You can get them separately, or together. It's really up to the person that's buying.
That's been really dope. That's really awesome. So, talk about what was it like to create this product? What did you struggle with? What was really easy?
I'm not a scientist. So, finding out a way to increase the shelf life of this product without turning it from something that is organic to something that is not has been the hardest part. 
But other than that being a graphic designer that specializes in brand development was a really big plus for me. One of my minors in college was graphic design. I knew how to design my own logo and packaging. I knew how to do a lot of what is the hardest part for people, which is developing your brand identity. 
That's awesome. Women have it hard in the cannabis industry. What's something that you've realized, when it comes from both sides, cannabis and entertainment are things you struggle with?
They're both male-dominated industries. It took gradual steps to let women have a big platform in the music industry. I think they're going to have to be gradual with cannabis as well. But I think what's beneficial to me about both of those is that I have friends that have good footprints in both industries, so they're helping me off away and figuring that out. 
Because either way, male or female, it's hard to navigate through either industry on your own. So, it's especially helpful to have men in the male-dominated industry that are willing to genuinely help. 
I love that. What is something that you've noticed, regarding the public's opinion of the fact that you do cannabis and music?
Their opinion towards music and cannabis is a little bit varied, they're never really, aligned with their opinion, I would say. Whenever people meet me and see me, and I tell them I'm an artist. They just assumed, 'Oh, yeah, you're a singer.' I'm like, 'No, I'm a rapper'. 
Then it's, 'Oh, okay, what kind of stuff you do'? They're always downplaying it until they hear me rap, 'Oh, okay, so you can rap-rap?' I don't play around. 
I always find sometimes some men are intimidated by a woman that's in the music industry, that's also an entrepreneur with her head on her shoulders. What is it like building your team with women?
Honestly, it's a struggle to have women gravitate towards being on the team. I could just be grasping at straws here. But I think a lot of women want to be so singularly independent, that they don't really gravitate towards helping other women. You know, and it's just a feeling that I have personally.
I don't know if that's how it is across the board. But that's just how it seems.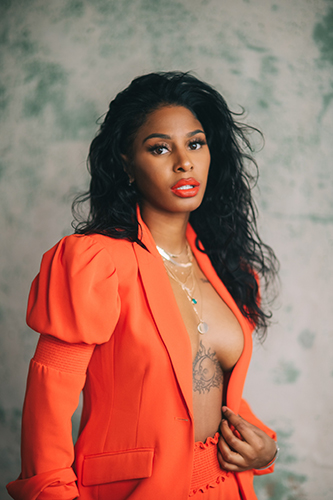 Let's talk about your music. How long have you been doing music? What's the passion behind it and, what inspired you to go towards it?
So officially, I've been doing music, 3 years now. I developed to where I am now over that time span. It started with the studio, right into my team studio. I really started off just working there out of college, like as a creative coordinator, and got familiar with a team and their actual recording session. 
First, I would write poetry. Then I said to myself, 'All these female rappers coming out? I feel like I could do this'. First, we were playing around in the booth. My rap wasn't really good at all, but the lyrics were there. So, they worked with me on delivery and cadences and helped polish me. 
We are still developing different sounds for me and try to push the envelope a little bit more in my direction. So that I can find a sound that is very much Typhanie & Co.
What's separating you from these other female artists?
I think a lot of female artists come into the game with this preconceived notion of what rap music needs to sound like. They either need to sound, as good as those that are out there, trying to mimic what men are doing. To me, I'm not hearing a lot of new sounds come out of women's music.
There are anomalies where people do sound new, and they do sound different. They are presenting something a lot of people haven't heard before. I think women are getting comfortable in this musical box. Whereas, I'm really trying to push the envelope in a lot of different directions. And it takes a lot of patience. It takes a lot of trial and error. 
I'm trying to see what I can do way different than what everybody else is doing. Presenting a story that's more emotional, not hardcore. I don't want to be emotional in my music all the time, I want to talk about uplifting things as well. I love the WAP, I love the City Girls. There's enough of that, personally, I'm not trying to emulate those kinds of things. I'll listen to it, party to it, but I want to make something a little different.
So, is that what you did with Double Tap? 
Double Tap was me breaking out of the cookie-cutter rap that I was starting off doing because I was just trying to learn how to rap. I was doing what I thought I was supposed to do. So, with Double Tap, I push the envelope a little bit more.
Doing these freestyles and seeing how many different ways I can flow on different types of beats and how many different energies I can present. It was really experimental for me. I think I did want to see how many different ways I can do it versus what's out there. So, Double Tap is a collection of a variety of sounds for me.
So, let's talk about some music that you want to develop in the future. What are sounds that you're trying to incorporate now, that you want to do in the future?
Right now, I'm really getting a little more in touch with my R&B side. I'm not the best vocalist, but when I do try it ends up coming out good. 
I feel like working with a great person to push the envelope with my rap and add that R&B flavor to it. The-Dream, he's so creative in the R&B side of things. He would be a great person to push the envelope with my rap and add that R&B flavor to it. So, I would just imagine combining that sound with mine. I think that would be really hot.
What's some feedback that you received from your music and things that they said, these are your best assets or these are things that you need to work on?
A lot of people really love the word play. The lyricism that I provide is not, Cat in the Hat type of raps. I would say areas of improvement, are switching up cadences and getting comfortable on beats that aren't so cookie cutter.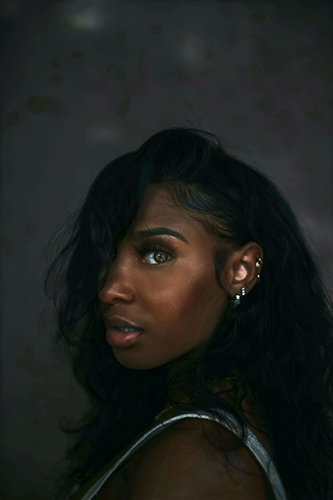 What type of artists do you want to collab that you think that can give you that R&B hip hop vibe other than The-Dream? Maybe, rising local and then some big artists.
Some local artists I think Phil Ade. He does an excellent job at combining rap and R&B sounds. He's probably my favorite local artists right now, to be honest. I would definitely collab with him. 
Some other artist: 6lack, I know his name is 'slack' but we don't call him 6lack. I would love to work with him. Working with some straight-up R&B artists like Brett Fiaz, Lucky Daye, or even Ari Lennox. Summer Walker I love combining those styles. 
So, 'What's the legacy?', I always end my interviews with this because I think that this is very important. I like to ask, what's the legacy that you're trying to create?
The legacy that I really want to have for myself and that has always been a thing is that I can and will do any and everything that I want to do. I want to dominate every lane that I choose to be in. I want to dominate music as much as I can. Dominate any brand I launch. If I want to do a clothing line, I want to do it. If I want to launch a hemp line, I want to do it. I can do whatever I want and it's going to be great. That's the legacy that I want to establish for myself. Like, she's good at that but she's good at this and this too. You're not going to put her in a box.
Anything else you want to leave us with?
Check out Double Tap because it is still out you know, and then just check out the rest of our music that I have. Canna Rosa launched on my birthday March 25. So, I'm excited about that. Just check out all the greatness I have to come. 
This feature was submitted by Nia Rice
Tanzania "Nia " Rice was born in the Washington D.C. area and currently resides in Los Angeles California. For the past 8 years, she's told stories for musicians, cultural leaders, entrepreneurs, and more. She's confirmed her love by becoming a 2x author of "Eventproof", list in Huffington Post as the Nation's top 25 Rising Publicist and stepping on red carpets for box office films. She's curating the life she wants, to assure your story is told flawlessly.
All images by Shaughn Cooper