A real and relevant address to the civil unrest in our nation, the preservation of life,
reconciliation, the election, and dignity to heal the racial divide.
In a time of great social unrest and uncertainty, Evangelist Dr. Alveda King, the niece of the late great Reverend Dr. Martin Luther King Jr., and entrepreneur, Ginger Howard, offer the world a beacon of light with their latest literary work, We're Not Color Blind: Healing the Racial Divide. Sheen Magazine Associate Editor, Eboyne' Jackson, had the immense privilege to speak with the dynamic pioneers about their stance to bring healing to race relations with prayer, their latest book, and address the state of the world, and Why Trump.
Alveda, it's obvious that you don't walk in fear and you are not a follower, in your support of the Republican party. Despite adversity, you stand for what is right, and in the likeness of your rich family heritage….In such highly racial tensions, and knowing your family history, how do you use your influence/acceptance of President Donald Trump with those that are stereotyping Trump as a racist; when you come from a lineage that has fought racial divides and tensions?
Alveda: Let me explain that in 2020… As far as politics go, the upcoming election and all of that; I am not an advocate of the Republican Party. I vote for President Trump, I pray for President Trump, I am a Fredrick Douglas Republican. However, the issues that we're faced with transcends politics…The life of a baby in the womb, the civil rights of a little baby in the womb, can not be regulated to a political argument, it's higher than that. The sanity of human marriage where one man marries one woman, and they conceive children and raise children…Gives you a piece of society that will have children that will come on and grow up and keep the generations growing; so those are not political issues. They have been made into political football, but they're not supposed to be political football. I do have a new book out, Why Trump, and another book that I co-wrote along with Ginger Howard entitled: We Are not Colorblind: Healing the Racial Divide. Too many things have been regulated in color amongst ethnicity; not race. There is only one human race.
Beautifully said, and I totally agree with you. Knowing the history of how your uncle, Reverend Dr. Martin Luther King Jr., who was the forerunner of civil rights marches, and was very successful with peaceful protests, what are your thoughts on the current civil unrest and approach of the Black Lives Matter Movement?
Alveda: The history of my Uncle, Reverend Dr. Martin Luther King Jr.., and my Grandfather, Reverend Dr. Martin Luther King Sr.., and my Father, Reverend Alfred Daniel Williams King, were all baptist preachers during their lifetime, and were African American men with ancestry out of Ireland and Africa. My dad married my mother whose ancestry is part native american. When Colin Kapernick took the knee, he started a huge controversy in America as to whether or not you have to take a knee during the national anthem…I said, 'Don't jump on Kapernick too hard alright, because at least he's non violent, He is protesting peacefully.' I said he's got the method but he does not have "The Message." Martin Luther King Jr., my dad, and many others during the Civil Rights Movement of the 1960's, me included, I was a teen youth oranzigatior, during that movement. When we knelt, we prayed. God Forgive us, We stand, The nation's in trouble, fix us, and fix this nation. So that's what was missing, in the method of what Kapernick did. So when you have a protest and it is not peaceful, it is evident that the protestors are not praying and seeking direction from God.

What are some of the fondest memories of your uncle, Dr. Martin Luther King Jr?
Alveda: I have so many childhood memories and young adult memories…In fact, I was married the year after my uncle, Reverend Martin Luther King Jr. was killed, and so I became a young lady in the civil rights movement. I remember the church services the most, the family opportunities, and times together and at their homes…The home of Martin Luther King Jr., and Coretta Scott King in Atlanta, and it was an absolutely marvelous time when we as a family got together. I was a junior bridesmaid in my Aunt Christine King Farris's wedding. She married Isaac Farris Sr., and my uncle and my daddy, Alfred Daniel Williams, and Martin Luther King Jr., performed the wedding ceremony.
Absolutely beautiful memories! Can you please share your experience at the Prayer March 2020.
Alveda: I attended, but Ginger did not. Ginger was on the Women For Trump Bus Tour that weekend. So I attended, and we stood in front of the African American History Museum and I was able to pray at that station.The museum was behind us, and the mall was in front of us. The whole experience was wonderful together, and there were hundreds and thousands of people, and it was incredible and fascinating because the march was encapsulated in the middle of the Return. So you had this return day of repentance. I spoke at both events, one by video and one physically. But I was there with boots on the ground and to be with Christians praying for America, repenting for our own sins; it was incredible, absolutely marvelous.
Is there anything you'd like to say to the African American community, and also people in general, about this next election, and the importance of voting?
Alveda: I am 70 years old, my 70th Birthday is January 22, 2021, but the 9 months in the womb have given me 70 years of life as I speak to you now. In this particular election, we are dealing with the freedom of a nation, the constitution of the United States that says that "All men are created equal, and I would say that all people are equal regardless of skin color denoting ethnicity." So our religious freedom, our economy, which President Donald J. Trump; there are many good things I could say about him, but I once said he's like a bull in a China shop, and God said: 'Bulls are good magnificent creatures and China is fragile.' The bull represents a strong economy and President Donald J. Trump stepped into that office, and wrestled with an economy, and we've had the strongest economy that America has ever known in a long time if ever; and the growth in unemployment rates for blacks, the black high employment rates for jobs are back, families being reunited through the criminal justice reform, and on and on. So we as Americans, and I'm not going to say black Americans, White Americans, Red or Asian and all of that… no, no, no, as Americans. Except for the native americans we were all immigrants when we came to this country. Everybody who came here was an immigrant. So My Uncle, Dr. Martin Luther King Jr., and brothers and sisters we need to unite and vote for life, from the womb to the thumb, and liberty for religious freedom for people who don't have any. So this is the time to actually vote. Voter fraud is a problem, they have been finding hidden ballots in garbage cans and all that, controversial ballots have been sent to people; the real names of cats and dogs and all that. I am not making it up. It's time to pray, and vote, and then pray again.
How did you two ladies meet, and what was the inspiration behind your joint book, We're not Colorblind: Healing the Racial Divide?
Ginger: I met Alveda for the very first time at a Pro-Life Justice Foundation Dinner in Atlanta, and I heard her testimony and it was amazing. I've always been pro-life, and it was so riveting that the very next day, I did my first march for life around the capital, and then I lobbied around our State Senate to vote for Pro life bills because I was so touched by Alveda. We really connected in the spirit realm, and then we just ended up being at the same events, and we would say "hello." Then I had a conservative radio show a few years back, and I invited Alveda to be on the show during the March for Life Week to talk about those issues again, and we bonded on that issue. But Alveda and I really really bonded on August 28, 2017 when she and I were invited to speak at Ebenezer Baptist Church at the beloved Community Talks to discuss women and reconciliation. She and I were the only two true conservatives on the panel, and she especially got a lot of upset comments for her support for our President, and she and I were sitting next to each other and we were holding each other's hands, and I was closing my eyes, praying for the both of us. The next night she said: 'let's keep in touch,' and we exchanged phone numbers. I called Alveda the next day to check on her, and we both really bonded after that, and we both said something needs to be done. We both agreed that there needed to be some kind of racial reconciliation. And then in January, I was invited to speak at Ebenezer Baptist Church, and Alveda was there because that's her family; the church hosts The Martin Luther King Commemorative Service there every year. I just felt a lot of animosity towards me just maybe because of my skin color and because I was a Republician. So I saw Alveda there, and we both agreed again that something needs to be done. Then that night, I literally had a dream in the night that Alveda and I wrote a book on racial reconciliation. I told Alveda and she said a prayer on the phone with me, and within a few hours, God gave her the title of the book and the first eight chapters. And she texted them to me, and I thought: 'Wow, My goodness, this is real.'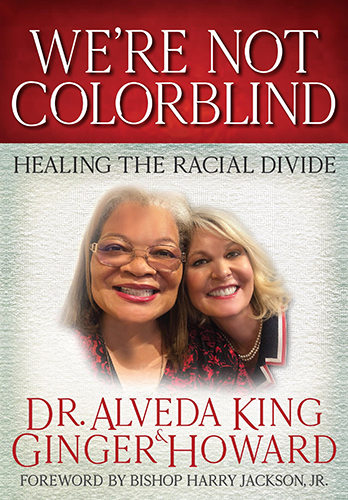 Wow, how supernatural! As a nation, we are in such a great time of civil unrest. What is the depth of the reconciliation process, and what will it bring us?
Alveda: Well, what we have here in reconciliation…My mother would say: 'You remember your daddy used to talk about one blood?' I said: 'Yes mom, that's Acts 2:17-26.' People need to understand that. I have had leaders who have been out giving speeches and they just keep on saying: 'The races need to come together.' There's only one race. The races can reconcile; we need to stop saying the white church, the black church..let us become one race. Because we are one human race, and so it's almost too simple. When somebody says: 'My brother and sister let's sit down and talk, it didn't even say our cousins or neighbor,' but one blood. So if we can start seeing each other as human beings and give an extension of that dignity to each other as human beings, then we won't have as much strife. 
With the current state of the word in the midst of this global shaking of Covid-19, how can we navigate during this time in unity?
Alveda: COVID-19 scared people further. So with fear and terror, it's easier to have anarchy. In February of this year, we were at the White House just before Covid-19 and the shutdown, and President Trump told us there, right in the White House during Black History Month, that 'we will probably have to close down the nation.' Now this was in February, and he closed China. He acted very quickly, so that is a lie that he didn't act quickly. Covid did bring fear. As subtle as it may be–Wearing a man can unify, in other words, if people are complying with the mask requirement, and if I decide not to wear a mask just because I think it's silly, then I am coming out of unity and agreement. Something so simple as being in compliance and caring for your safety as well as others….It is always better to be in agreement with people.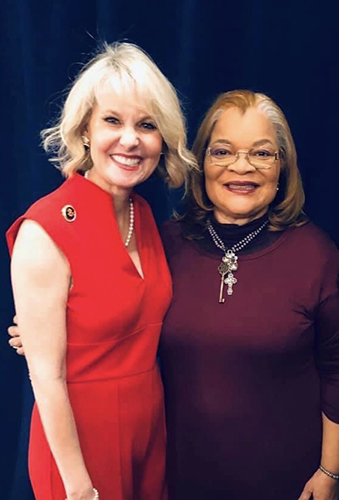 What is your hope? What do you want the reader to talk away from your book "We're not Colorblind: Healing the Racial Divide?"
Ginger: We ultimately want the readers to know that the Lord is the Great Reconciler and he reconciles everyone. Our whole book is biblically based on Acts 17:28. We have next steps, we charge the reader to do something with this book, talk about it, share it with a friend, go to a Bible Study, start a small group. There is a conversation starter at the end of each chapter. We each have a reflection question and have a prayer. So it's not just a conversation between Avelda and I, but for others to have a conversation  as well. That was our prayer, we want others to implement it, not just read it. We want people to see the deeper issues.
Alveda: There are people who are Democrats that are still voting for Trump. We pray that as you read We are Color Blind that your heart is stirred, and come to realize that we really are just one human race and one blood, and to start acting like it.
Keep Up with Alveda King & Ginger Howard on Instagram. 
Click here for more on We're Not Colorblind.