R&B and Hip-Hop starlet, Vina Love, recently rang in her 25th birthday in New York . There, she debuted her newest single, '#N.S.F', available on all streaming platforms. Listening to the song, it is reminiscent of the likes of Queen Latifah or Lil Kim in its powerful message to gossiping haters. Notably, she has been known as the "Princess of Harlem" throughout her career. In a fitting twist, she sat upon a throne during the event and really celebrated the evening.
Love was raised as the daughter of icon, DJ Kid Capri, but still attended a performing arts school, hoping to mold the knowledge to her advantage. In 2017, she released her first single "Air", later to be remixed by Snoop Dogg himself. She then premiered "Drip" and "Owe Me", displaying her versatility to the robust audience she had accumulated by then. Since this time, she has opened for legends including Fat Joe, Ashanti, Megan Thee Stallion and the infamous Ja Rule to name a few.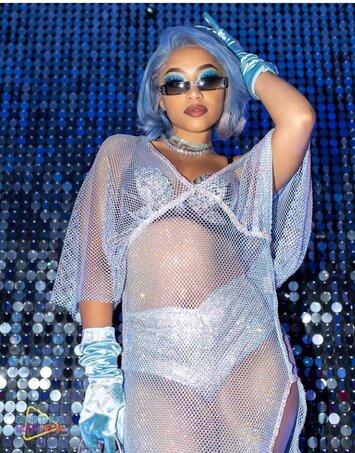 Moving forward, she hopes to create more records with the very label she owns herself, Amore Love Records. Vina Love has guest-starred on the hit television show, 'Love and Hip-Hop NY' solidifying her place in pop culture. When she is not topping the charts, she is partaking in charities such as "Bowling for Peace" and performing to raise money for low income children. Whether she is displaying her talent for the world to see or speaking at a university regarding the dangers of bullying, Vina Love is indeed one to watch. Be sure to follow @vina_love on social media and here.

All images by Something Light Media