The back to school season is quickly approaching.  Many households have begun to prepare for the daily routines, in-person learning, obtaining school supplies and more.  However, this school year will be completely different for our youth and families since we are still in a pandemic.  With our current times it is increasingly important for us to uplift our children.  While it may be challenging for adults to deal with the new normal, it's even more difficult for children to adjust to this new way of life.  Having encouraging and inspirational activity books to uplift our children is a must.  Authors like Lora McClain-Muhammad are a national treasure for our children and our culture.
The Indiana based author created the I Need You To Know series for children.  As a new grandmother, Lora was searching for books that represented her granddaughter.  To her surprise she couldn't find any.  So she created one!  Her first publication was I Need You To Know, The ABC's of Black Girl Magic.  Her second release is I Need You To Know, The ABC's of a Young King's Greatness.  Both titles depict coloring pages for youth that portray the beauty in melanated skin to natural hair types.  Lora's coloring book series is perfect for children of all backgrounds as it illustrates diversity.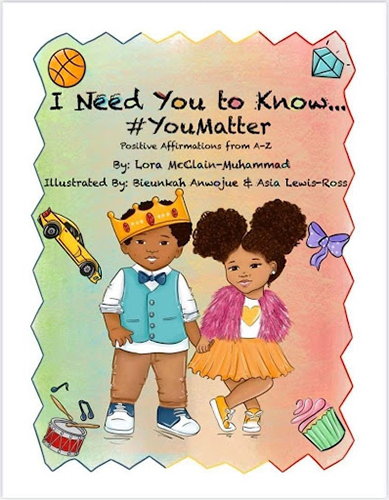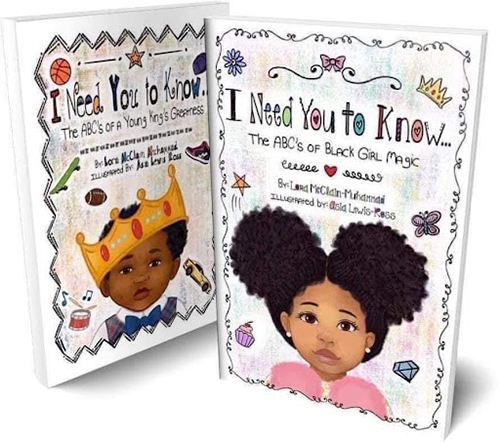 The series is also educational and has positive affirmations from A to Z for children to enjoy. We know that education truly begins at home.  This coloring book series is an empowering act towards educating children everywhere.  Lora also has a new coloring book release titled I Need You To Know…#YouMatter – Positive Affirmations From A to Z that are now available in hardcover format and online for purchase as well.  Lora McClain-Muhammad didn't only create coloring books, she started a movement.  Share these amazing titles with your children, students, patients, friends and relatives as we grow as a culture.  Use these titles to support your child's emotions and self-esteem as they navigate through the new back to school routine.  Connect with Lora McClain-Muhammad online and on Facebook.  Her books are also available on Amazon here. 
Writer, C. Scott, is a mompreneur, social worker, educator and lover of all things literary related.  Follow her online as @curls_coils.  
All images courtesy of Lora McClain-Muhammad