Meet the founder of authentic Skin and Hair beauty brand Wanaaka Beauty, the brand was created during the pandemic last year and has gone onto become a staple favorite with many natural skin and hair care lovers. The brand believes in true hair nourishment and skin radiance are natural and they aim to provide organic products that have been tried and tested to be effective. We speak with the founder Kundayi to talk all things beauty and why she decided to start the business.
Tell us, what inspired you to start Waanaka Beauty, and what does it stand for?
About 6 years ago, I decided to cut my hair, I had not cut my hair since childhood. I wanted to do something different. I cut my hair at the beginning of Summer in 2015 and quite enjoyed having it short and natural, however, I quickly realized that Autumn was fast approaching and as many of my fellow black women would know, the Winter season can be rather damaging to our hair if not looked after. I opted for a protective style and started to explore formulating the "Hair Boost Oil" and was able to grow my hair to more than a length braid-able in just a matter of months. From there I branched out to other products like the Skin Boost Rejuvenating Facial Oil – targeted at acne as I suffered from it since my pre-teens and the Bettering Body butter, which I like to call skin food I formulated for all skin types especially dry and sensitive skin like mine.
In essence the name "Waanaka" originally "Wanaka" means "you've been beautified" in my native language, Shona from Zimbabwe. Waanaka stands for Afrocentric, artisanal, high-performing Luxe whilst natural skincare and hair care for everyone.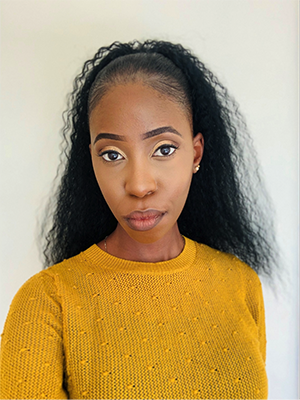 Kundayi, what is your career background, and have you always wanted to be an entrepreneur?
I come from a Legal background, I did my LLB and Postgraduate LLM and went on to work in Law, but funny enough from when I was young, I had always said I wanted to be a lawyer with a business on the side. I didn't exactly know what business I wanted to venture into at the time but after having found something which is personal, more than a hobby, and could potentially help others, being an entrepreneur and starting Waanaka was a no-brainer.
More individuals are becoming conscious of what they put on their hair and bodies, why do you think this is?
I would like to attribute it to the fact that people are now becoming more conscious, in tune, and embracing of their natural selves, individuals do not just consume products with ingredients provided at face value. I think people are now more aware and exploring the different options available. I think this is good because everyone can now find something suited to them and certainly healthier and sustainable alternatives.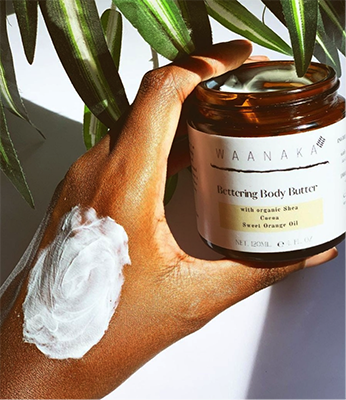 From the range, which is your favorite product and why?
Can I be biased and say everything? (laughs) Well, it is always a tricky one to answer but I'd say the Hair Boost Oil. This is because it is the first original formulation for a product that I created in 2015 and of course it is high performing.
Tell us about the collection briefly?
The collection consists of carefully curated products, I like to call them the essentials because they cover the bases, Hair Oil, Hair and body cleanser, facial oil and body Butter, and lip balm. If you are a no-fuss girl like me then you are simply ready to go!
What distinguishes the brand from other clean beauty brands currently on the market?
The fact that it is personal to me. I usually like to say that my products were made for me, and I only get to show them to everyone. This is different from just looking at what your competitors are doing and simply copying their product line with the formulas thereof. I have used my own products on myself for years and that upholds the quality of my products because I pay attention to every ingredient in the formulation of each product. I don't like to provide my beauties with products that I would not buy.
Since starting your business, what obstacles have you overcome?
The main obstacle is that Waanaka is a one-man-band (laughs). I spearhead everything from the basic admin to ingredient sourcing to formulation, to delivery, to marketing financing and research, product and web design and financing, and so forth. So, it is quite a lot to take on a daily basis.
Where do you see the brand in the next 5 years?
More exposed, a warehouse in London, I would like to see Waanaka in stores, with an Office in Africa, and with that come with employing more staff and creating jobs whilst providing beauty solutions all over the world, one order at a time. A girl can dream, right?
Describe your skincare routine?
Morning: Face wash using the African Black Soap Cleanser followed by a drop of the Skin Boost Rejuvenate Facial oil and a facial mist for hydration, I then use a Facial mist (We hope to have a Waanaka Mist soon)
Night-time: face Wash using the African Black Soap Cleanser, our French Montmorillonite Clay mask-rinse it off then I use a toner (still working on that), and then I gently massage a drop of the Skin Boost Rejuvenate Facial oil.
What has been your proudest achievement so far in the business?
As of today's date, Waanaka will be turning one on the 6th of June, the day we officially launched in 2020. I honestly didn't think a venture I started during the first lockdown when I was online shopping and decide to use the money as capital instead, would reach this far. Because Waanaka is solely managed by me daily any challenge in my personal life affects Waanaka, but we are happy to have reached a year.
You can find the brand here.
All images courtesy of Wanaaka Beauty