Pamela D. Smith is an award-winning, multi-published author, prayer warrior, inspirational speaker, and an award-winning mentor who was recently named one of 11 Women in Marketplace Ministry to watch in 2021 by Sheen Magazine. Pamela was also named one of the 20 top national authors by KISH magazine.
Pamela is also a Licensed Minister and Certified Life Coach who has dedicated her diverse pursuits to elevating the lives of women around the world. She uses her literary talent to evangelize and bring others into the saving faith of Jesus Christ.
Pamela graduated from Louisiana Tech University with an Undergraduate Degree in Liberal Arts. She continued her education and received her Master's in Business Management from AIU University.
Pamela speaks at churches, conferences, corporations, women groups, and book clubs. Her transformational speeches and prayers equip women to become resilient, healed, and whole as they learn how to overcome adversity through the power of prayer.
Pamela has been featured in several magazines, articles, podcasts, and blogs including Sheen magazine, N'style Atlanta, and Houston Style Magazine.
Sheen had the amazing opportunity to speak with this phenomenon of a woman. Listen in….
Please introduce yourself to the reading audience.
I'm a wife, mother, grandmother, author, speaker, Evangelist, and mentor. I'm passionate about inner healing and living on purpose. I have dedicated my diverse pursuits to elevating the lives of women around the world by helping them with spiritual and personal development, helping them heal, and then boldly living purposefully. I love lemonade and my family is my first level of ministry.
How do you define success?
I define success by how impactful I am in the lives of others. As I go around lifting up the name of Jesus, not just in word but indeed, He has promised to draw all men unto Himself so I measure my success by the people who have heard a message, read a book or a post, or even just saw me from afar and have decided that they want to accept Jesus Christ as Lord and Savior and then begin to walk in His ways. Success also has a second layer for me because I also measure it by my willingness to continue to heal so that I can live a purpose-centered life. The measurement is based on every trial, every struggle, every hindrance that I overcome.
How have you used your influence to enhance the lives of others?
I've used my influence by sharing my trials, giving women the back story, letting them know about my struggles, and then sharing the wisdom in what I learned in the struggle. I've enhanced the lives of women by helping them to magnify their voice by serving as a self-publishing consultant and helping them to self-publishing their books and use their books to help build their faith-based brand.
How do you keep going when you want to give up? Or have you ever experienced this before?
I remind myself that it's bigger than me. By giving up I'm not only cutting my own lifeline, but I am cutting the lifeline of my children, my grandchildren, and those who I am called to. When the focus is not just on self then it's understood why giving up is not an option.
How do you plan to finish 2021 strong?
I'm finishing 2021 strong by keeping the focus and going into a new year, God willing, with focus and a clear plan. Usually, around this time I get relaxed and caught up in shopping and enjoying the holidays and will look up and it's January and then I start planning for the year, but I started planning early so that I'm still able to enjoy family and the holidays while my plans continue forward.
What is the mantra that you live by?
I commit my plans to Lord and He establishes them. It's from Proverbs 16:3
What is it that one thing that Pam knows for sure?
What I know for sure that there is absolutely no failure in God. Everything that I have put in His hands has worked out for my good.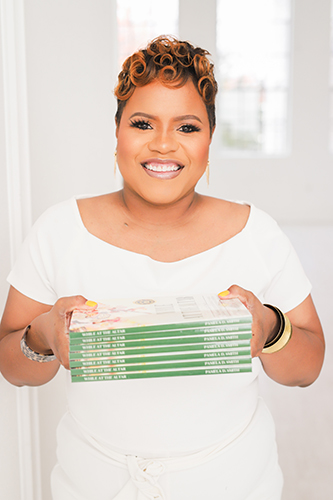 Connect with Pamela on Instagram or Pamela D. Smith on Facebook, and her website.
All images courtesy of Pamela Smith