A native of Athens, Georgia, Jessica Reese came to call South Carolina home in 1999. Upon graduating from Spellman College in Atlanta, Georgia, she accepted a position with a Fortune 5 company in Sales & Marketing, married her college sweetheart Wallace Reese III (Trey) and birthed her only son, Wallace Reese IV.
While successfully climbing the corporate ladder for 8 years she still felt unfulfilled. After much thought and prayer, she made the decision to step out on faith to pursue her lifelong dream of thriving in the beauty industry. Shortly before graduating from Kenneth Shuler School of Cosmetology in 2006,
The Pynk Butterfly brand was birthed in the form of the first of 5 salons that were to be opened. (The Pynk Butterfly Hair Studio, The Pynk Butterfly Glamour Spa,The Pynk Butterfly Signature Salon & Spa and The Pynk Butterfly Salon). The
Pynk Butterfly brand has extended itself to a line of hair care products, apparel and exotic hair. Over the past decade Jessica and her beauty brand have employed over 50 beauty professionals and franchised her brand to 2 other aspiring salon owners.
Not only does Jessica seeks to impact the industry locally, but she has also made waves internationally by facilitating business and hands on training on the continent of Africa.
From styling celebrities, to being on set for photoshoots and movies, Jessica hopes to leave a mark and inspire others to Dare to Fly…
We had an opportunity to speak with this amazing woman.
Please tell the reading audience about yourself and your business.
I started in sales at a Fortune 5 company after graduating Spelman College, where i was the resident stylist.  Although I was successful and moving up the corporate ladder I knew something was missing.  All of this came to a head once I gave birth to my son. I wanted to be an example of what following your dream could look like, thus I embarked on my evolution and birthed The PYNK Butterfly beauty brand with the 1st of 5 PYNK salons.  Not only have I been doing business domestically I have also had the amazing opportunity of facilitating the opening of a salon and commercial hair line on the continent of Africa! Currently I am focused on my product line and continuing to impact the industry through coaching and training.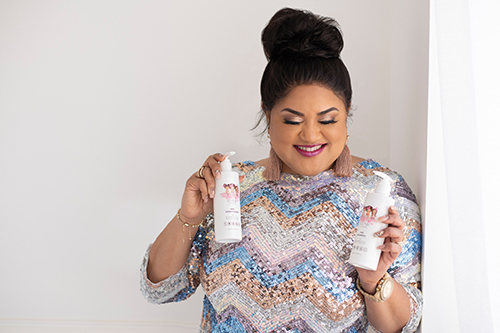 What advice would you give to new entrepreneurs?
To new entrepreneurs I would say two things. 1. Don't be afraid or ashamed to "ASK".  Being in business is all about seeking information to solve a problem or asking for a sell.  2. Don't personalize business…It's business, not personal. Your passion is personal, and it fuels your vision and your following, but not your bottom line.
What can people expect from you in this next quarter of 2021?
People can expect more of ME – more of my energy, more access to the parts I only show myself in the mirror in the mornings. I am learning to be vulnerable. Putting myself out there as I know there are people that can learn from key learnings I've gained from success and missteps I've made!
What is the one thing you know for sure?
One thing I know for sure is that I wouldn't do it differently!  No Regrets!  I am so glad I took this risk. Through the successes, failures, seen and unseen, and embarrassing missteps, the thing that still affects me the same, is the feeling I get when I turn a woman around in the chair and she sees her beauty evolved and her potential realized.
What advice would you give to the entrepreneur who wants to give up?
Most people want to quit because we are taught that failure means you are not good enough and this is definitely not true in the business world.  I would encourage them to take inventory of what they learned, dust themselves off and keep going!
How can we stay connected with you and follow your entrepreneurial journey?
Stay connected with me on Facebook (The Pynk Butterfly), Instagram (@thepynkboss and @the_pynk_butterfly) or the webpage.
All images courtesy of Jessica Reese