This London based beauty brand are making their global debut with a brand-new range of luxury skincare products that truly make you feel good within. Launched earlier this year, this comes at a perfect time where the beauty industry is becoming more inclusive and catering for women of colour. With the recent announcement of the release of their new brand, the excitement is high amongst skincare enthusiasts that are looking for clean beauty products. Founder Keisha Renaud has created a space for black women to love and celebrate your authentic self. We virtually speak with the beauty entrepreneur and discuss the ever-changing beauty industry and who is MelaBeauty?
Can you tell me about MelaBeauty and where did the name of the brand come from?
MelaBeauty is a botanical skincare company. All our products are made with natural safe ingredients that come straight from nature. The name MelaBeauty is derived from 'Melanin' which is the pigment that makes up our many different darker skin shades. The Beauty part of the brand name emphasises natural beauty, the beauty found in our melanin and the self-love we hope our customers will feel when they use our products. We encourage customers to love their bodies and look after themselves through their skincare practices and our motto is: 'It is not just skincare. It is soul care'.
What is your career background?
Initially I worked in Advertising and Marketing shortly after graduating from University with a degree in Business Management. I also dabbled in communications working briefly as a PR and Social media assistant for a Fashion company. I always loved helping brands to find their voice and creating perceptions for customers. I love it even more now I am doing it now for my own company!
Have you always wanted to be an entrepreneur?
Yes! The idea of being my own boss always appealed to me. I always knew it would be something within the beauty industry. I originally wanted to start a haircare line. I love the idea of having full control over a project and allowing my creativity to have full freedom.
Can you tell us a bit about the products and what distinguishes the brand from other skincare brands?
MelaBeauty is more than just a skincare brand. We put selfcare at the centre of all our products and want to create real holistic products which work to both enhance the outward appearance of skin and boost inwards self-esteem, mood and bring feelings of joy. It is about creating an experience that our customers will love.
The launch comes at a perfect time where the beauty industry is becoming more inclusive and catering for women of colour, what are your thoughts on this?
Absolutely! I'm loving the fact that WOC are beginning to be more included in the beauty industry but still think we could have even more inclusion. As a teenager this was one of the first reasons, I got into DIY skincare as things on the market would not work for my darker skin. I'm glad that I can provide a solution for others who, like me in the past, cannot find anything on the market which is suitable for their skin.
Why do you believe there has been an increase in natural organic beauty products?
We have begun to become a lot more health conscious and people are a lot more educated and cautious of products they put on to their bodies and skin. Natural products are often much better for the environment than synthetic alternatives and now we are being increasingly reminded that we must look after the planet and rightly so!
What is your aim for MelaBeauty in the skincare industry?
I would like MelaBeauty to be synonymous with skincare and bridge the gap between skincare and self-care and to create a unique and immersive customer experience. Getting people to really fall in love with the skin they are in, embrace their natural beauty and fall in love with themselves is the aim.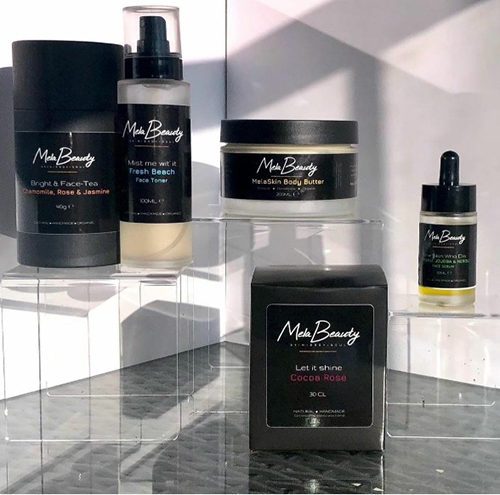 Tell us how are the products created and what goes into the whole process?
All our products are handmade by me! I develop formulas in steps. I first identify what I want the aim of the product to be, for instance if I am making a toner, I decide what skin type it will be for (dry, normal, oily etc) and decide what skin problem to tackle (hyperpigmentation, eczema etc) I then begin to research using my existing knowledge of what works well for the skin type/problem I have identified and researching new ingredients that work for the problem. Once I have figured this out it is all about experimenting! I have a massive notebook I call my formulation journal where I record everything I make. I am my own first port for testing and test all products on my own skin before asking friends and family to help. The experimenting part can be a long process, but It is so rewarding once you hit the winning combo! After this it is all about making sure the product is safe for public use which means sorting out legalities such as getting safety data sheets produced, ensuring replication by carefully recording formula percentages and adding products to official records. Therefore, skincare products often take an average of 2 years to get on the market – There is a lot involved!
What has the hardest obstacle in starting the business and how did you overcome?
I would say the hardest obstacle is figuring it all out and ensuring you have covered all basis. A lot goes into starting a business and in the beginning you are often the owner, finance director, marketing officer, product maker, order packer and a whole lot more! I have a background in marketing which helped but I watched a LOT of YouTube videos, listened to 100's of podcasts and read too many articles to count so I could broaden my knowledge in areas I didn't have much experience in. It also helps to reach out to other doing similar things. You can get scared that other business owners will not want to help as they will think you are trying to steal their knowledge, but many are so friendly and helpful. There are many that will be super helpful as they already have the experience!
Where do you see the brand in 5 years?
I have big dreams for MelaBeauty and often get side-tracked thinking of things I want to achieve years down the line! I hope that MelaBeauty is a well known and loved brand with a solid and dedicated fan base. I hope to keep developing the product line and bring out even more self-care infused skincare products which really work both on the skins outward appearance and boosts inward self-love. I would love to be able to create spa products which further help to boost the self-care aspect of the brand. Who knows maybe a MelaBeauty Spa may be in the future!
You can find the brand here.
All images provided by MelaBeauty