How do you even find the words to describe a voice that is able to take you on a journey through a vast array of symbolism, imagery and love? He is notably one of the greatest singers of our era. When an Anthony Hamilton song comes on the radio, he needs no introduction…his distinctive and soulful voice gives him away each and every time. As a Grammy®Award winning singer, songwriter, producer, and actor, the world clearly recognizes his greatness with global sales of over 50 million albums. Hamilton says, "Early on, when I was six or seven years old, I was so into music. I knew I had been given a gift. I didn't know exactly how it was going to come about, but I knew I was gonna be famous doing this thing called music." Not only has he traveled the world spreading love with his incredible gifts and talents, but Hamilton also performed for President Barack Obama and First Lady Michelle, solidifying his rightful place in the history books as the "narrator of love." Proclaimed a "national treasure" by the Los Angeles Times, Hamilton does so much more than music. He actively works with community outreach organizations to spread the word about peace, love and change in our communities. We love him for so many wonderful reasons, whether he is on stage performing at a sold-out show, to seeing him on the big screen in American Gangster or listening to his voice in "Freedom" from the Academy®Award-nominated, Django Unchained. All in all, his voice and energy is healing, and his essence adds validity and value to the world of music.
In our recent interview, Hamilton discussed his powerful new single, "Mercy" and how he has been impacted by the strain and struggle of coping with racial injustice in his own life. His skill, his coolness and his creativity, lend to the passion he puts into the things he believes in. Check out the discussion and find out what we can expect next.
Anthony, you have one of the most recognizable and memorable singing voices in history…completely authentic and full of passion. 17 Grammy® nominations, and one win…which I am baffled by because you definitely deserve to have 18 wins! When did you realize that you had a gift?
Oh, man. Thank you! It's cool. I'm okay with just waiting and getting it a little bit at a time. I think we appreciate it more when it's like that. Early on when I was young, like six, seven years old, I was so into music. I was just like, "I'm going to be famous. I didn't know exactly how it was going to come about, but I knew that I was going to be famous doing this thing called music. And I never looked back. When I became like 10 or 11, I started singing a lot more. In church, I sung very young. It wasn't until I got a little older, and the girls start saying, "Oh. I love your music. I love your voice." And I was like, "Maybe, this thing could be something." I started to listen more and started groups and doing talent shows. And I wrote my first song at like 14 years old. It came out really good. No one had ever taught me to write a song. And when I heard it back, I was like, "Oh my God, I have a gift." And that's when it all started, and it went on from there.
Your latest single is "Mercy," a deep and timely song that you did featuring the inspiring activist, Tamika Mallory. It's powerful and sends a strong and undeniable message. From the opening scene in the video at the Charlotte's Black Lives Matters mural, to the phone in your hand as you are running—then a shot rang out and you fell to the ground. When we think about it, the phone has been a true symbol of the connection we've had to actually proving in our day and age that black men continue to be victimized and murdered. So, with that said, do you remember the actual spark that ignited that fire in you to create the song?
You know, just going through so much collectively as black men and having history to repeat itself at this day and age. It was just time to reflect. Being a black man, it's hard. Being a father, I have six sons and just raising them in this climate, sometimes it gets scary. And there's a lot of pressure to provide, protect and just to guide your family. And this song was written for that man who just got tired. He's not weak, but he was afraid to get tired and take a risk and allow people to nurture him and to love on him. I wanted the world to see that these men are strong male figures, but they need a little mercy sometimes, a little forgiveness, a little love. And Tamika Mallory was a perfect example of that black woman who would do that for her man. And just showing the connection between a black man and a black woman. We still love each other and respect each other and hold each other very high. I wanted the world to see that.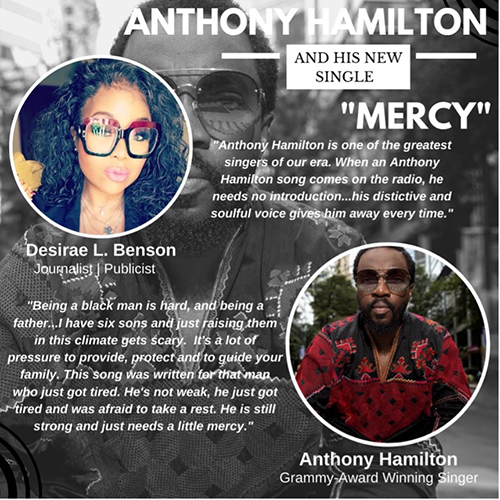 I was thinking with everything you've been through, there has to be something…an incident maybe that stands out in your mind that you can share with us, where you knew, beyond a shadow of a doubt, that in that very moment you were a victim of racial injustice or straight up racial profiling.
Yeah. I was in my neighborhood and riding my bike, me and my boys. And some white male was on a golf cart, and he was like, "Whoa, whoa, whoa. You guys can't be here. You can't be around here." And I was like, "I beg your pardon?"He was like, "You guys can't ride over here. Do you live around here? Do you live here?" I said, "Yes, I do. I've been here 15 years. I'm also a member of the homeowner's association. And my house was one of the first bought over here. And who are you?" He just assumed that we had no business being there, and he probably didn't even live in my area himself. He was probably just a member of the club house and decided to take it upon himself to be security for the day. But I put him in his place, in a kind way. Because I don't like to lead with ignorance. But don't send me there. I will not allow anyone to emasculate me in front of my kids, nor will I allow someone to make them feel uncomfortable.
Earlier you referenced your boys. It's tough raising children, black boys especially in the light of the world that we're living in. I have a son, who is my little king as you know, and you have six kings! So, what's the most important thing that you want them to remember about the world they're living in?
You know, that's a good question. That in spite of it all, in spite of everything that happened around us, for us, and to us, we still remained amazing. And we still shine, as God would have us to. We made a difference in his world. We made this world colorful. And our history is steep, deep and amazing.
We've experienced so much trauma, as Black people. In your opinion, what do you think we need to heal? Where does that process even begin?
That's a very, very good question. We need so much. To be able to walk and wake up and go as we should, without having to feel like we're going to be hunted. I think laws that protect us, having access to financial wealth, owning our own land, and having access to that type of power, having more black people in higher places that really, really make laws and change laws, those are the things that will begin the conversation of getting to a place of being comfortable.
Anthony, I've coined this particular interview segment, "Moved by the Music", because music does so much for us as human beings. It soothes us. It can make us smile. It can even bring us to tears—helps us get through good times and what we may consider bad times. So how are you personally moved by music?
I'm moved because it allows me to have a place to go. And without me having to verbally say something, I could say it from a different place. I can say it inside of the music, and someone can say it for me through the music. So, it gives me a place to go that has no judgment, which allows you to see what my next move is. It gives you time to think and ponder no matter where you are. You can go there, and you can connect to it and heal. It allows healing to take place.
I absolutely love the collaborations that you've done, and you've done so many of them. I mean, there might be a ton of artists you'd like to collaborate with, but who comes to mind immediately for you?
Drake. I love what Drake does. I love his play on words and how articulate he is and how creative he is with words. He paints a lot of pictures from different walks of life, and he puts it in a way that we can identify with it and creates a whole mood for it. So, he's someone. Also, D'Angelo. I've toured with them but getting in the studio would be another thing. Kanye West, I think he's so creative when it comes to music and creating songs and stuff. Erykah Badu. Jazmine Sullivan.
You named some great ones. They're all awesome. But there's only one Anthony Hamilton. You are amazing, and I know you know that.
I appreciate it. I've been given a gift that's powerful. And I ain't shy with it! You come to any of my shows, you about to get the business! (Laugh)
Is there anything that you do in particular that helps you get into that mental performing zone before a concert or show?
My day goes on as normal, up until maybe an hour before. I like to go in my dressing room around soundcheck and just kind of hang out with the guys. Feel the room. Go look out on the stage. Feel the stage. And go on with my day. Eat with the family, the band. That's my family. And then an hour before, I like to get quiet. I'll look over my clothes and see everything together. I want to be comfortable, and I want to have options or two. And then, I'll sit there. Chew my extremely strong mint gum before I go on, something that opens me up. Certain gums really open my passages. I say my prayer. And then here we go. It's a party!
So, what does Anthony Hamilton do for fun?
I love comedy. I like comedians. I think comedians really allow you to just decompress. And things that may have bothered you normally, they make light of it, which is good and healthy because it takes the stress out of it. I like to ride my bike, hang out with my kids. I love cooking and yeah just doing laundry, going to the grocery store, just regular stuff.
Nice! What do you like to cook? Do you have a specialty…is there some type of cuisine you like to make, or just in general?
I like cooking. I love cabbage, okra. I make an amazing vegan meatloaf. I make really good salmon. What else? Curry corn. I can make all that. I actually, got some turnips and mustard greens that I got from the store. I took my aunt to the grocery store yesterday to pick up some stuff. So, I picked that up for her. So, I'm going to make my greens. I make this amazing kale. It's called Lacinato kale. It's a long, dark green leaf type. And I made that today with sweet red and orange peppers and onions.
My goodness, that sounds amazing.
Anthony starts singing: "Amazing. Amazing. Having you close to me, amazing. Amazing."
I love that. You are amazing. That voice! So, Anthony, what can we expect next from you other than sheer greatness? Because that's all you put out!
Wow. Thank you. We're in the process now of getting the whole album finished for like August, a new Hamilton album. And then there'll be a project that me and Jermaine Dupri are doing. It's a whole album. We'll probably put out seven to eight songs. We've been wanting to do this. It felt like the fans missed us being together. We had a sound, and we want to reintroduce that to people. So, there'll be two albums this year. And yeah, working on a hat collaboration with Frances Grey Hats and House of Fedor, which is mine. So, it will be Hamilton Gray…exclusive hats. And working on a jean line for my sista big bones. So just being creative and enjoying life and living a quality life.
I see you in hats all the time. You look great in them. Where can people find more information about your hats?
I'll be posting it, social media, on my Instagram, and to the Hamilton official page on Facebook, Twitter. I'll be going so ham on social media. Ham with extra dressing and gravy and potato salad. (Laugh) Oh, I make really good potato salad too. Coleslaw, potato salad!
See! A lot of people might not have known that about you, that you have this love for cooking. What else do you like to do?
I like cutting hair. I went to barber school. I went to barber styling school actually, where I did men and women's hair. I used to work in a shop, singing and cutting hair and singing and doing hair. So, I still love to cut. 
I'm not even going to ask how people can contact you on social media because everybody knows your name!
Yeah, there's a few fake accounts out there! So just be careful. I only have one real account, and that's Anthony Hamilton official. It has a little blue check on it. And the other ones are phony. I don't know if they just enjoy impersonating me because they're conniving, and they try to get money and certain things from people.
So, is there any special love that you'd like to send out to anybody?
Special love to everybody. We all make it happen. We all collaborate and shine together. Continue to love each other, respect each other, create, be healthy, be safe, eat good, a little water, a little wine, a little whiskey, keep a good balance, and eat your vegetables, take your vitamin D, and yeah, cleanse out as much as you can.
Anthony Hamilton, it has been a real pleasure speaking with you again, knowing you over the years, and seeing the incredible joy you bring through your gifts has been amazing. I mean, amazing actually isn't a strong enough word for what you do. And I thank for taking the time today to share your energy with me.
I appreciate you allowing me to have this opportunity again. I really appreciate it. I do.
To find out more about what's going on with the amazing, Anthony Hamilton, follow him on his social media accounts. Look for the official blue check marks on Instagram, Facebook and Twitter.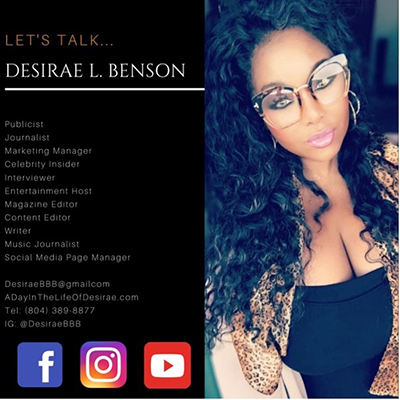 Desirae L. Benson is an entertainment publicist, journalist, content editor, and entertainment media host, residing on the west coast. She hosts her own show featuring four different segments with celebrities, musicians, and people of prominence. To find out more, visit her page on Facebook and Instagram, by using @DesiraeBBB or the hashtags:  #DesiraeBBB • #DesiraeLBensonPR #MovedByTheMusic •#AdayInTheLifeOfDesirae• For media inquiries, Email:DesiraeBBB@gmail.com