Bask & Lather Hair Company began by taking severe hair loss matters into their own hands and now, the Black Family-Owned brand is basking in the success of strengthening and lengthening your tresses.
Inspired by her baby sisters loss of hair due to a misdiagnosed illness, Nurse Practitioner, Shaina Rainford and her mother said, "Nah," and took to nature—delving into organic herbs and oils that would help revive baby girls hair, architect an empire, and stretch the follicles of many.
Bask & Lather has over four-hundred thousand followers, with videos that have over tens of thousands of views. Their number one best seller—The Scalp Stimulator Hair Oil, is giving Rapunzel, as the viral hair growth sensation restored her sisters locks, which went on to grow past her waist. Specifically targeting bald spots, thin edges, and people with alopecia, The Hair Growth Stimulator uses 100% cold pressed oils, paired with rosemary and mint and omega 3,6,9 fatty acids.
Lather in the rest of the company's products, like their Jamaican Black Castor Oil based Hair Elixir Oil, that promotes hair thickening, softening—assisting with better hair management. The mineral rich elixir can also be used as a pre-poo, heat protectant, and hot oil treatment.
Bask & Lathers Hydrating Mist, mists the life back into your hair—infused with mint, aloe vera, and avocado oils and leaving hair soft, shiny, and frizz-free. Get all the way into their Volume Eyebrow and Eyelash Serum. The product specializes in regrowing and thique-ening your naturally beautiful lashes and brows using key ingredients, such as: castor and jojoba oils. Fellas, the company has you in mind too with their thickening and moisture sealing Beard Oil, followed by Beard Magic, which fills in any balding and thinning areas, while rapidly stimulating beard growth.
Follow Bask & Lather on social media at @baskandlatherco and shop Bask & Lather at www.BaskAndLatherCo.com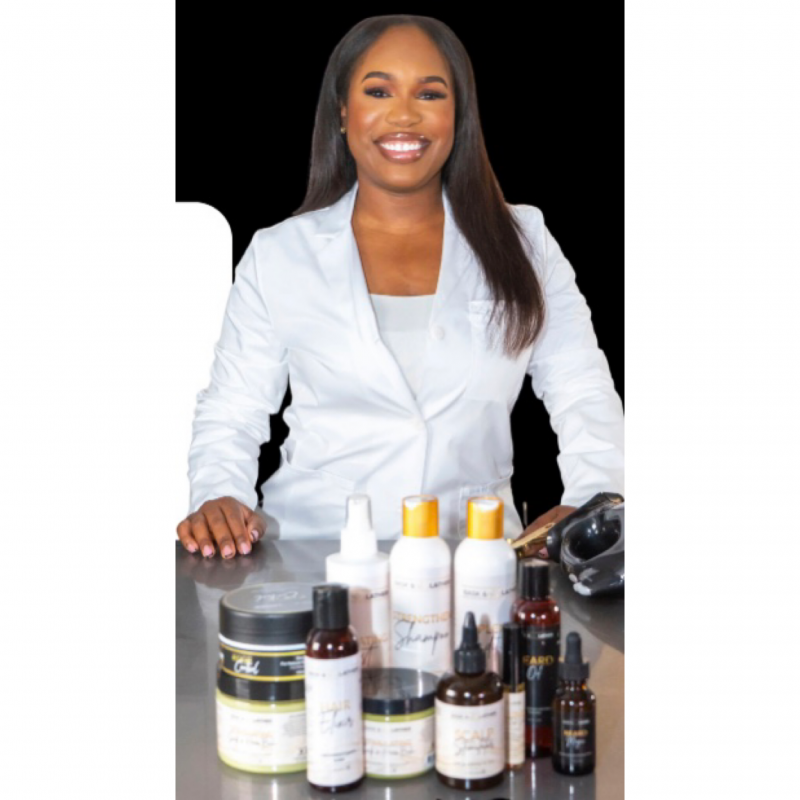 Photo Credits: Courtesy Of Shaina Rainford/Bask & Lather