Can we say couple goals? Ben and Jewel Tankard are the epitome of a beautiful, inspiring and endearing married couple. From the start of their relationship, both of them had a clear understanding that love is an action word and they have continuously put God first. Blending their families did not come without struggles—however, their love for each other and the well-being of their amazing children superseded any and all obstacles that attempted to shift them off course. 
As a Gospel/Smooth Jazz musician, producer, author, pastor, motivational speaker and reality-television father, Ben Tankard has the knowledge and conviction to cultivate greatness in every single area of his life and the lives of his family. Up until now, Tankard has received fifteen Gold and six Platinum records in his twenty-five years in the music industry. He has also earned numerous Grammy® nominations, Dove Award nominations and Stellar Awards. Ben says, "I made the plunge about seven years ago from being on the Sony music label for sixteen years. The market changed so much Desirae, to where most of the marketing involved with selling a record had to have the artist involved. I was doing the brunt of the work. I said, shoot, if I have to do the majority of the work anyway, I'll just go independent and I'll keep the whole nine dollars instead of just getting ten percent, which is one dollar!"  
Jewel Tankard is not only a beautiful wife, loving mother, and an expert in her field of finance, but she is also dedicated to helping other women create their own wealth and success. She has empowered over 250k people all over the world with her proven strategies for financial freedom. Being creative and goal-driven continues to give Jewel opportunities to make a lasting and valuable impression on all who meet her whether virtually or in person. Her commitment to help others led her to create two wonderful organizations…the Millionaires Club and the Pink Hard Hat Real Estate Investment Club. The way she handles it all is amazing. Even with all that's on her plate, having her life on display for all to see on reality-tv has further solidified who she is and how well she maintains her mindset by not wavering from what's important to her. She explains, "One thing about reality tv is that it's not that the producers make you do anything, it is just an amplifier of who you already are. If you're not really strong in a particular area and now that area is being exposed publicly, it can really do a number on you psychologically. You have to be willing to be vulnerable because it's not just your strengths they're going to see, but they'll see your weaknesses too."
I sat down with both Ben and Jewel in a candid and captivating conversation about how they navigate life as co-pastors of The Destiny Center Church, the drama and tea involved with being a tv-reality show family on "Thicker Than Water" and so much more—take a look.
There's great news for Thicker Than Water that we are all very excited about. Season four is going to be debuting July 4th on the CJC network. And Ben, you are coming in as executive producer. Congratulations on that!
Ben: Thank you! We're super excited about it. I've made the plunge about seven years ago from being on the Sony music label for 16 years. And the market changed so much, Desirae, to where most of the marketing involved with selling a record had to have the artist's involvement like social media, concerts. And so, I was doing the brunt of the work. And so, I said, shoot, if I got to do all the work anyway, I'll just go independent, and I'll keep the whole $9 rather than getting 10%, which is $1. Now, I just bring the whole check to Mrs. Tankard and she can handle it all! So, at the end of our contract with Bravo, I decided to do the same thing. People already know us. They already love us. They don't care what network we're on. They'll follow us. So, I said, this is just a good time to do the Tyler Perry thing and own it.
So, were you thinking about any other titles aside from Thicker Than Water before you got started back in 2013?
Ben: Well, we thought about Bigger Than Ever, Just Like Music, Just the Tankards. But then we said, since it's already branded, since people already know Thicker Than Water… Nobody owns those words, not even Bravo. We just keep it like that for the time being, just Thicker Than Water, The Tankards.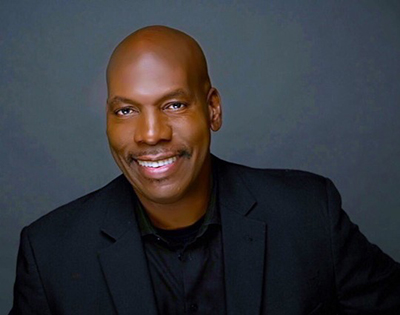 Aside from the awesome title and you both being the high-profile people that you are, what sets "Thicker Than Water" apart from other reality shows? 
Jewel: So, I would say… And there's some pretty cool shows out there that we really like, especially where families are concerned. But if you think about it really, there's not a lot of family shows of people of color. When you see the black man loving his black wife and the blended family, I think it's kind of unique. You had Deion Sanders that did his thing for a little bit. The other couple out of LA, Felix, they did their thing for a little bit. I liked their show. John Gray and his wife did their thing for a little bit. But when you think about black family and blended family, we really don't have a lot to point to, you know what I mean? I think it's necessary. I think it's necessary for America to see those core values of marriage and core values of family. And that family does not mean, just because you're blessed doesn't mean you're perfect. So, I think we had enough drama, real life drama, that every family has to let people know you are right. Y'all still can love each other, but y'all get on each other's nerves sometimes. And for me as a mom, learning how to respect my grown children was a whole issue child. It was a whole situation. But I'm much better. I'm much better. I had to grow. Ben helped me with that a lot. But yeah, I think in terms of reality show, I just don't think there was a lot out there that really repped the black family and some of those dynamics of entrepreneurship and being blended and all that, so…
Ben: I always say, the man is the head. I'm old school. The man is the head, but the woman is the neck, and the neck turns the head. And so, on the same token of me helping Jewel in her age, she certainly helped me in my areas because my children were raised by their biological mom in Nashville. So, they didn't come up in my household. And so, I was not a deadbeat dad. I was shooting up thousands of dollars a month for child support, but I wasn't there physically. So, I wasn't there for the games and the festivals and the recitals and stuff. But when they got grown and the child support faded and all, all of them said, okay, let's move in with Dad now. I just wanted to be Disney dad. I just wanted every answer to be yes, because I'm playing catch up. So, I do end up being the bad cop, and I was the good cop. And I'm like, hey, give them the money. Take it all!
I am sure with the show's inception in 2013, that there have been a ton of memorable moments, but what's one of the most memorable or funniest experiences you two had on set for Thicker Than Water that you can share with us?
Jewel: Probably when we got remarried. That was really precious. It was so sweet.
Ben: And the kids were part of the ceremony. We did it all at the lake cabin, and it was just us and the family. That was a lot of fun. Also, I think, memorable for me was when Brooklyn wrecked the Escalade when I was out of town. And Mom called me and said your daughter wrecked the car. I'm like, you got to be kidding.
Any time a person is doing reality TV, they literally have all eyes on them—But people are people at the end of the day, and we all have our own journey's. How did you deal with criticism about the show early on when it started in 2013?
Ben: I was raised very, very poor, Desirae. Not a good-looking guy when I came up. Used to work on a chicken farm and smell like chicken manure half the time. And so, people called me panko stank, they call me prehistoric dinosaur. I've been called every name in the book, so I had a pretty hard skin from childhood. So, there's not very much you can say to me that offends me. I'm like, that's the best you can do, ok. I've heard worse than that at nine years old. But it did kind of tick me off seeing some of the Twitter feed… And you are not going to be talking about my wife's edges. (laugh)
Jewel: Yeah, it bothered me in the beginning, but after a while, it really didn't bother me as much. It probably bothered Ben way more than it bothered me, just because I kind of realized that's not who I am, and I just tried to focus on all the positive things that were being fed and all the encouraging things and not just focus on one thing. I think for me, it was just making sure that the children were emotionally okay with hearing some of the things they heard, because one thing about reality TV is it's just an amplifier to who you really are. It's like drugs or money. It's just the amplifier to who you really are.
Ben: Yeah. And it's a different day now, Desirae, because I believe the golden rule that he who puts up the gold gets to make the rules. So, you're at NBC, Bravo of course, they're going to say something to the effect of: "Hey, we'll tape everything, but what we're really looking for is the drama and the mudslinging. That's what we are. We'll tape everything, we'll tape your services, we'll tape your community events, we'll tape it all. But what we're probably going to do is air as much of the dirt out of the family as we can." It's a different thing now. I'm the person. So, for us, this time around, this is just going to be one long Instagram post, all positive!
I see you guys on the big screen soon I feel that happening because you are so full of energy and life…would you be open to shifting from reality TV to acting in sitcoms or movies?
Ben: Mmmm, I thought about it… My wife, she's always wanted to do that. She's always wanted to be a movie star. I'm like, if I'm a bar owner, jazz club owner with very little speaking parts, I'm good. But she's an actress. She'd be great at it.
Jewel: Yeah. I would love it. It would be fun. And my daughter is actually going to the Tasha Smith acting school right now, so she definitely would be open to it. Brooklyn would be open to it for sure, so… Yeah, I'm hoping!
Creativity is a powerful thing…creativity never stops, it doesn't have a cut off time, it's not a 9 to 5 type of thing. Jay Z said, "The goal is not to be successful and famous…the goal is if you have a specific God given ability, to live your life out through that." Do you agree with this statement at all? 
Ben: Oh, I've got to write it down, and make that part of what I talk to young people about. That is so powerful. That's one of the reasons why I wanted to take on the task of executive producer and keep this show going at least for a season or two.  There are so many things that happened behind the scenes with my family that I am so proud of that never saw the light of day with Bravo. You've got to just bring a camera and follow my wife. She is phenomenal. She is a mother. She is a business owner. She has thousands of people that are just sitting at her feet as she gives them wisdom on cryptocurrency and digital stuff. I mean, she is so super smart. I'm an African American pilot with two airplanes and we can get up and get in one of those two planes and go to two or three different locations in the country where we own vacation homes. We can have breakfast and lunch and be back here by the evening. I think people need to see what we normally do, I bet that would inspire people. We're not acting. We're just saying, hey…this can happen to you too.
Jewel: I think there are levels of their layers of success. I mean, I think that the goal of success is good, but I think what he's basically saying is, it should be a continuation. What's the next phase for us as a couple? What's the next phase for us as individuals? What's the next phase for us as a ministry? It's important to take things to the next level and allow yourself the creativity to expand beyond what you've already accomplished.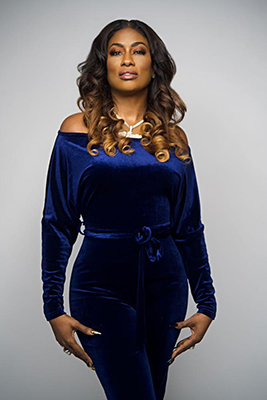 If you could give Ben in his 20's any piece of advice with what you know now in your 50's what would you tell him? 
Ben: Wait for Jewel, and don't have two demonic, stressful, personal weddings. Just wait, son. Save your money because you're going to need it. She's expensive. Save your money! (laugh) It happened one time around, but if I had to live my life over, it would be, don't be so discouraged about what's not happening. Be grateful for the season that you're in. I've spent so much time feeling like I wasn't where I needed to be and looking across the fence. But if I had that kind of… that depression and anxiety is wasted energy that just stops your faith. So, I've learned to be more grateful. For now, even though I'm pushing for the next level, because my wife has to push, push, push, push what's next, I'm like, let's smell the roses. Let's go for a walk. Let's go to the hanger and just cook the hot dog and sit and watch eight minutes take off. Let's enjoy where we are at while we're all waiting for the next level.
Jewel, same question…if you could give the Jewel in her 20's any piece of advice with what you know now in your 40's, what would you tell her?
I think I would tell her that everything doesn't have to happen overnight, that to be patient with yourself as you grow, and that you don't have to have everything perfect before you make moves.
This question is for both of you, as a couple and individually. Prior to the pandemic, there was the normal hustle and bustle of life, but once it hit…a lot of men and women started going through a personal shift, being that everyone had to sit still and distance themselves from other people. This in and of itself really allowed them to take a closer look at who they are, where they've been and where they were headed. Can you both relate and if so…what shifted in your life?
Ben: We are people, people. We love people. We pastor a church. I love being at jazz festivals with thousands of aunties and uncles sitting in lounge chairs in front of me. And it was a little adjustment to just go from that to nothing. I'm with Joel Osteen 10, 12 times a year, and his night of hope meetings in different stadiums across the country with 20,000. I mean, you get used to big crowds and fellowshipping and being a blessing to people. Then all of a sudden, you don't go anywhere. It was not quite as an adjustment for me as it was for the rest of the family and other people, other musicians because I just happened to be taking six months off to work on a new record anyway. So, I was going to be home anyway. So, it's almost like asking somebody that's already on the way to the kitchen to bring me a glass of water and they were already headed to the sink.
Jewel: Yeah, I think for me it was because I was doing two to three cities a week, traveling, teaching people about cryptocurrency and trading and making money in a minute. And all of a sudden, I had to sit down, but the good thing was is that I realized that during times of recession or repression, that's when we see people end up being huge innovators. And so, I think for me, it made me more attentive to stop and listen to some of the people that I know right in our family that had great advice for changes in my business that I had been needing to make.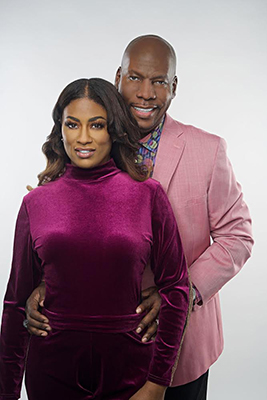 Ben and Jewel, this has been such a pleasure. I want to thank you both for taking the time out of your extremely busy schedules to speak with me today, I enjoyed it all. 
Ben: It was our pleasure. We thank you for making us part of your story and thank you for being part of our story because it takes a village to raise a child, but it takes all of everybody to raise the Tankards. Thank you.
To find out more about what's going on with Ben and Jewel Tankard and Season 4 of "Thicker Than Water" that starts in July, follow them on their social media accounts. Look for the official blue check marks! 
Ben Tankard Facebook and Instagram.
Stay connected with Jewel Tankard on Facebook and Instagram.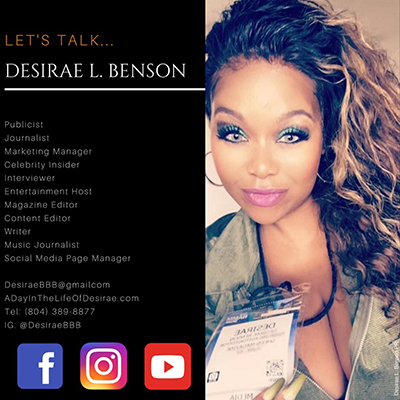 Desirae L. Benson is an entertainment publicist, journalist, content editor, and entertainment media host, residing on the west coast. She hosts her own show featuring four different segments with celebrities, musicians, and people of prominence. To find out more, visit her page on Facebook and Instagram and be sure to explore the hashtags:  #DesiraeBBB • #DesiraeLBensonPR #MovedByTheMusic •#AdayInTheLifeOfDesirae• For media inquiries, Email:DesiraeBBB@gmail.com 
All images courtesy of the Tankards