Tashiba Jones-Wilson is a celebrity fashion stylist who has worked in television and film for more than 25 years, styling the "Who's Who of Hollywood.  As a costume designer and stylist, she has worked on such shows as ABC's "Black-ish, HBO's "Insecure" and Netflix's "Family Reunion." Currently, Jones-Wilson is working on the set of BET's "Sacrifice in New Orleans, LA. as an assistant costume designer. Most recently she styled the iconic group, New Edition with some amazing items from her own store for a promo shoot for the upcoming AMA's on November 21, 2021. 
Jones-Wilson also serves as the fashion coordinator of the annual, star-studded Wearable Art Gala in association with Where Art Can Occur Theatre Center (WACO), a non- profit LA theatre. Tina Knowles-Lawson—the mother of Grammy-winning recording artist Beyonce and her husband, Richard Lawson, serve as artistic directors of the event, and choose the theme of the gala every year. 
Tashiba Jones Wilson is also the owner of the famous size inclusive boutique Matte Argyle. It showcases beautiful and stylish clothing for men and women at Runway Playa Vista, which is an upscale shopping mall in Playa Vista, California. It's a very appealing a prominent area which is nicknamed "Silicon Beach," and home to tech companies like Facebook and Google.
Matte Argyle is the first and only black-owned business at Runway Playa Vista. It has already become a fashion hotspot because it seamlessly merges fashion, art, and entertainment with its pop-up events. The boutique has an artsy feel with paintings on the walls by LA artists, and immaculately dressed mannequins, displaying the season's latest looks. 
We can't talk about fashion without asking how you became interested in the industry in the first place…did your teenage years working at Clothestime spark it all, or was there more?
I think I recognized my love of fashion in junior high, definitely. My mom is such a fashion queen, she was always well dressed. And so, she made sure that I went to school with the cutest clothes. And she's an accessory queen, and she'd always pair me up with a brooch which was popular back in the '80s. And so, I ran for best dressed. I didn't win, but in my thoughts, I think it was because Blacks were still a minority at my school in Gardena. In high school, I ran for best dressed again, and I got it. I recognized that I was never a label person. And I realized that fashion and being fashionable came about how you put things together, not about what brand someone was wearing.
Now at first you were in retail but then you pivoted into fashion styling and costume designing and your first celebrity client was the fabulous and beautiful Chaka Khan…how did that come about?
Oh gosh, I love telling this story. So now, I've been doing visual display for quite some time. And I was like, 'Do you know what? I don't want to dress mannequins anymore. I want to dress people.' And at the time, my store manager was trying to promote me. I went to him, I said, 'Listen, I appreciate this, but I really want to get into film and TV. If I could just work on the weekends to do my job, I'll come in early.' Because again, when you're doing visual displays, they're there before the store opens and stuff like that. He said, 'Do you know what? I will do that for you.' And so that allowed me to pursue jobs. So, I went to my career center at FIDM, and I told them, I said, 'I want to know about any job for styling for movies. Let me know.' And they had called me one day and told me that they have this opportunity. They didn't tell me who the job was for. They didn't say it was an artist or who it was. And so, I interviewed for the job, and found out after I got hired that it was Chaka Khan. And I was like, 'Wow.'
What advice would you give a woman or a man about owning their own sense of fashion? Even if they don't have one already, how can they even develop that?
The thing is, is that beauty is in the eye of the beholder. And if it's quirky, if it's monochromatic, I mean, whatever it is, you just have to own it. And when you look in the mirror, if you like the way you look, it could be your style. And I just think that don't rely on the world to tell you what's hot. I really don't follow trends that much in terms of studying them. I like what I like. And if it's out there, just own it. 
You spend so much time designing for other people, and everybody has different tastes. So, how would you describe your own sense of fashion and has it changed over the years?
Yes, it has. I would say, I'm a chameleon. I don't have one style to dress. It started as a business casual for me. Before working in the entertainment industry, I rarely ever wore jeans. I didn't even really own a pair of sneaks. I was a silk blouse, short sets, loafers, type of chick. Blazers. Do you know? That was my style. I always envisioned having a job where I wore a suit to work. I just thought that was just so boss. And then I started integrating more, like I said, jeans and a little bit of sneakers. I could kind of be a little streetwear, a little bit. But I'm still very like a girly girl. 
A fun fact about you, is that you get mistaken for Issa Rae quite a bit and you've worked with her on season two of Insecure!
Oh my gosh. Oh my God. I know. And I don't have a picture with Issa Rae. I've got to get my picture with her. I know. But the whole Issa Rae didn't even… I feel like last year is really when the whole Issa Rae started really. And it's just so many people. And even last night, I was at a birthday. Not a birthday, it was at a dinner for a friend of mine. And he had an event, and we were celebrating it at dinner. And so, the person that was sitting next to me was like, 'I just want to get this out of the way so it's not weird. Has anyone ever told you, you look like Issa Rae?'
How do you choose the different brands that are displayed in your boutique?
Well, the one thing is I have really great relationships with brands before I opened the store. So, what I did was I reached out to them prior to opening, and basically let them know what I was doing. And it's a lot easier to get someone to say yes when they have a rapport with you. So, most of the brands, I already had relationships with, meaning working with them, and placing them on the different shows or films that I've been a part of. I don't have anything in my store that I don't like, like I personally couldn't see myself in.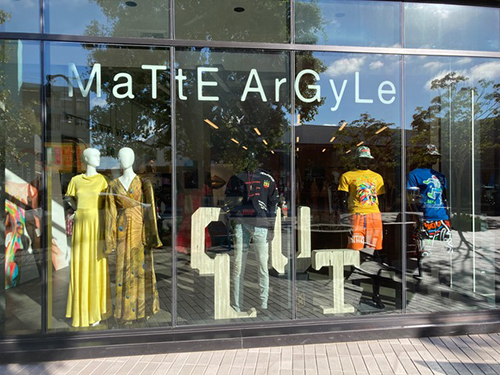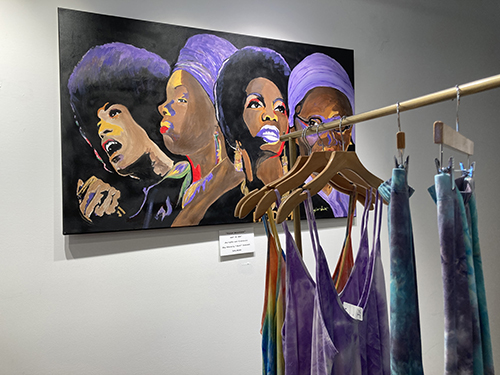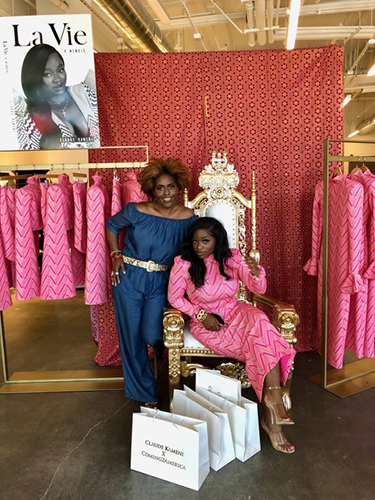 Recently you had Bobby Brown come into your store and do some filming. How did that come about and what was it for?
It came about because my good friend works with him and suggested my store to film a scene for a project Bobby Brown is filming.
Talk about being a black female in the industry of fashion…what have you noticed and what you would like to see?
It's important that we change the narrative and really showcase our talent in a brick-and-mortar space-collectively. And that's the biggest thing for me too, it's collectively. If I can touch on that too, it's that there's so many people that want to have their own store. I want to have my store, I want to have my name, and all the stuff in my store is my name. I mean, that's great, but together, we are so much bigger. Our platform is so much bigger than what is sometimes shown, when we can just say, "Hey, do you know what? Let's all take up a little bit of space collectively." Then we have a bigger footprint in the world of fashion.
Your store attracts people from all over and from all walks of life. How did Stevie J. get connected to your store? 
The vibe, the fashion and location. The community of Playa Vista is represented by the arts, celebrities, and the entertainment industry. Some find me just by walking past my store. Stevie J got connected to me through my film and TV connections. He, along with his daughter and son were there as well. They liked what we offer at the store and bought some merchandise.
Any funny or memorable stories you can share about times you've been on a set styling for someone?
I got two stories, if you got time for it. Because I just thought about the other one, and it's about shoes. Oddly enough, they're both shoe stories. So, I'm on the set, it's the scene. I'm watching rehearsals. She's in a wheelchair and they're wheeling her out, and she's got her UGG boots on in rehearsal. So now, it's time to shoot the scene, where are her shoes?
And I'm like, 'Oh my God.' And the set is probably about 5 minutes from base camp, so that's already 10 minutes. You got to get there, it was funny. At the end of the day, we made it work. We pulled it off. I think, we didn't see her shoe. We had to just not shoot her feet.
Another shoe story. So, I was working with Spike Lee. And so, the actors, they take the actors to set. And this time, I mean, it's 20 minutes away. Now, it wasn't my fault, that was obviously in the costume department. And they took the actors to set, and Spike was ready to shoot. When they landed, they could not shoot because there were no shoes!
What's coming up for you?
Okay. Well, now, I finished working on the set of Sacrifice with Paula Patton for BET in New Orleans. And crazy enough, what's going on with New Orleans right now? I can't even believe. What's coming up next is Fall fashion in Matte Argyle. I also recently styled New Edition for a promo shoot for the AMA's taking place on November 21st. 
For more on Matte Argyle, click here.
Follow Matte Argyle on Facebook & Instagram.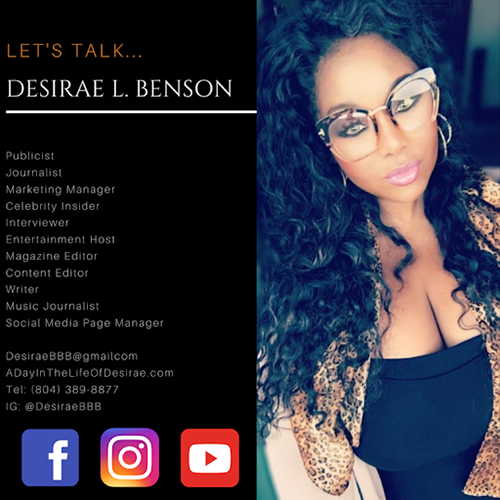 Desirae L. Benson is a publicist, journalist, content editor, and entertainment media host, residing on the west coast. She hosts her own show featuring four different segments with celebrities, musicians, and people of prominence. To find out more, visit her page on Facebook and Instagram, by using @DesiraeBBB or the hashtags:  #DesiraeBBB • #DesiraeLBensonPR #MovedByTheMusic •#AdayInTheLifeOfDesirae• For media inquiries, Email:DesiraeBBB@gmail.com