Just recently, teen director, writer, and actor Dusan Brown was named one of the 2020 U.S. Presidential Scholars announced by U.S. Secretary of Education Betsy DeVos.  Brown is a recent high school graduate that exemplifies what it means truly means to work for what you want in life. We caught up with the dedicated young man to discuss his film projects, what the honor of being a U.S. Presidential Scholar means to him, and much more!
Congratulations on being named one of the 2020 U.S. Presidential Scholars! How does this accomplishment feel to you?
It took a lot of hard work and dedication, that's for sure. My mom actually had her eye on it since we moved out here and we moved ten years ago. To me, it means all of my hard work for the last ten years in filming and putting in work is paying off. It feels amazing. Everyone from the organization has been great. They let me be a part of it and it's really wonderful. I went through Young Arts and won the Gold Award. I want to thank them because it was an amazing experience.
Tell us about your short film where you served as writer, director, co-DP, editor, and colorist?
The film is called Reece. It's about a kid who wants to protect his neighborhood at any means necessary. Sometimes that doesn't always go as planned. It shows how being an African American male in America dealing with some the everyday struggles that come along with that. That film was a lot of fun to make. My dad was very instrumental in helping me with this project and my mom served as producer. She helped get the locations, the actors, and all that stuff. My good friend is in the film, my brother, and I'm actually in it too. It was a lot of fun to make.
What inspired your short films Cereal and Trash?
Trash was inspired by true events. It's about something my mom told me about. After she told me, years after my dad suggested a story to me. I wasn't sure how I felt about it at first. His version was a little different. It had a little more raunchiness to it, I guess. I tweaked it a little and made it my own. It's about a young woman who finds her true identity and goes searching for some answers.
For Cereal, I was sitting down and wanted to write something, I just started writing voiceover dialogue of this character. It just blossomed into the film. It's about a kid that is in a neglected home environment and he's had enough.
You'll be starring in Netflix's film Ma Rainey's Black Bottom. What can we expect to see?
That film is really amazing. You can expect to see some absolutely outstanding acting from the cast. They went absolutely insane for the movie. It's about a Mother of Blues. You can expect to see some amazing acting, the film is really great.
What do you hope to accomplish in the years to come?
This upcoming summer, I plan to shoot my first feature film. It's always a filmmaker's dream to get into Sundance. I'm hoping that my first film can get into Sundance, I can graduate from college, continue to act, and make films. I just want to keep honing my skills and get better and better everyday.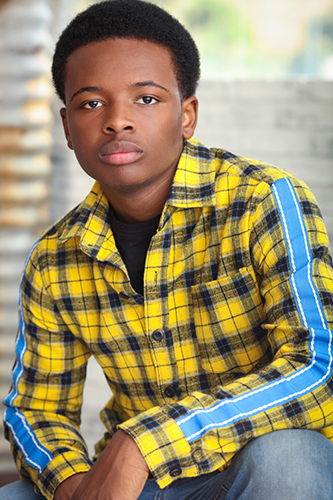 Be sure to visit Dusan's official website!
Click here to watch Reece now!
For more on Dusan Brown, follow him on Instagram today.