With a voice that is capable of making people stop in their tracks in order to listen to him speak, Eli Harris continues to wow us with his talent and tenacity. As an award-winning actor and a new member of the Innovative Artists for Voice Overs, Harris is looking forward to continuing on his successful journey while using the gift of his powerfully prominent voice to work on the creative projects that appeal to him the most. Whether it's corporate informational videos, video games, or commercials, Harris stands out because he understands how to use his God given talent to lead him into the right opportunities.  
Harris began his acting pursuits at the young age of six. Being a native of Lynchburg, Virginia, he began doing theater for the Cherry Tree Players. His love for theater spanned throughout his school years. As life takes us on many journeys, later down the line, Harris joined the military. In asking him about how his time in the service helped shape his acting career, Harris explained, "Some of the military values helped me, especially in playing cop roles or soldiers. I was able to bring that militant personality to my characters."  With the devastating loss of his mother, he got out of the service and planted some roots down in Detroit. His passion and love for theater had always been with him and he happily started doing it again. Making that decision proved to be a good one for him, as shortly thereafter, he got his first break in a music video with Willie Max and singer Raphael Saadiq. 
As life continued to progress, Harris became a member of the Screen Actors Guild, (SAG) after his awesome work on ABC's, Line of Fire. He went on to work on other projects as well as getting a featured role as the police negotiator on CBS's Hack. Throughout his career, Harris has made sure to totally engross himself in the characters he's played, with enthusiasm, heart and passion. 
Eli, you are an award-winning actor, voice actor and director and you have been seen on TV and in movies for nearly two decades—tell us a little about how you got your start and better yet, why you started? 
My parents got me involved. I had ADHD and had difficulty trying to be still and remain focused. So, as an outlet, my parents got me involved with theater as an outlet to get my energy out in a creative way. I continued to do this throughout school, but later, it kind of fell away from me for a little bit. Life happens, but I got back into it after the military in 2002.
I read that you were mentored by Carl Anderson, who was an awesome actor and musician also from Lynchburg, Virginia.  How did that relationship develop? 
When I first got into the business, I didn't really know exactly where to start, so I reached out to Carl. God rest his soul; he was a very straight forward individual and I have always admired straight forward people. He told me things to watch out for. I remember him telling me, "If you are in this business to get rich right away, get the hell out of it right now." Carl was a true lover of the craft and because he had that mindset, he helped to prepare me for the game. 
You have played alongside a wide variety of actors and even musicians such as the amazing Alicia Keys. Tell us about the role you played in Nanny Diaries and what was the chemistry like between you both on set? 
I remember when my agent called me over the weekend for an audition. It was unusual for an agent to give you a call over the weekend, but come to find out, they needed me on the Upper East Side that Sunday. She couldn't give me a lot of details, but she told me it involved Alicia Keys, so I was all for that. So, when I got there, I find out that we were auditioning for the role of Alicia's boyfriend. All the other guys were laying it on thick and trying to impress her and I was just myself and we hit it off perfectly. It wasn't a traditional audition where we were acting, she wanted to see who had the best chemistry with her and I got the role.
You've done so many projects. Do you have a favorite role and if so, why that particular one?
That's a hard question. On screen acting is one of the dopest things to do because it's the only one where you don't need a degree to play a certain career type. I have played an assassin, a doctor, drug lord and so many more. It's hard for me to pinpoint because each one was a different high. I just take that mentality and use it accordingly. One of the roles that meant the most to me was a project I did a few years back called, "Henry." The character was going through some extreme depression and dealt with a lot of financial struggles. That one meant the most to me because someone can easily identify with feeling helpless, not being able to take care of their family and so forth. People have those types of thoughts sometimes, feeling like life is just too much and if they have to go through so much strife, it's really like worse than death in their eyes.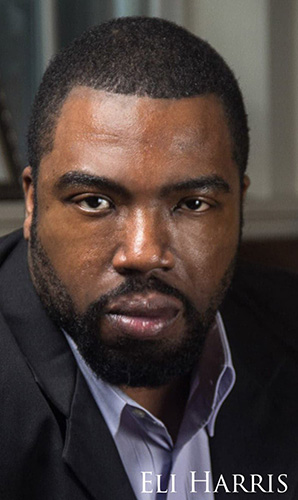 One of the things that uniquely sets us apart from other people are our own voices—you definitely have a memorable one. When did you realize that your voice could be used as a powerful tool?
So, throughout my life, I have been told that I have a great voice. I really didn't think about doing anything related to voiceovers though, it just wasn't anything I looked seriously at. I think one of the things people need to understand is, just like on camera acting, voice acting is just as intense. We invest in our equipment, spend thousands in lessons and more. There is a technique and craft to everything you do. Later on, I networked with other people and thought voice acting was interesting. It wasn't until maybe about a year and a half ago when I started to pay attention to all of these voices in video games and commercials and said to myself, "Yeah, I can do that." Here I am, this is my career and not a hobby. I love what I do. 
Even throughout this pandemic, you are steady plugging away at your craft. What are some key things you can say to people to encourage them during this difficult time?
The most important thing is to be smart, particularly with our people. I'm seeing people lined up to get Jordan's and to get their hair and nails done. They were opening up certain establishments on purpose. Be smart, you got money, spend it wisely. Invest it. Right now, is the perfect time to get into the stock market, all of this stimulus money circulating around. Use it wisely. Use this time for self-reflection. Use this as time to build yourself, spend time with your loved ones. I would say look at things as more of a blessing and act accordingly.
To find out more about Eli, follow him on his website, and social media platforms: Facebook, Instagram and LinkedIn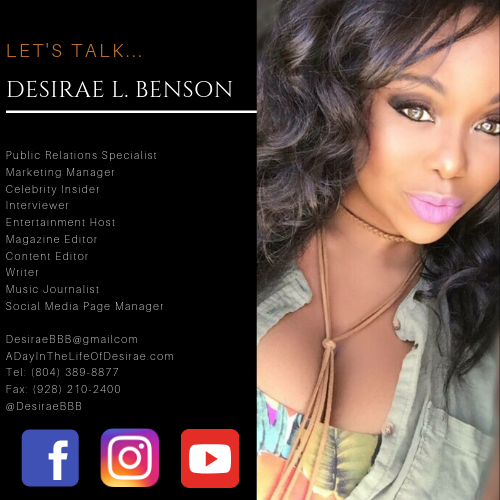 Desirae L. Benson is a writer, content editor, publicist and entertainment media host, residing on the west coast. She hosts her own show featuring four different segments with celebrities, musicians, and people of prominence. To find out more, visit her page on Facebook and IG by using @DesiraeBBB or the hashtags:  #DesiraeBBB • #DesiraeLBensonPR #MovedByTheMusic •#AdayInTheLifeOfDesirae• For media inquiries, Email:DesiraeBBB@gmail.com 
All images by Michelline Hall