"The Pink Ladies pledge: to act cool, to look cool, and to be cool! Till death do us part…THINK PINK!" – "Back to School", Grease 2
Sheen Magazine was on the Scene for the reveal of Briana "Just Being Briana" Hampton's Woman to Woman Talk June Magazine Cover. Woman 2 Woman Talk Magazine is a storytelling sanctuary that delves into the mind, body, and spirit of the Woman, with the intention of influencing and inspiring the feminine collective.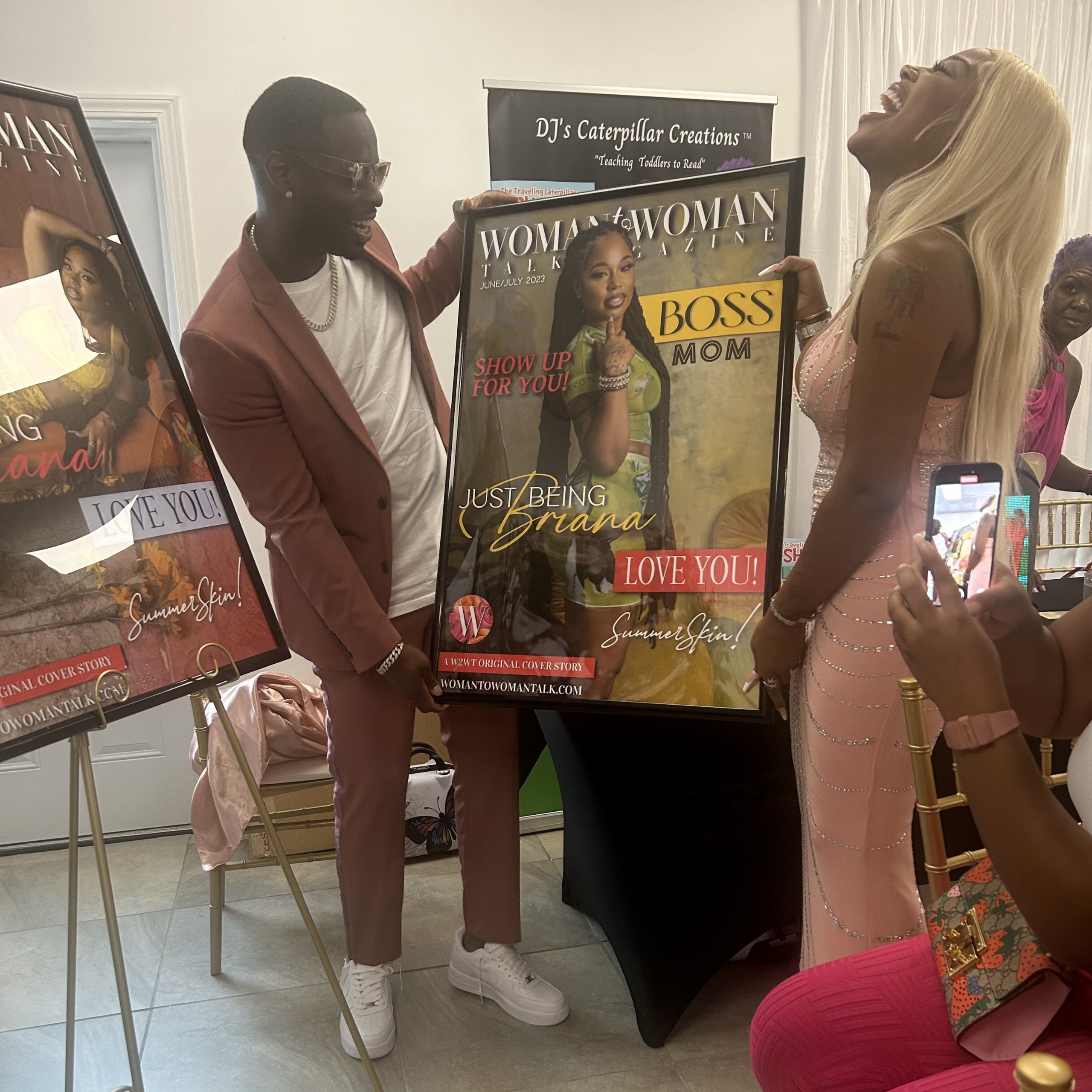 Elite Events and Décor ensured that the aesthetic was purely pink—a color that represents the Goddess, feminine energy, and the heart chakra and the ladies arrived divinely draped in every shade of it. Lataj Skin gifted the party with their latest luxuriously, organic hand and body wash, which comes in Amber, Jasmine, Musk, OUD, and Saffron. While Sweet Georgia Brown catered—the chicken salad was decadent, and the lemonade was lemon-aiding. W2WT also partnered with Crystal Victoria of Dillard's for a fashion presentation featuring the latest brands for the most popular 2023 fashion trends. The panel and the attendees conversed and networked, told stories, healing was shared, and celebration ensued.
Just Being Briana is eliminating unnecessary drainage and immensely pouring into herself, her family, and her booming brand. The Amoure Boutique owner and pending author, discussed how she overcame humiliation after publicly speaking her truth, following moving forward after being in a violent, low vibrational marriage. Like most psychotic, emotional, and physically abusive sociopaths, instead of taking responsibility for the ways in which his inner monster relentlessly tried to destroy his wife and the mother of his children, the abuser instead took the time out of his day to pay content creators to smear his own family and put them in danger to protect his little reputation. After spending entirely too much energy trying to fix something that was broken, Briana revealed herself and spoke out—not just publicly, but spiritually and she received the answers needed to release and that ignited her to move on to bigger, brighter, and better things.
Briana is rebranding, booked, and busy. Season one of her reality show, Just Being Briana, is in full swing—airing Fridays on Facebook and Season two is up next. Additionally, you can catch the fashion model on the next season of the TV Show—Dear My Future Husband. The influencer is also penning her first book as well, with the desire to influence women into healing and living more unapologetically.
"Lead with respect, not fear." Kaye Singleton—star of Tyler Perry's 'The Oval' and creator of The Covenant, encouraged.
"When they say someone is a lot—it is a lot. A lot of ideas, a lot of love," explained, Brittany Passion.
"When you leave this earth, you should want to leave feeling whole and complete."-Briana.
For Briana's full story, visit www.WomanToWomanTalk.com and stay connected via social media at @womantowomantalk.
Watch new episodes of Just Being Briana, Fridays on Facebook and stay tapped in with her via all social media at, @_justbeingbriana.