Many children are exposed to traumatic life events—abuse, school violence, car accident and much more.  Since the Pandemic hit, we are seeing more and more cases of trauma, depression and anxiety, especially with the employment rate at its all-time high.  Licensed mental health therapist, Lakiesha Russell shares how she serves communities dealing with trauma, depression, anxiety and why it's okay to seek advice.
Tell us about your business?
I am a Licensed Mental Health Therapist in the state of Wisconsin, Award winning therapist, Speaker, TV Personality and Momprenuer of two great kids (Josiah & Janiyah). I am a weekly guest expert on Spectrum Cable News 1 Wisconsin for a series entitled, Mental Health Mondays where I provide tips and techniques for individuals to practice good mental wellness. I am the founder of The Evolving Chair Counseling and Consulting Agency where we primarily service women and children around topics of trauma, depression, life transitions, parenting, etc. through individual, group and family therapy services.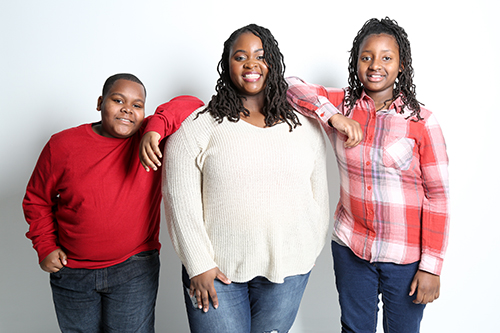 Please tell us what being a business owner means to you and why you became an entrepreneur in the first place?
What being a business owner means to me is leaving a legacy for my children and their children and so on. It's funny actually how I started as an entrepreneur; I was at my first business coaching session with Chauntel McKenzie of the PowHER Network in Milwaukee, WI. I remember sharing with her my dreams and goals and not really sure if being an entrepreneur was for me. She saw something great in me and challenged me by getting me my first three clients, right then and there. I knew after that happened that it was nobody but God confirming that entrepreneurship was for me. Honestly, from that moment blossomed my private practice, The Evolving Chair Counseling and Consulting Agency.
What would you say is your greatest professional accomplishment to date?
I would say my greatest professional accomplishment to date, would be curating an annual National Mental Health Check Up Day™ in my home city, Milwaukee, Wisconsin. We are entering our third year this year. The National Mental Health Check Up Day was birthed out of the need to help the black and brown community see therapists that look like them and end mental health stigma. Participants are able to receive one free thirty minute mental health consultation with a licensed therapist to get a feel of what therapy might be like and possibly continue building the therapeutic relationship with that therapist. Through this initiative we have been able to service over forty individuals (adults and children). I am hopeful that I will be able to take this initiative across the US to continue ending Mental Health stigma.
What's the best advice you have received in business that you wish to pass on to our readers?
The best piece of advice that I have received during my entrepreneurial journey is to just start. Often times we as business owners can get so consumed with making sure the project we put out is perfect,
What has been the most effective marketing initiatives or programs you have used to promote your business?
One of the most effective marketing initiatives that I've used to help promote my business is podcasting, whether it's my own podcast or being a guest on someone else's podcast. I started my podcast about three years ago, The Evolving Chair Podcast, which focused on breaking the stigma on everything mental health in the black and brown communities through everyday conversations. Podcasting allows me the opportunity to share my knowledge and engage them in utilizing my therapy services through my private practice or it allows others to book my speaking services to share information with their audience for conferences, webinars, TV, etc.
What do you do for fun/relaxation?
I am an advocate for self-care especially as a parent. What I enjoy is singing and dancing. I love to have dance parties with my children at home and just be in their presence soaking up all of their youthfulness. I also relax by watching funny movies and TV shows.
What is number one business goal you plan to accomplish over the next year?
My number one business goal I'm looking to accomplish over this next year is the release of my first book, which is a book for parents. I'm excited and can't wait to soon release the title of my book.
What's the best way for the readers of Sheen Magazine to connect with you (feel free to include the links to your social networks and websites)?
Please feel free to connect with me on Facebook, Instagram, Twitter, & LinkedIn.
If you are in need of therapy services and you're in the state of Wisconsin please feel free to connect here!
Contributing Writer – Dr. Cozette M. White, Advisory Accountant and Tax Expert.  Learn more about Dr. Cozette M. White at www.cozettemwhite.com. 
Follow Dr. White – LinkedIn | Instagram | Facebook | YouTube TODAY!
All images by Amanda Evans Photography