The world is definitely a better place with music, and with a singer like Mario Bryant, we are sure to remember the impact he's had on our hearts and our ears! As a rising American Popera star, who appeared on the Fox show, "I Can See Your Voice," Bryant sent chills down our spines with his beautiful and compelling voice. He is a force to be reckoned with and is known to render people speechless after he sings because he is just so magnificent. In episode 3 of the show, Bryant's stand out performance of "You're Gonna Love Me" by Jennifer Hudson, brought the host comedian Ken Jeong and celebrity judges: Nicole Scherzinger, DeRay Davis, Russell Peters, Cheryl Hines, and Adrienne Houghton to their feet after hearing his jaw-dropping vocals. 
Growing up around music and feeling the pull to perform at an early age, Bryant has fond and vivid memories of how his love for music was sparked and how it further developed into what we see now. Not only is he one to pay attention to, he has a voice that you'll always remember. 
Humbleness and passion are part of his nature and he finds pleasure in bringing people joy through his singing. I had the chance to sit down with Bryant and talk about his history, his style and his philosophy about music. 
Mario, it's a pleasure to talk with you today…first things first, you're amazing. You have an eclectic style of gospel, pop, R&B and opera. You're called an American "Popera" star and you're known as a triple threat entertainer who is classically trained as an opera singer. There's always a history, and always a reason someone gets started, so…how did music make its way into your heart?
My first memory of music takes me back to when I was four or five years old. I was in the backyard with my older siblings just pounding on an old oven and I would take anything and pretend that it was a piano. I sang my first solo in church on Easter Sunday. My dad had an old typewriter under his bed, and of course, I pretended it was a piano too. One day I took a tin tambourine that I got from Knotts Berry Farm and shoved it in where the keys were so it would make a noise. Then later I took accordion lessons. My Aunt Josie, who just passed away, was the musician in the family. She would come over, always very elegant and I would always bug her to play the accordion and eventually, I fell in love with it. Later, my mom bought an organ, I became really good at it. I grew up with gospel and I was introduced to the Clark Sisters. I finally saw them live in concert and I zeroed in on Twinkie Clark and she blew my mind. From that moment on, I fell deeper into what I wanted to do. Through high school, I did talent shows and when I was in college, the classical opera training came in.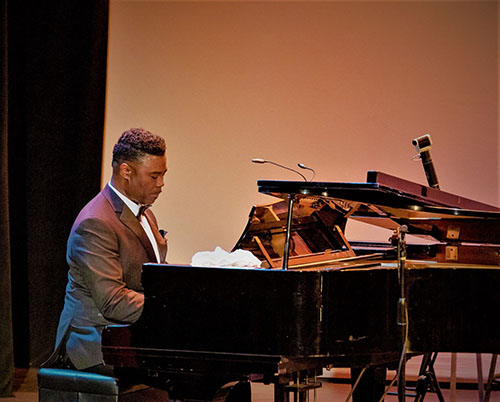 Tell us about your time on "I Can See Your Voice." 
I tried out for every singing show on television. I got really far on this show called X-Factor and I was one show away from being on live tv. They asked me was there anything they needed to know about me and kept pressing the question. They were blown away by my voice, but they really wanted a sob story. I never got a call back. They wanted a homeless story, or a drug story and I was boring. I work, I love music and I practice so, I don't know. (laugh) One day I was sitting on the couch talking to my wife and I saw an ad on Instagram. I sent in a few clips from the concerts I had done and a few days later I got a call on my phone from a 310 area code and that was Hollywood. I was at work and ran to the bathroom to answer the phone. They said "Hi, this is so and so from I Can See Your Voice, and you are amazing." He wanted me to do another video from home and I submitted that. They called me back and said they were interested in having me on the show. It went on from there. The whole experience was amazing. I got the chance to work with Ray Chew, who is the music director for the BET awards, the Soul Train awards, and so many more. He gave me some amazing tips. 
You've performed the National Anthem ten times for the LA Lakers. How does it feel when you perform the anthem for sports teams?
Performing the National Anthem at Laker games is nerve wracking every single time. Working with Lisa Estrada, the entertainment director for the Lakers, is very tough. You have to make sure it's perfect every single time. Plus, standing there with stars and celebrities right there on the floor can get to me. LL Cool J to my left and other actresses and singers and stuff. I have to totally zone out and go to another world, but it's cool. Singing the National Anthem is fun for me, it's easy for me. I did it a few times for Stater Brothers where I work, the hockey team, The Ducks, the LA Angels, Nascar, and then I started doing it for the LA Lakers. The first time I sent in the audition, I did it kind of soulful and they didn't call me back, then I tried an opera tune and then they called me back. Before the owner of the Lakers passed away, I found out he loved opera. So, between the LA Lakers team and their minor league, it's been ten times. 
What's your favorite song to sing?
Bohemian Rhapsody, I enjoy sitting at the piano and singing that. I actually learned it right before the show.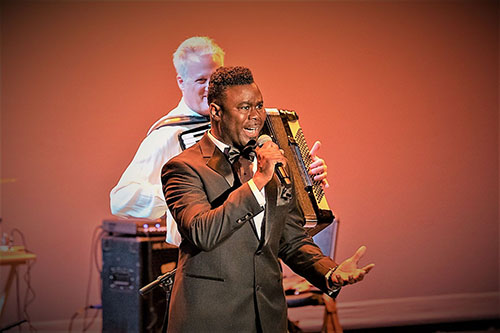 You caught the eye and ears of multiple Grammy-Award winning songwriter and producer David Foster…how did that relationship develop?
Well, I was watching TV one day before I went to work, and I saw him on a morning show, and he was saying that he had a contest. And, they said, if you want to sing with David Foster, send your video you know and let them look at you, blah, blah, blah. (laugh) I wasn't gonna do it. I'm like, oh, come on, this guy is like a legend. How is he gonna pick me? I did the video though and sent it in. Well, my wife calls me on my way home, and she told me that there was an email from David Foster. I'm like, are you serious? She read it to me, and it said that I won this contest and to report to the Universal Amphitheater in Hollywood on Wednesday…mind you, this is a Monday night. I didn't have time to get my head together. I got there and met him and went straight into a room to rehearse with him and he talked to me for a little bit, you know, telling me what to do. And then I went out on stage for another rehearsal with the orchestra. It was all blowing my mind. This was before I started doing concerts and the Lakers and so, I'm like, I don't belong here. I was super nervous, and then I just so happened to be in a meeting where the whole staff was having another meeting and they were saying stuff like, "Did you confirm Brian McKnight? Okay, Yes, he's coming. Did you confirm Doctor Field?" All of these conversations were going on around me. I'm gonna be here? I kept asking myself.  Are you serious? Anyway, so I went out there, I did my thing. I was extremely nervous. He switched up the arrangement that I did and so I was trying to remember his arrangement. I did good, not as good as I wanted to, but I did good. And so, afterwards, Doctor Phil came up to me, said that he was impressed and that I sounded amazing. If David Foster has me singing on the stage with his orchestra and Doctor Phil is telling me I sound amazing and he is impressed. Then I thought to myself, then I really need to pursue this.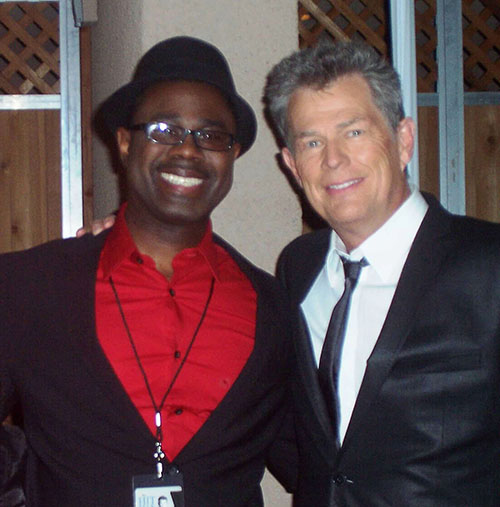 Describe how you feel when you're in front of a crowd performing…do you have any rituals you practice before hitting the stage?
So, I kind of keep it quiet and I meditate a little bit. Then I'll get on the piano and I'll do some warmups. And I just work my voice up, and then I'll have my water with some cough drops in there to keep my vocal cords clear or whatever. When I get to the Staple Center, I find out where I'm sitting and then I will go into the bathroom and I'll just belt it out. I don't care who is in there.
You have two boys…how are you teaching them the importance of going the distance and following their dreams?
I have a teenager and I keep him on track. I am telling him to be different. You don't have to go along with the crowd. Um, stay focused. And discipline, I keep him in line, I'll stay on top of him. He sometimes hates me, but that's okay. I tell him that I'm not your friend. I'm your dad, you know. And so even though we're friendly and he loves me…I make him laugh and he thinks I'm hilarious, but there are times I have serious conversations with him. I remind him when he gets out there in that world, it's gonna smack him right in the face and he's not gonna have mommy and daddy out there holding him by the hand. The world out there is kind of vicious. And so, you gotta be out there and be strong. Your character is gonna carry you to where you need to go. The way you treat people is very important because it can open up doors. You can be the most talented person in the world but have a horrible attitude or character. That'll mess you up, you know. 
Sum it up…what's the most important thing you want people to know about you?
The most important thing I want everybody to know is that I love everybody. I'm a very cultural person. One thing I found out about music is it is the universal language, and it brings people together. I grew up in Cerritos, where it was multicultural. I grew up with every single nationality on my block. So, I know how to talk and converse with everybody. And so, when I do my music, I look out into the audience and it's multicultural. I see White, Asian, I see Indian, I see Black, Mexican, whatever. I see everybody out there and that just makes me happy. And matter of fact, my first concert I saw that, and I just cried. First of all, it was a dream come true. And two, you know, I was able to pull everybody together. My first concert sold out.  I love everybody and through my music, you know, I'm able to pull together every nationality. And I continue to do that. That's my mission, to bring everybody together because we need that in our world.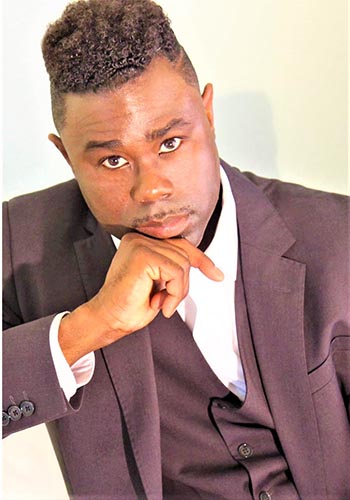 What's next for you?
I have a long-term dream, and then I have short term, so as of right now, short term, I am looking forward to more greatness in 2021. This year is already amazing.  We want to do some virtual concerts, virtual tours or whatever because of the situation right now and what's going on. But as soon as that lifts, you know, we're planning to do a humongous concert sometime this year. During this time, I had to kind of press the reset button and study more types of music. And so, just basically getting ready and also working out more. I want to eventually go international. I want to go all over, you know, China, Europe, Africa or whatever. And just to spread the good message of music and love.
Music is global and it moves us in many ways…how are you personally moved by the music?
You know what music is to me? I always tell people that music is my choice of drugs, choice of crack or whatever. I can be sitting down at the piano and start singing and oh, my God, I feel so much better, you know? And so, music moves me and it gives me energy. It gives me life, gives me spirit, and I'm able to share that with other people. And so, a lot of times, when that happens, I just break open the phone, you know, and start to make a video. When I sing opera, I feel international. When I sing gospel, I feel spiritual and energetic. And then when I sing pop-rock, I feel like I'm touching another part of the music spectrum. It's like different genres make me feel different things like that.
To learn more about Mario Bryant, visit his website and follow him on social media.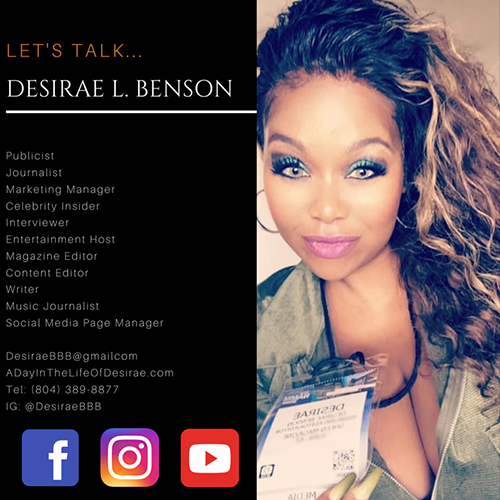 Desirae L. Benson is a publicist, journalist, content editor, and entertainment media host, residing on the west coast. She hosts her own show featuring four different segments with celebrities, musicians, and people of prominence. To find out more, visit her page on Facebook and Instagram, by using @DesiraeBBB or the hashtags:  #DesiraeBBB • #DesiraeLBensonPR #MovedByTheMusic •#AdayInTheLifeOfDesirae• For media inquiries, Email:DesiraeBBB@gmail.com 
All images by Raymond Huerta