Just after the release of her head bobbin' single, #AnxiousAF, Mia Ariannaa is back at it with a brand new single! Recently, the recording artist released the music video for her single, "STMFU," and its only gotten us more excited for her upcoming album, slated to release this year! Ahead of the album's release, we wanted to sit down to speak to the creative about her time during the ongoing pandemic, what she's currently working on, and more!
Tell us what inspired the visual for your music video for "STMFU."
Definitely Kill Bill. The movie inspired the whole video's theme and visuals. STMFU means using another weapon, such as a gun but we wanted to do something else to represent it. Rico was actually watching the movie on a plane. That's how he came up with the whole visual. That's what we were inspired by.
Can you tell us what we can expect to hear from your upcoming album, slated to release this year?
I just dropped "I'm A Good Girl…. Do You Believe Me?" on March 5th. You will hear a lot of different things. Am I allowed to curse? (Laughs). Well, you will hear a lot of songs. I have a song called "Sex in the Morning," "Fab" – which stands for Fake Ass Bitches, and a song called "Anxious." All of the titles speak for themselves. "Fab" is about me dealing with a fake ass bitch that I thought was my friend. Everyone can relate to that. "STMFU" is about a guy playing with you. It's like, I'm not playing with you anymore, I'm about to shoot the shit up, if you don't get right. I think a lot of people can relate to that. Anxious AF is about dealing with a guy that you are anxious about giving him your all or seeing him. "I'm A Good Girl…. Do You Believe Me?" is the peak of all of these songs. All of the titles speak for themselves.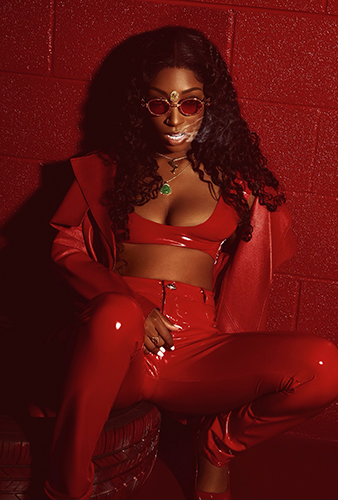 How has it been being a creative during this time of the ongoing pandemic?
When the pandemic first started, it was super hard. Everything was shut down so I couldn't travel. I did shoot "What Was I Thinking" during the pandemic, actually. It was a quick, fun video. The pandemic pushed a lot of things back. I definitely expected to drop my EP way sooner. Everything happens for a reason and I loved how it turned out. It was hard not being able to travel. I posted freestyles everyday, but I was growing frustrated because I was in the house. I didn't have much to talk about. I was over the freestyles. It was very hard. I was getting stressed out. As soon as I was ready to drop it, the pandemic hit. I had to wait months. It was hard but we got it together. Rico did an amazing job, he had us working. We shot everything that I'm dropping during the pandemic.
What are you currently working on and what can we expect to see from you in 2021?
Well, I'm pushing my EP that I just dropped. Rico and I almost have 100 songs that have been recorded in the span of two months. We have so much music to drop. Now, we're creating visuals and another music video will be released soon. We're promoting the songs but of course, you can expect more EPs, more albums, visuals, and much more.
For more on Mia Ariannaa, follow her on Instagram, Twitter, & YouTube.
Featured Image by Michael Schwartz