When we think of strength and resilience, a beautiful woman named Elizabeth Gerald comes to mind. We can't always tell what a person has gone through just by looking at their appearance, or even from having a general conversation with them. Although Elizabeth wore her smile very well and greeted people with her bubbly personality…she was still masking quite a bit of pain. With the heaviness of a thousand pounds of sadness, she did her very best to hold it all together from one day to the next. Her strength has been incredible considering all that she has been through. Losing her 15-year-old daughter Marcie to suicide may have stunned her, but it definitely has not stopped her. 
As any loving mother would, Gerald did everything she could to comfort and ease the mental anguish her daughter experienced after being sexually assaulted. When her daughter Marcie hurt…she hurt too. Counseling sessions and therapy sometimes help with coping from moment to moment, but the long-term impact that rape has on a victim is completely damaging and can take its toll on the human spirit in the long run. Gerald shares, "Before the assault, she was very outgoing, she had a lot going on and was on the honor roll in school. After the assault she developed PTSD, we did everything to get her help. Her assailant mocked her, she became fearful of everyday situations and stopped wanting to get her hair and nails done. She even began to rub her skin raw. She withdrew from many of the things she loved. Her personality completely changed."
September is Suicide Prevention and Awareness Month. In this interview, Gerald discusses how she has turned her pain into purpose by bringing more awareness to suicide prevention and the stigma that often comes with people who admit to having mental health issues. The MJG Movement, which uses her daughter's initials, (Marcie Jonea Gerald) was created to empower the youth and spark courage in their hearts. The Children's Advocacy organization is dedicated to serving as a resource for children and families that are victims of sexual abuse and suicide.
She is turning over a new leaf and giving hope to those who are struggling as well as giving comfort to grieving families who have lost a loved one to suicide. 
In 2014 your beautiful daughter Marcie was assaulted and raped on her way home from school. After this and understandably so, she fell into a deep depression and her world was just never the same. How would you describe Marcie and her relationship with her family and to the world prior to this devastating incident? 
Before the assault, Marcie was an honor roll student. She took dance classes, she would feed homeless veterans, she wanted to go to Harvard Law to become a lawyer and someday be a Supreme Court Justice. She was vibrant, full of life and enjoyed being around people. 
Because of this tragic event, Marcie attempted suicide on two occasions. The third time, she succeeded, and life was never the same for you and your family. As a mother, how are you coping with her loss?
You have two choices, either sit in the house and grieve yourself to death or get out and figure out a way to honor your child's legacy. So, I started MJG Movement in honor of my daughter. I get out to advocate for mental health, suicide prevention, sexual assault victims, and domestic violence victims. We also feed the homeless. We do what we must to help people. This is my mission. I am being called to do this. Marcie is guiding me every step of the way.
Marcie's life was not in vain, and you decided to do something memorable and meaningful to honor her name and her life. Tell us more about the MJG Movement.
Well, I started MJG Movement in honor of Marcie after her death. People said to me, "Black people don't kill themselves." So, because of the stigma and taboo, we don't talk about this enough and it's swept under the rug. I started MJG Movement to help families dealing with suicide and mental health. They need to know they are not alone.
Many people reach out to you, and you have a huge following of supporters from people in the music industry, politicians and even Michelle Obama reached out to you. What is the best way for people to support you and your movement?
They could tell others, tweet, partner with me, donate to the movement and in general, spread the word about the great work we are doing to help people. 
Recently you learned that you would be provided with a safe house to help people in the Chicago area. How did this come about and what are your plans moving forward with your outreach?
Yes, the Land Bank is donating a house to us. My partner, Edward Warren has a crew to help fix it up. Hopefully by the end of the year we will have our grand opening. We will help sexual assault victims, domestic violence victims, we will educate in areas of suicide prevention and mental health. The ones that need somewhere to live can stay there…we will feed them, have therapists come talk to them, have people  come teach trades like, painting, plumbing, electrical, and welding. We will also have a beautician and barber come teach how to do hair along with having some of the celebrities come teach about acting and music. We will put the person through the program they want. To take it a step further, we will help with orders of protection, go to court, or whatever that individual needs our assistance with.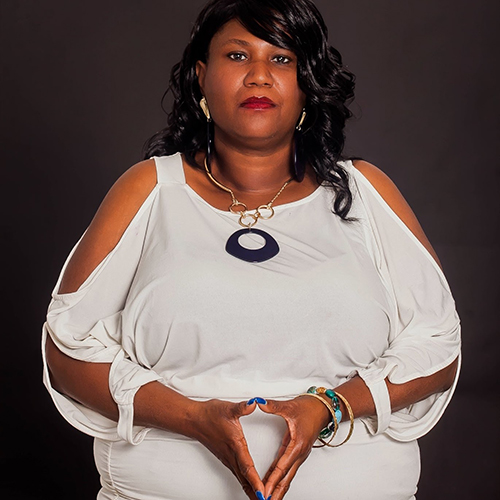 Why do you believe that mental health challenges are something, that has become so stigmatized in the black community? How can we change this narrative?
Because no one, wants to be labeled as crazy, and no one wants people to know they're going through something. anything can make a person depressed…losing a job, being homeless, not having food, going through, trauma, etc., can all make a person depressed. We really need to unite and come together. Helping one another, being kind, showing love, and patience will go a long way.
What is the most important thing you would like people to know about you and your mission?
I would say saving lives is the most important thing I can do. Every time someone tells me that I saved their life, it motivates me to keep going.
You have created some products, a book and even a Superhero figure all in Marcie's honor. Tell us more about these items and where we can find out more. 
Yes, we have a Marcie Marvels coloring book, the comic book was just finished. I also sell lip-gloss, eyeshadow pallets, and herbal teas. I have pictures, on my social media pages, they will all be on my website soon.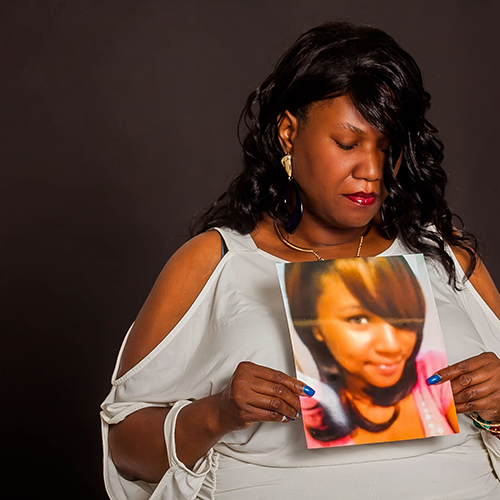 To learn more about Elizabeth Gerald and the MJG Movement, please visit her website. 
You can also follow her on social media: Facebook | Instagram | Twitter
Desirae L. Benson is an entertainment publicist, journalist, content editor, and entertainment media host, residing on the west coast. She hosts her own show featuring four different segments with celebrities, musicians, and people of prominence. To find out more, visit her page on Facebook and Instagram, by using @DesiraeBBB or the hashtags:  #DesiraeBBB • #DesiraeLBensonPR #MovedByTheMusic •#AdayInTheLifeOfDesirae• For media inquiries, Email:DesiraeBBB@gmail.com 
All images by Demetria Brown