Alexa, play "Cheetah" by Chris Brown.
I've got yet another SHEEN Review for you all today and to no surprise, it's all about TOBI.
In my last review, I stepped out of my comfort zone and rocked a satin midi skirt. Surprisingly, the skirt was a hit! I got so many compliments on my outfit and felt so fun and flirty in it. For this next review, I knew I wanted to feel comfortable in my own skin. It was so much fun putting together my second outfit from the brand and to say I'm absolutely obsessed would be an understatement.
I paired TOBI's On My Way Ivory Leopard Denim Skirt ($49) and their Square Up White Ribbed Bodysuit ($34).
If you knew me, or perhaps you didn't you can tell how confident I felt in this outfit. To me, it screams Thao. I love the denim material of the skirt because its thick, yet stretchy and comfortable on.
I've been branching out and trying a ton of bodysuits lately. TOBI's Square Up White Ribbed Bodysuit has two ties that sit on the shoulders. I love how simple yet pretty this small detail is. I even paired this bodysuit with white shorts (judge me if you want for wearing white bottoms after Labor Day) and I thought it looked just as great. There's so many ways you can pair this bodysuit. I even love it with jeans. In the short amount of time I've had this piece in my wardrobe, I have worn it plenty in numerous ways!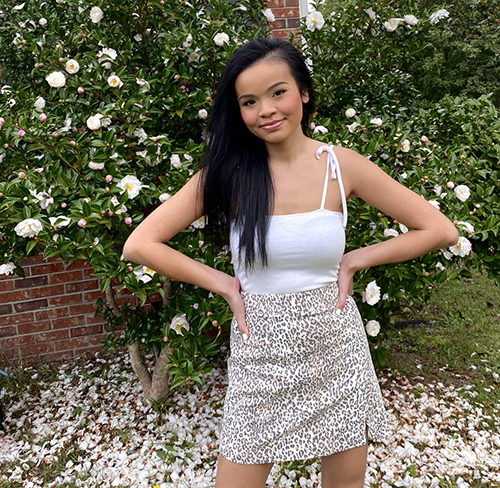 I'm a huge USC (Gamecocks) fan so I knew the brand's On My Way Ivory Leopard Denim Skirt would look amazing on game days. Theres only three things I love in this world more than the Gamecocks and that's a good skirt, denim anything, and a simplistic way of adding a little oomph to an outfit.
Thank the lord for TOBI, the Carolina Gamecocks, and the fall season!
Be sure to head back to SHEEN Magazine for more SHEEN Reviews!
For more information on TOBI and to purchase your pieces today, click here!