When he sets things in motion, people naturally take notice. As the Founder and Executive Director of the Haitian International Film Festival, (HIFF), Jacquil Constant leads the development, promotion and implementation of all festival activities including strategic partnerships, fundraising, marketing and priority setting. This year, the Haiti International Film Festival celebrates its 5th year of greatness. The day-long celebration of Haitian culture through film and art is typically held on site in Hollywood, California, with people physically enjoying the films and festivities. Due to the pandemic, the festival will be done virtually. Although this will be done differently than in previous years, this certainly won't take away from the depth and reach the festival is known to bring. The (HIFF) promotes cultural diversity through various genres including short films, documentary and narrative films. 
With ambition and dedication backing his personal pursuits, Constant is a trailblazer who knows what it means to take the lead in a positive and decisive manner. His hard work has assisted in showcasing the work of emerging and established filmmakers who seek to show a positive and authentic image of Haiti. His ongoing passion for Haitian film and art, propelled him in the direction to create a much- needed platform that was absent in Hollywood's film industry. Constant says, "The problem with black culture sometimes, is that we are so creolized, that we try to please everybody, then there's nothing left for us. If we give everybody our best, what is left for our kids?" Because of his determination to share real and thought-provoking depictions of his heritage, he has reached a diverse national and international audience that shares his love for the culture, customs and creativity that is firmly rooted in Haiti.
Constant has been exceptionally dedicated to doing what he is most passionate about. His colorful and impressive career spans over twenty years in the independent filmmaking industry.  His credits include networks such as MTV, BET, VH1, and PBS where he worked in various capacities including production, post-production and casting of reality television shows.
Constant is also highly intellectual and holds a Master of Arts in Interdisciplinary Studies with an emphasis in Pan African Studies, Cinema Television Arts and a Bachelor of Arts in Film Production from California State University Northridge.
I had the chance to catch up with him and we had a great conversation. He shared a lot about his history and the reasons why Haitian filmmakers are instrumental in bringing profound and colorful stories to life in Hollywood. Take a look at the discussion below.
Jacquil, you lead the development, promotion and implementation of all the great things related to the Haiti International Film Festival. How did you first become involved with this?
First it started with me as a filmmaker. I made a film called "Haiti Is A Nation of Artists" which is about Haitian artists doing transformational art after 2010. With me as a Haitian American filmmaker, I wanted to see a different side of Haiti. The tagline of Haiti is always, the poorest nation in the western hemisphere and I wanted to show that we have a culture of resilience. I was in grad school at the time and I had a year left. As a storyteller, I did some research and then went there to do my documentary. I traveled for the documentary for a few years. I just naturally knew we needed a film festival and I think sometimes being an entrepreneur you solve problems for the community because it's very hard to find quality Haitian films. I'm in the same film circuit as a lot of Haitian filmmakers who are going back to connect with their roots. I started the film festival at Cal-State Northridge the first year and the last three years it was at the Barnsdall Gallery Theater and this year it will be online. I think it's really important for the African diaspora to tell their own stories. The reason why I started the film festival was to showcase our greatness. 
How is this film festival different from the others being that it's the 5th annual one?
This one is different because of the theme. We want to show the exploration of what it means to be Haitian. We have Haitians all over the nation. We are complex, some are in Los Angeles, some are in Miami, we are all over. People have a limited view of where we are from. I want to show it all. There are many different sides. It is our responsibility to tell our stories. Since Wyclef, there's been a resurgence of people saying they are proud to be Haitian. I think in the past that was avoided. After the earthquake, it made people stand up and say what else do we have to offer. We were tired of being portrayed a certain way and some of us decided to go back and explore our culture for ourselves. With this shift, more needed to be done to highlight our contributions.
What does the line-up for the film festival look like this year? 
Seven short films and three feature films which are broken down into two short film blocks. A lot of Haitians went back home, many are actually from Benin, Africa. So, one film is about going back home and exploring the roots of the culture. There's one documentary about drumming being lost, but now there's quite a big resurgence. I think this is important through African culture to tell our stories. Some things that have been lost can be made popular again. There's a film called "Rasin" in which there's a son and his dad was a preacher. He started questioning things about his life was balancing it off all that he had learned. He asked himself, "Why are our roots so bad?" He went back to Haiti to find out more about himself from a nonwestern perspective. Voodoo was also shunned, and he wanted to find out why. In reality, all of the history was written by white missionaries. This film explores these questions and more. All the films we are showcasing are great. I am very proud of all the filmmakers.
What is the importance of Haitian filmmakers showcasing their work in Hollywood?
Hollywood is the entertainment capital of the world. The other reason is to show that we have quality filmmakers. It breaks that myth that we can't have high quality, when we really can. I want Haiti to be recognized for how special it is. I want our community to say it's great too. We have a Japanese film festival, a Russian film festival, why not one for us? The problem with black culture sometimes is that we are so creolized, that we try to please everybody, then there's nothing left for us. If we give everybody our best, what is left for our kids? I see this all over. I'm in different places, but these same things are happening. This has to change. We need to have a diverse cultural experience.
What are some your future goals for the film festival?
We want to create our own spaces, safe places to express ourselves and be creative. Our future goals will be to continue to create more unity and strength. The time for us to produce independently is now. I want to have discussions, celebrate and have fun too.
The film festival takes place on August 15th through the 16th. To purchase film viewing passes and to support the festival, go to: Haitian Film Festival Passes.
To learn more about Jacquil Constant and the Haitian International Film Festival, check this out! Promo 5th Annual Haiti International Film Festival.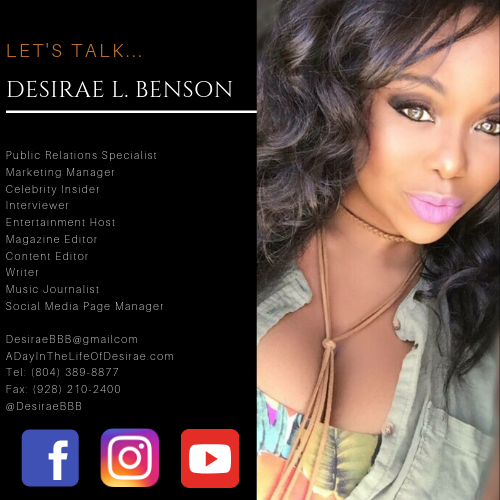 Desirae L. Benson is a writer, content editor, publicist and entertainment media host, residing on the west coast. She hosts her own show featuring four different segments with celebrities, musicians, and people of prominence. To find out more, visit her page on Facebook and Instagram, by using @DesiraeBBB or the hashtags:  #DesiraeBBB • #DesiraeLBensonPR #MovedByTheMusic •#AdayInTheLifeOfDesirae• For media inquiries, Email:DesiraeBBB@gmail.com 
Featured Image by Jerome Thomas