"Bravo, Bravo, F*cking Bravo!"—Denise Richards, Wild Things actress and former real housewife of Beverly Hills. 
BravoCon—NBC's beloved conference which allows Bravo-holics to merge with their favorite Bravo-lebrities for three fully immersive days of a plethora of panels and partying, high vibrations and lots of libations. 
The experience spanned from the Caesar's Forums to the Paris Theatre in fabulous Las Vegas. The city was ablaze and buzzing with energy from the latest and greatest straight out of Bravo. Fans from all over the world flew to the city that never sleeps to mix, mingle, slay, and throw their own personal shade at their favorite and most hated reality show stars. 
One of the top Bravo-sations consisted of if The Real Housewives of Atlanta would get the same refresh and reboot as The Real Housewives of New York after a weaker than usual seasons from the wives. Andy Cohen—Executive Producer of The Real Housewives and host of Watch What Happens Live, neither confirmed nor denied what the future holds for the current and prospective peach holders. "We have a group of all-stars. It was a soft season, but Atlanta ladies never disappoint, and we'll figure it out."  As far as The Real Housewives of Salt Lake City's direct and very comedic relief—Mary M. Cosby goes, Andy says, she is standing solid on her lack of participation, and we should get what we can get from the former wife and now friend of Salt Lake City.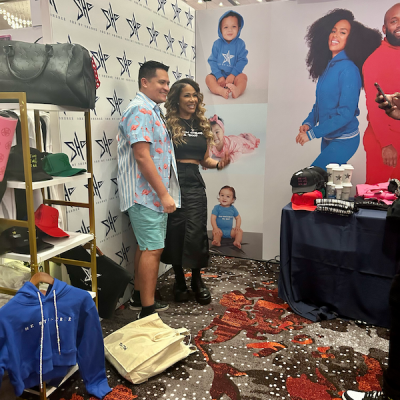 The Bravo Bazaar served up beloved Bravo-lebrity brands, in which fans were able to consume the stars iconic and legendary merch, such as SHE by Sheree, created by the OG of The Real Housewives of Atlanta—Shereé Whitfield, in which her joggers, crop tops, duffel bags, etc. were up for grabs. When asked what caused the SHE by Sheree delay, the icon says, "Sh*t happens, sometimes you're not fully invested, but at the end of the day—it's here." Shereé  would love to see Porsha return to the cast, and she also mentioned that it's cute for Phaedra to be on Married to Medicine, but she would love to see Ms. Parks back home on RHOA. 
Dr. Heavenly Kimes (Dental) and Dr. Jackie Walters (Gynecology) of Married to Medicine, which is celebrating their 10-year anniversary on Bravo, both agree that the vagina is cleaner than the tongue and that it is a self-cleaning oven, so avoid soaps and all the things one may think are needed to keep the yoni fresh. As far as that mouth, Dr. Heavenly says most people are not taught to clean their tongue and encourages them to do so. The Doctors also agree that Phaedra Parks is a breath of fun and sultry fresh air to the Married to Medicine cast. As far as who the shade assassin is of M2M, Dr. Heavenly still holds the crown and whoever thinks they are coming for it on her turf, she says, better be careful. 
She got it, she got it! Married to Medicine's, Miss Quad Webb brought it to BravoCon. The author of Cooking with Miss Quad: Live, Laugh, Love, and Eat brought her SASS—Sweet and Savory All Purpose seasoning for the people. When asked about why she thinks Bravo chose to bring her ex-husband—Dr. Gregory Lunceford and his new wife to the cast for the 10-year M2M Anniversary versus executive producer and former wife, Mariah Huq, she says, "People make decisions all the time, but they aren't always necessarily the right ones."
Heather Dubrow—the wife of Bravo's very first housewives city, The Real Housewives of Orange County, says many people were confusing her with and asking about if she would be swapping the OC for Beverly Hills, in the same way that Taylor Armstrong, left Beverly Hills for OC. After a season of enduring most of her casts unwarranted frustrations with her, followed by their lack of celebrating Heather's 55 million dollars' worth of gains, the wife says, "Never say never." 
The Real Housewives of Salt Lake City's, Lisa Barlow confirmed that after losing her $60,000-diamond ring in the Palms Springs airport bathroom, she has finally replaced it, but she's still not over the loss, and honestly who would be? The wives confirmed that their trip to Bermuda later on this season is more than a triangle, but there is a lot of healing that transpires in the midst of the hell. Newest wife, Grecian Goddess, Angie Katsanevas on Meredith Marks coming after her husband earlier this season, "I hope she learned her lesson and she better not do it to me again." Lisa, who also suffered a husband attack from Meredith on season 3 says, "I think she just can't help herself."
The Reasonably Shady, green-eyed ladies of The Real Housewives of Potomac, Gizelle Bryant and Robyn Dixon said that BravoCon reminds them of why they do this housewives business—while they might receive some hate, there is a lot of love as well. When Robyn was asked about if Juan Dixon, her somewhat problematic partner of 27 years would eventually behave himself, she says, "He learned that he was stupid and he needs to get it together." She added that it is not all on him and that they've been together since they were 17 and instead of calling it quits, they choose to learn, grow, resolve issues, and keep moving forward. 
Haiti's very own, internationally known, as seen in Vogue, events designer, Guerdy Abraira, from The Real Housewives of Miami, celebrates being cancer free after several months of fighting the disease. When asked about who the villains of season 6 are, the beauty says, "There aren't many changes in who's doing what. It's innate for some." Dr. Nicole Martin says Miami keeps it spicy and alluded to their being a lot of unexpected shifts in friendship dynamics. 
Real Housewives of New Jersey OG table flipper and Andy Cohen pusher, Teresa Guidice, explained that her new hubby, Luis Ruelas influenced her to finally bring her New York Times bestselling recipes to her cooking show on Youtube. Teresa has experienced shocking things on RHONJ, including losing both of her parents and she has said that the storytelling behind each recipe is her way of honoring their memories. 
Beyond the highly coveted real housewife status, a lot of these women have some heavy titles and hyphenates, such as 4-time gold medalist, Sanya Richards-Ross who is 7 months pregnant with her latest blessing and Dr. Nicole Martin, The Real Housewives of Miami's very own Anesthesiologist who is also expecting her second bundle of joy.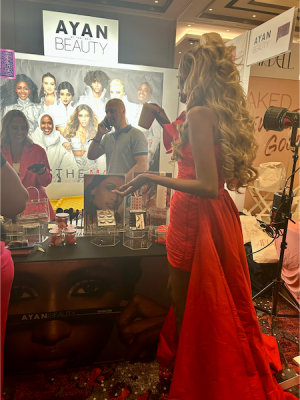 Ripping various runways, The Real Housewives of Dubai has the stunning Chanel Ayan, a Kenyan born, Somali and Ethiopian supermodel and The Real Housewives of Miami's very own Haitian fashion Model and philanthropist—Kiki Barth, who was celebrating her first BravoCon. Caroline Brooks is the Black Woman owner of the first all-inclusive spa in Dubai—The Glass House. Dr. Wendy Osefo of Potomac is the holder of four distinguished education degrees, a political commentator, and an assistant professor at John Hopkins School of Education. Salt Lake City's licensed lawyer and jeweler is Meredith Marks.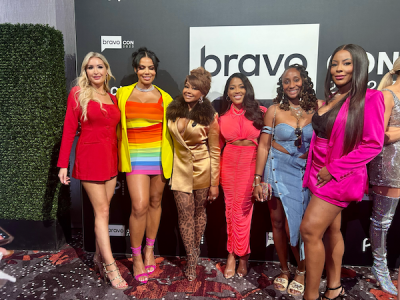 Andy Cohen revealed that all uncensored Bravo Reunion shows will stream on Peacock the day following their Bravo airdate. 
Stay tapped in with The Real Housewives and Married to Medicine via @bravotv and @bravowwhl and get into all the BravoCon content via @peacock