2020 has brought about many changes and a lot of controversial subjects to the frontlines of
America. More and more people are finally opening their eyes to the disgusting issues of racial
inequality and the multitude of injustices that have been going on for years. On the heels of the
horrific murder of George Floyd in Minneapolis, people from all over the world are demanding
that a deeper analysis is needed in regard to many of the current systems that have been in place.
Issues related to our justice system, cultural representation and even the food industry are being
dismantled and exposed.
Glynis Albright, the world-renowned CEO of Glynis'® Products and Glynis' Kitchen®
Products, has been in business since the early 80's. As a successful Black woman who prides
herself on her outstanding products and her public image, Albright is naturally disturbed that
some companies in the food industry have been accustomed to using derogatory images of Black
people to sell their brands. In creating her own company, she explains that representing her brand
in a classy, respectable and memorable way, was a top priority for her. She is her brand and is a
real person, not some fictional image used to sell a product such as the images representing, Aunt
Jemima, Mrs. Butterworth, Uncle Ben, or the many others that have been in circulation for
decades. She says, "I wanted it to have all of my characteristics yet, be appealing to any and all
cultures of the world. I definitely didn't want to release a product that would only appeal to
people of my own race. I felt that my waffles, pancakes, and crêpes could be prepared in any
kitchen. In other words, I wanted the Waffle Queen logo to be so versatile that she would be
recognized regardless of the pigment of her skin. I wanted her to have the look of confidence; a
proud businesswoman of any race, creed, or color."
Albright sat down with me and delved much deeper into this topic, shared her innermost feelings
and shed some light into how this all can change.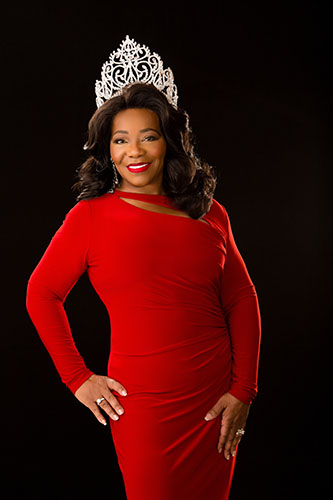 In recent news, Quaker Oats, the company behind the Aunt Jemima pancake mix and
syrup, got rid of the brand after 131 years, based on the negative racial stereotype it
depicted. How do you feel about this, being that you are known as the Waffle Queen and
are in fact a real-life person with a real story and not some made up character? 
I am happy to see the beginnings of change. I never liked the images that I saw on certain products while growing up. I hated seeing the logos used on various foods, restaurants, ceramic whatnots, cosmetics and soaps, etc. I never knew the history behind any of these images. I just knew that they were displeasing to look at. In 2017, at my product launch at Spaghettini's in Seal Beach, CA, I learned a little bit about Aunt Jemima. A marketing guru, Debra Mars, attended my launch and pulled my coattail. She hinted that I might be making history because Aunt Jemima was not a real person. She whispered to me that you are a real person; you own your name, the company, and entire product line — 100%. She said, "Aunt Jemima is a fictitious character. Read about her when you get home." I was excited, shocked, and embarrassed. I was excited that I had done something great that would leave a mark in history when I leave this Earth, shocked that Aunt Jemima was not a real person, and embarrassed that I didn't know the story nor had it been told to me in any of my history classes.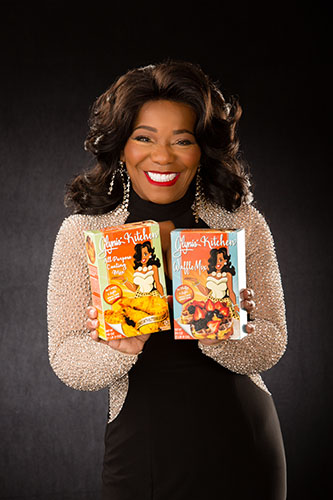 You have been a businesswoman since the 80's and entered into the food industry in the early 90's. What were some of your thoughts growing up and subsequently, creating your own brand while seeing fictional and derogatory brands like Aunt Jemima or Uncle Ben's?
Growing up, I never thought about going into any business that would require me to create a product. I was studying to become a surgeon. As fate would have it, in the early 90's, I started my first gourmet dessert line—Just Sweet Enough®, 2003—Cookie Dots® and Mrs. Albright's Tea Cakes®, 2007—Doggie Cookie Dots® and Lina's Nutty Treats®. All of the logos for these products were positive images. In 2017, I released the Glynis' Products® line for the world to taste (which was created in 1977). In 2016, after spending almost a year getting my recipe converted into a formula for mass production, the next step was to create a logo for my product line. Without even knowing the story of Aunt Jemima, I knew that I wanted a logo that would be like my other logos, one with a story behind it. I told the artist whom I had chosen to do the initial drawings of my logo that I wanted it to be a caricature of me; colorful; fun; sassy; and most of all, classy. I wanted it to have all of my characteristics yet, be appealing to any and all cultures of the world. I definitely didn't want to release a product that would only appeal to people of my own race. I felt that my waffles, pancakes, and crêpes could be prepared in any kitchen. In other words, I wanted the Waffle Queen logo to be so versatile that she would be recognized regardless of the pigment of her skin. I wanted her to have the look of confidence; a proud businesswoman of any race, creed, or color. So early on, I was thinking of not only a product that would fit into my culture, but any culture. I was thinking global marketing. Once again, although I didn't know the history of Aunt Jemima, I knew that if I were to release a Waffle Mix, I did not want the logo to be portrayed as anything derogatory.   I prayed for the answer and it came.  Be sure that the logo represents the three main products that made it so popular amongst your family and friends. Waffles, pancakes, and crêpes.   My logo is a caricature of me wearing a waffle skirt, a crêpe bustier, and a pancake necklace.  She is classy, colorful, sassy, and fun-looking.  The end result:  a proud Black woman who owns the company that bears her name and proudly displays the items that it creates. 
Why did this move by various companies like Quaker, Pillsbury, Land o' Lakes and others take so long in your opinion?
I believe that the people who created these images felt that they didn't have to change!  If they
were corrected immediately, it is obvious that they didn't listen.  My spiritual brother said once
in an interview, "What you allow will continue."  If these companies were used to doing things a
certain way and were able to get away with it, it continued. I think when you are marketing a product, if it doesn't hurt you in anyway, meaning YOUR race, then less is thought about how it will make others feel.  If you were being taught from the beginning that your race is the superior race, then why would you care how it offends anyone else?  So to portray Blacks as slaves, mammies, and butlers with black-face and worn out clothing; a Hispanic as a bandito (I remember Frito's corn chips growing up), a clear maid- shaped bottle with a thick, brown liquid in it, to resemble a Black maid, an ice cream sandwich with an Alaskan native on the front being called an Eskimo pie, and the list goes on . . .was all fine.  We hurt seeing those images.   I don't think that there was ever a thought about changing.  There just weren't enough people of color at that level of making those decisions so, whatever was thought of, became.  I know that Black people have been complaining about these images for decades.  At some point, things build up and collectively, you say, "Enough is enough.  I am tired of it." For me, I think in my subconscious mind, I wanted all of Glynis' Products to have a positive image – one that I would be proud of; one that would make my family feel proud too.  
How can America move forward from the damage it has done when it comes to its negative depictions of Black people who have been used to make money for companies in the food industry?
Through the years, I saw the Aunt Jemima logo change.  The Aunt Jemima products that I grew up with look waaaaay different than the Aunt Jemima products on grocery stores shelves today.  She became more appealing—more pleasant to the eyes.  She became more relevant. She no longer looked like a maid. She looked more like Betty Crocker with darker skin.  I can see that someone in the marketing department was listening.  I guess the question is, "Is changing Aunt Jemima's look enough?"  I believe that it's the name "Aunt Jemima"; what it stands for and what it means to every Black person.   It's so demeaning.  In answer to your question, I guess the one thing that is left to do is change the name.  Do a RE-brand.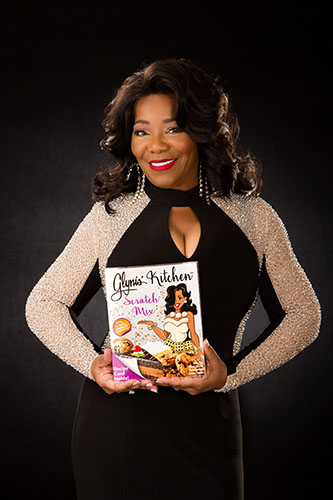 What would you like the world to know about Glynis' Kitchen products and where can they be found?
Glynis' Products consist of Glynis' Kitchen Waffle Mix (which makes waffles, pancakes, and crêpes), Glynis' Kitchen All Purpose Coating Mix (which can be used for coating, then frying, baking or air frying beef, poultry, fish, seafood, lamb, pork, plant-based meats, and veggies), and Glynis' Kitchen Scratch Mix (which replaces flour in most recipes).  My newest addition to the menu is Glynis' Secret Sauce Mix (which is a sauce that enhances sandwiches of any kind or it can be used as a dip) and later this year, I am hopeful to finally release Glynis' Caramel Spice Syrup.  I use no artificial colors, dyes, sweeteners, preservatives and additives in any of my products.  Real sugar is used as my sweetener and spices and extracts are used for color (which gives you the benefits of the delicious taste, aroma, and the healing qualities as well).  
Glynis' Waffles are served at The Akwaaba Inns in Brooklyn, DC, New Jersey and the Poconos Mountains. All Glynis' Products are sold in HomeGoods stores all across the country and soon (hopefully by the end of July) they will also be available globally through the third largest mass distribution company in the world, Zulily.  
Any cruise that I am onboard, Glynis' Kitchen Waffle Mix is onboard as well, serving Glynis' Waffles in its main dining room or theater venue.  So far, Glynis' Kitchen has popped up on Holland America, Royal Caribbean, and Celebrity Cruise Lines. Glynis' Pop-Up Kitchen also sets up in major cities nationwide.  One of my stops each year since 2018 has been at Berks Jazz Festival inside the beautiful DoubleTree by Hilton Hotel.  You can also order all products on the Glynis Kitchen website. To support the movement of buying, supporting and acknowledging black-owned businesses, my company, Glynis' Kitchen, is giving away a free packet of my world-famous Secret Sauce Mix now through July 15 th . After this date, you can purchase the Secret Sauce Mix on the website along with my other products. We are hoping that by the end of July, all Glynis' Kitchen® products will be sold through Zulily, one of the largest mass distribution companies in the world! I am constantly updating information on social media and my website, stay tuned. My heart is always full when people share stories of how my products have been used to make delicious meals!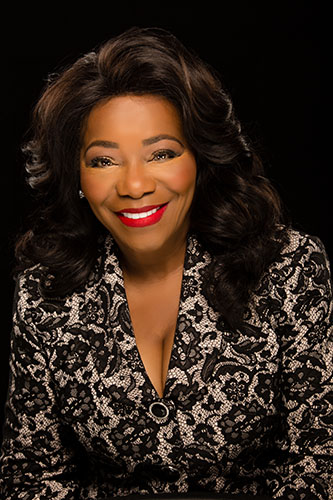 To learn more about Glynis Albright and Glynis' Kitchen, click here.
Follow Glynis Albright on Facebook, Instagram, and Twitter.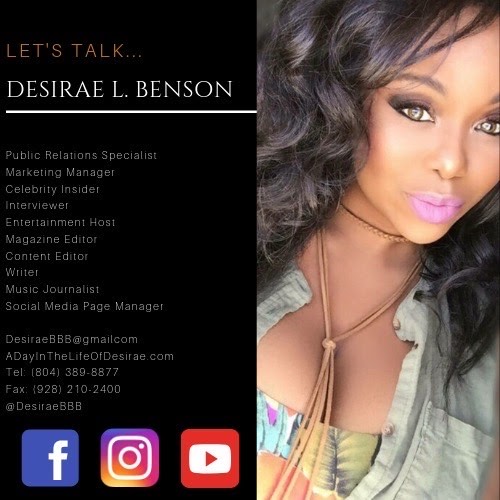 Desirae L. Benson is a writer, content editor, publicist and entertainment media host, residing on the west coast. She hosts her own show featuring four different segments with celebrities, musicians, and people of prominence. To find out more, visit her page on Facebook and IG by using @DesiraeBBB or the hashtags: #DesiraeBBB • #MovedByTheMusic•#AdayInTheLifeOfDesirae• For media inquiries, Email:DesiraeBBB@gmail.com
All images by Jimmy Dozer