"Judas and the Black Messiah" is a much-needed movie about Fred Hampton and his rise in the Chicago, Illinois Black Panther Party. As a talented and authentic actress, Alysia Joy Powell plays the role of Pauline Winters, who is the mother of the 19-year-old Black Panther member, Jake Winters (Algee Smith) who is visited by Hampton (Daniel Kaluuya) after her son was killed. The intensity of the interaction between Powell and Kaluuya can be deeply felt, as the scene confirms how fragile life is and how loss changes who we are as human beings. Powell says, "I felt the weight of all mothers who had lost children to police brutality. It was very heavy, and I carried it with me." Powell understands how to draw the audience in by keeping our undivided attention with her powerful, but gentle presence. 
Powell is a native of Southern California who was born of two parents who met in an acting class. Supremely talented, she started her entertainment career in her late 20's with Gospel music. At first, Powell was singing as an artist with the likes of Richard Smallwood, Yolanda Adams, GMWA, as well as singing back up for artists like, Mary J. Blige, before she began managing artists. 
There came a point in time where she realized her childhood dream of acting, with having a 20+ year career in Film, TV, and Stage. (Everybody Hates Chris, The Sitter, Ma' Rainey's Black Bottom, etc.) Alysia recently recurred on NBC's, The Mysteries Of Laura as Nanny Alicia, with Debra Messing and Laz Alonzo which can be seen on Netflix and Hulu. Her latest credits are Billions of Showtime, Bull on CBS, Pose on FX, and the 7th Season of Orange Is The New Black, cast as Wyndolyn Capers. She gives a riveting performance in the new film about Chicago's Black Panther Chief, Fred Hampton, in "Judas and the Black Messiah" from Warner Bros. 
I had the chance to sit down with Alysia and talk about her acting, her life and where she gets her motivation. She shared some incredible insight into her career and the things that helped shape her. 
As an actress—you have portrayed some amazing roles, one of your latest movies, "Judas and the Black Messiah", you play a grieving mother who has lost a son, which is something all too familiar for many of our beautiful black queens… how did this role come about for you and why did you decide to take it?
For me, it was a no brainer, okay. First of all, I went through the regular order of things. I auditioned for the role. I went through, Alexa Fogel, who did the casting on this project, who's an amazing person. I've worked with her a couple times before, for "The Sitter" and she booked me for "Bull" as well. This role was to die for, it was basically a monologue, I mean, Daniel only has like two lines. It's basically a monologue. I just went through a gamut of emotions during the filming. I'm really glad that I didn't know the family then. I know them now, we've connected, but I'm glad I didn't then, because what you said about a mother who's grieving, it wasn't specific for me as Pauline Winters. It was really a channel for everything that's been going on. 
The day we were shooting on the Botham Jean verdict was coming in. You know, I felt the weight of all the mothers who had lost children to police brutality. I felt very heavy. And I carried that with me. And I think that it was evident as we sat down. And I also realized in that scene that even though I had lost a child, that was not my objective. My objective was to absolve chairman Fred Hampton of the responsibility of my son's death. And in exchange, I needed him to promise me that Jake's name would not be forgotten. And it's so funny because that's one of the things that the family told me, that he died so young, but he was so committed to the work of the Black Panthers. This boy, he was 18, he was the valedictorian of his class. He turned down five college scholarships to work for the Black Panther Party and to start a breakfast program all the while working at the post office. He was a remarkable person, and that story was very important to me. That's one thing the family wanted…to make sure that his name was not forgotten after all. That people remember what he gave, the sacrifices that he made. It's so funny because I was just talking to Chairman Fred Jr. the other day. And I told him, I said, "Out of all the things that your family has sacrificed, if you did not do the things that you've done, it would be enough because you paid the ultimate price". But he tirelessly works for the people. Then I have to ask him, "Are you getting rest?"
I'm not sure how much you knew about the Black Panthers growing up or prior to your role in the movie, but in your opinion, why do you believe the Black Panthers were seen in a negative light instead of being showcased for all of the positive things they did? 
Because the government was terrified of what they were doing, just like my Martin Luther King Jr. And he started the poor people's movement and they saw that he was gathering more than just black folks. I mean it's bad enough black folks was moving up in the world. And the Black Panther Party focused on self-sufficiency and bringing up the community. But when they started gathering folks from all different backgrounds together, that was terrifying. Oh no, they had to stop him. And they also saw the power of the Black Panther Party from other people who they had already put in jail and they saw how it didn't stop. Just like chairman says, you can stop a revolutionary, but you stop this revolution. But as long as you oppress people, as long as you try to keep pushing people down, as long as you try to have some power over a people who are powerful, you're going to have resistance. You're going to have a revolution. You're going to have a takeover.
What do you do to mentally prepare yourself for the roles you play? Any rituals you do to get yourself in that zone?
No, I honestly do look at it as a gift. It is truly a gift from God. And every experience is very spiritual for me. And I go through different things for different shows or different roles that I've had. This one was the deepest, it's the most I've been proud as well, but this one was the deepest, it really was an out-of-body experience. And it was a journey because up until now, most of my career has been comedy. And I love drama, comedy is so easy and off the top of my head, I've got pretty good timing. But drama, ooh, that makes me work. And I love going through emotions like that.
What did you do to prepare for this specific role in, "Judas and the Black Messiah?"
What happened is that I tried to research, and I couldn't find anything. I didn't know if Jake Winters was a real or not. It wasn't until the day that I got on set, that I found the story about him. And so, starting my day, I went around to people and I said, "Can I tell you about my son?". And that's just what I did. I cried on every take, on one take I looked up and the camera man was crying. I was like, okay, I'm in the right place.
And Daniel was so generous and so present for me that he made it very easy. And I got an approval from Mama Akua A.K.A, Deborah Johnson. Mama Akua said, "When you and Daniel sat at that table, it was like, you guys had known each other for years". And I was like, okay, I'm good, if Variety calls or Hollywood Reporter, I don't need them because Mama Akua said what she said!
This is a two-part question, and I'm hoping it can give the readers more insight into you and your personal "why" for doing what you love. We can be influenced by many but only supported by a few. In the years leading up to your career, who has been the most influential and also…who has supported you the most? 
My parents, which is amazing because they did not want me to have anything to do with the industry at all. Coming up, I was forbidden to get into acting.
You know, God brings you full circle with your gifts. I grew up in California, in Altadena, and something funny happened one time, I think I was 14. I don't know if you know where Long Beach is, but it is very far from there. I took a bus at 14 to go see this lady who managed kids and she also did workshops on the weekend. So, I took a bus by myself to go meet this lady and my dad met me there because he had read my diary. Oh my God, it was horrible! I was like, "Y'all gave me this diary so you can spy on me and figure out what I was doing?" (laugh) So, he went in with me, he let me take the class. And when we came out, he was like "You know, you ain't doing this right?" So, honestly, I gave it up, but I would sing in the car like I was in a concert, which would drive my mom batty! Like, oh my God, and if they had car parties or anything I would put on music and sing to the people, because music really was my first love. So, it was interesting that I got introduced to the gospel industry and I joined the Gospel Music Workshop of America, the LA chapter.
Then I started singing back up for people. And then, I came full circle. There was a flyer on my car that said auditions for people who can sing. I said "Oh Jesus, what are you doing to me? What are you doing?" And then a week later, I got the audition, I got the part for the lead. And then, well, I was supposed to be the understudy and the girl went and did a fall down the stairs. And then, I had to take her role and learn the lines in two weeks. And then a friend of mine called me and said, "I have an acting class that you should check out". And I was under Bobby S. for eight years before I moved to New York. So yeah, it's been a journey.
What was it like working with Daniel Kaluuya, I love his accent, oh my goodness?! 
Girl, you just want to put the panties on his forehead I am telling you! (laugh) I was like "You know we can meet in the back." He got a whole girlfriend and everything. Daniel is just so available and so vulnerable. And the vulnerability lies within his eyes, he tells a whole story in his eyes. He's just so brilliant at that, I just had the best time. I just felt really connected with him, it might be because we were doing a heavy drama and he was so emotional, but he's brilliant. He really is brilliant at what he does.
This pandemic has caused a lot of people to go within and hone in more on their creativity, skills, and do more inner work and focus on self-care. What has this time taught you the most about yourself?
That's a good question. I dealt with a lot during this pandemic because I lost a lot. I lost a lot and I know a lot of people who have lost a lot, holding on to faith, knowing that I am not alone in this, that God is with me. And I don't want to sound hypocritical because there's people who, like I said who've lost. I've lost all my surrogates here in New York, to be away from home, you got to have a sense of family. I have an amazing church family who was literally my family, my home away from home. And the reason why my mom is okay with me being here in Brooklyn and not at home, even though I am 53, she's still pulling rank. When she came to visit me in Brooklyn and she saw who I was surrounded by, she was like, "Okay, I'm good." But all my surrogates passed away from COVID, my dad passed at the end of May. It was a lot of loss. And the thing is that I know where my limits are. And so, when I know I'm close to the edge, I'm going to get loved up on. So, I was home a lot. I know people ain't traveling during COVID. I was home, okay! (laugh) I got to be at home!
Shout out to Jet Blue. Shout out to the people who bumped me up to first class, God bless you. That's an addiction. That's a trigger of the enemy too that first class. (laugh) It is something when you're booking your flight and they say, "Would you like to upgrade, for…" God, yes, I would, thank you for asking, click. That is a wonderful thing! (laugh) Man, I'm telling you, that lady was in my face every five minutes, "Is there anything we can get you Ms. Powell?" Yes, girl yes! (laugh)
There might be 10, 15 or more, but if you could handpick the next three actors to work with…who would you choose and why? 
Oh so, you ready for that one? Okay so, Jeffery Wright is my orgasm-Oh my goodness. (laugh) For real that boy, you don't even know who he is because he be changing so much. I ask people, "Do you who Jeffrey Wright is?" They don't know. Jeffery Wright is a chameleon, he is a true actor, he transforms in every character. I can't say his name without talking about Ms. Phylicia Rashad, because I have been on the second row and I caught her slipping. I was in a theater and she did this one play, and I was like, y'all just going to let us out in the street without a drink or counseling or something, y'all just going to let us out like this, which is wrong. That's messed up! (laugh)
And I wasn't the only one sitting there way after the play was over, like oh my God. But that's the two. And then, let me see who else would I like to work with, just somebody random.
I don't know, anybody random. Like, I would like to do a really good comedy, somebody with some great comedic timing. That would make me happy, but I have to have those two, that's my top two right there. They are unbelievable, what they do.
Where comedy is concerned, who makes you laugh?
Okay. Right now, it's funny because I just saw Patrice O'Neal's special. They've been running it, I don't know if it's the anniversary of his death or what, but he was brilliant. But you know, who makes me laugh out loud? Deon Cole. You can make a comedy and you're like, yeah, that's funny. But you don't laugh out loud. But he makes me laugh out loud. I might hurt something looking at a show with him.
Of course, inquiring minds want to know what's next. What can we expect from you?
I am so open. I am very, very open. Anybody got something for me, call a sister, I am very open. I'm not turning down anything, but it's got to be good! It definitely has to be something good. I'm not one of those who is trying to get everything, I want to be what's right for me, you know? So, it has to talk to me, it has to whisper my name and then let's do it.
I want to inspire somebody to write for me. Dominique Morisseau, I'm telling you, she is an amazing writer. I've been begging her for years to write something for me. We've been friends for years. But my status right now, it's changing some people's minds, some people have been following me for a long time. I'm telling you, this is going to change their minds, Lee Daniels. I'm saying his name too. I have like three scripts that I'm rewriting and a really awesome project that I've been holding on too for forever, that I can't wait for people to see. Nobody has done this story yet. I can't believe they haven't, but that's one of the ones, that's my ACE in the hole. I'm waiting on that one.
Awesome. Alysia, it has been a pleasure to talk to you today. I know we're going to continue to see amazing things from you. You're getting so much love right now and I know that will continue for you!
Thank you so much. I appreciate you for reaching out to me and doing this interview. You are a breath of fresh air and many, many blessings to you and your family. You can't be as brilliant as you are, if you don't have the support and love for what you do and you're a mom too!
To learn more about Alysia Joy Powell and her body of work, visit her page on IMDb.
Follow Alysia on Twitter, Facebook and Instagram as well.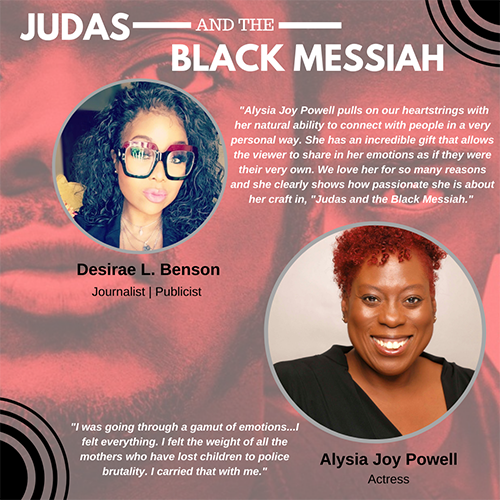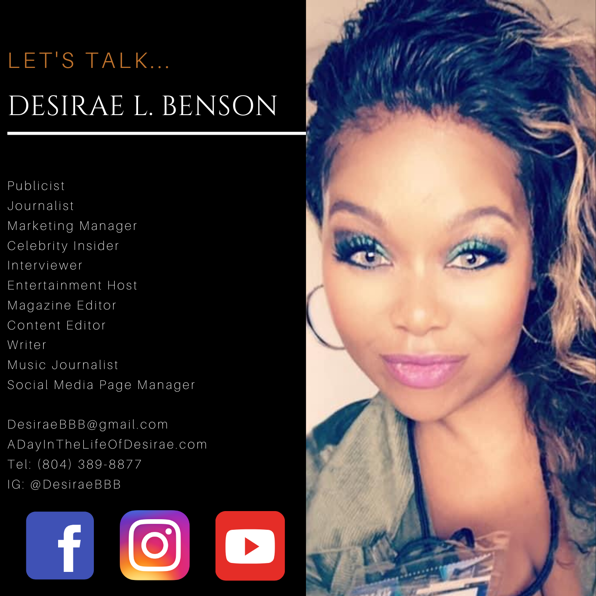 Desirae L. Benson is an entertainment publicist, journalist, content editor, and entertainment media host, residing on the west coast. She hosts her own show featuring four different segments with celebrities, musicians, and people of prominence. To find out more, visit her page on Facebook and Instagram, by using @DesiraeBBB or the hashtags:  #DesiraeBBB • #DesiraeLBensonPR #MovedByTheMusic •#AdayInTheLifeOfDesirae• For media inquiries, Email:DesiraeBBB@gmail.com 
Featured Image by Choice Skinner