As a successful, confident and inspiring woman, Dr. Bahby Banks, CEO of Pillar Consulting, is helping spread positivity and empowerment throughout our communities in a unique and timely way. Her initiative, "Not A Host," was created to help people to ultimately help themselves, by giving them the knowledge, resources and insight into protecting their bodies during the pandemic. She wants people to understand why it's important to literally, not be a host, so we can all stop giving COVID-19 a place to live. 
Banks' work has led to a career that has spanned the Americas, Africa, Europe, and Australia, including contributions to the World Health Organization, Fundação Oswaldo Cruz, Instituto Promundo, and academic institutions across the United States. She currently serves as an adjunct faculty member in the Public Health Leadership Program at UNC at Chapel Hill and continues to invest in the next generation of public leaders through mentorship, training and practical experiences in their communities.
In a recent interview, Banks and I had an in-depth discussion about health, the COVID-19 vaccination, and her equity campaign. The information she shared was valuable and much needed in the time period we are living in. 
As someone who has a strong background in health and epidemiology, in your opinion and based on your experience, why are the COVID-19 death rates 2.1 times higher for Black people as compared to the non-Hispanic, white population?
The short answer is racism. Deeply rooted systems and structures have created environments and communities that make it nearly impossible for Black communities to be well. Our bodies are battered—from the foods we have access to (or not) to the health care facilities in our communities (nor not) to the houses we live in (or not). When headlines read Black people are more likely to have other diseases (high blood pressure, high cholesterol, diabetes)—some of these are due to behaviors—but the overwhelming majority are due to where you live. Places. We know "places" were created by racist policies like redlining—and the effects of these policies linger today. Many of our essential workers live in these places—in multigenerational households.
We also know that data for Black people look very different from White people in health care systems.  We have to look from the top down to understand these "unnatural" causes. Who is accountable to make sure Black people receive the same treatment as their White counterparts?
Last, and not least, information is not available/accessible to the people who need it the most. People are misinformed and fatigued.
You are sending a very powerful message with your, "Not A Host" initiative. Explain where the motivation to create the equity campaign came from?
Our mission at Pillar Consulting is to build capacity, encourage innovation and foster change. Not A Host is a reflection of this mission. Learned from my family—both biological (mommy) and social (family) that we are the change we seek. I trained in epidemiology and biostatistics as part of my graduate studies and know the terminology can be quite a bit for everyday people. The motivation is simple—to help people understand how to lower their risk. Why they need to lower their risk.  Acknowledge their fears and help to make an informed decision.
Part of your overall goal is to increase awareness about COVID-19. Why do you believe that your voice is being heard and internalized by so many?
I've been committed to empowering communities for decades and I've always had a gift of engaging with people. From all walks of life (I think it's the military brat life). In, fact this is part of the reason that I left the comforts of a 9-5—to have the ability to create, to empower and to support communities. In research, we've supported equity-focused projects for marginalized communities (HIV, child literacy, breast cancer).
In the leadership/empowerment arena (and what the overwhelming majority of people know me for). ENVISION Empowerment Experience had garnered the support of communities around the country—from community centers, to board rooms and even as part of Essence Festival weekend.
What do you want people to understand about the COVID-19 vaccination?
Learn the facts about the vaccine from credible sources. Filter out the noise. 
I appreciate the media for all they do, but as you are making your decision about taking the vaccine, make sense of the information for yourself. For example, if a headline reads, 4 people had an allergic reaction to the vaccine. Dig deeper.  Ask more questions. For example, how many total people were in the study? 40,000? Okay, so four out of 40,000 people had an allergic reaction—That's 0.01%. Another question would be: What percent of people in all of the United States have this same allergy—on a regular day? If that percent is also 0.01% then we know we just got the "okie doke" through a quick headline.
Weigh your risks and benefits. I've traveled the world and first item up on my list are vaccines. Yellow fever. Malaria. TB. As part of my personal decision-making, I wanted to know the side effects. If one vaccine for malaria listed vivid dreams as a side effect and another listed muscle soreness or weakness, I'd pick the dreams, lol. If I'm traveling, I'm dancing as soon as I step off of the plane. 
Research takes time. Coronaviruses have been studied for decades.  This virus is a new, or novel, coronavirus. 
You have a powerful platform, and you share authentic messages about being powerful and knowledgeable. What is the biggest thing that you would like people to understand about you?
I'm Dot's child. My goal in this lifetime is to innovate and serve. Period.
To learn more about Dr. Bahby Banks, visit her website here.
Desirae L. Benson is an entertainment publicist, journalist, content editor, and entertainment media host, residing on the west coast. She hosts her own show featuring four different segments with celebrities, musicians, and people of prominence. To find out more, visit her page on Facebook and Instagram, by using @DesiraeBBB or the hashtags:  #DesiraeBBB • #DesiraeLBensonPR #MovedByTheMusic •#AdayInTheLifeOfDesirae• For media inquiries, Email:DesiraeBBB@gmail.com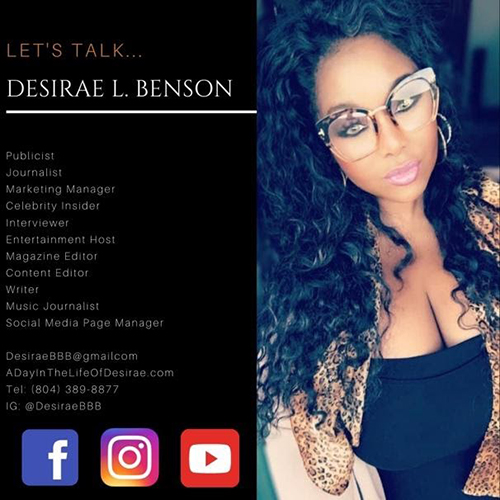 Featured Image by Kumolu Studios