Gibson Guitar Brand Ambassador Aljon Go works passionately for the global guitar industry giant. Not only is he well-versed in his knowledge of the company, Go understands the importance of cultural representation and diversity when it comes to showcasing their guitars and creating trust amongst the growing number of demographics who are gravitating toward the iconic brand. I had the chance to sit down with him and get a better understanding of how he does his job while representing such a major brand. 
Oftentimes we choose careers that speak to us based on our likes and our passions, what sparked your interest in becoming involved with Gibson guitars?
Well, growing up it was because I loved guitars. I loved the Gibson guitars I saw on TV. Later, I was brought on board as an artist. Prior to that, I was an independent artist and they knew I'd be a great brand ambassador. Gibson supported me for years. When the band I was in eventually disbanded, I was offered a job working in sales, and then here we are today as a project manager for Gibson and Epiphone, and it's great. 
You attended NAMM last January in Anaheim…as a Gibson rep, what kinds of things are you doing to reach people with information about the brand. 
So, we have a bunch of things we do. It's a great place to let our fans and dealers know what's being offered. This year, everything will be done online due to the pandemic. We also have a summer NAMM in Nashville. We share different content. We motivate people to try out new instruments and strum up business for the brand. Our team in product development are continuously working on things to share with people. 
How is Gibson changing the narrative with bridging the gap between including more demographic groups in their reach.
Our marketing team, including myself, are doing a lot to show we are a global company. For the longest time, guitar companies in general had a very narrow reach. Guitar Heroes have been dominated with males. As we grow as a society, we are able to embrace all types of people. We need to show we are a global company. We like to highlight artists of all walks of life from all over the world. Females and minorities are taking our brand and influencing a new generation of powerful musicians. Slash is our first global ambassador and we couldn't be happier with him. Music is so global, and we are happy to reach out to the world. 
What makes the Gibson brand stand out from the rest?
It's the iconic body shapes. The history of pop culture is amazing. Technology continues to change, but our iconic shapes stay the same. Humans make our instruments; they are not cookie cutter guitars. Whether it's our factories here in the United States or overseas, it's made with love. We have a legacy, and a brand that has stood the test of time. When you hear our guitars, you can tell it's a Gibson. We are centered at the heart and soul of music. It's kind of like food, I'll use this analogy. You go to a restaurant and you want simple ingredients, farm to table, made with love…those are the types of things that go into our instruments. The best type of wood, the best of everything. There is something special about our guitars that touch people and they are amazing.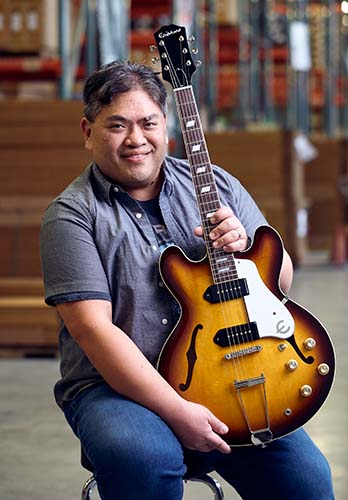 What are some of the most rewarding and challenging situations you've faced being an expert at what you do? 
The challenge for me is to always stay relevant. It's easy for our brand to rest on its laurels because our name just sells itself. But how do you grow that, how do you turn on the next generation of guitar lovers throughout the world. We base things off of feedback, we listen, and we cater to our customers. But it's a challenge. There's always the next thing. 
The rewards are seeing the joy on people's faces when they pick up one of our guitars. Whether it's a child or an adult, it brings us joy. That's empowering. Or when you take one of our veterans who is suffering from PTSD and they find comfort from our instruments. Touching people's lives brings us joy. 
You were recognized by Gibson and began working with them…does Gibson have a plan for centering around more artists by doing more artist cross promotion?
It's a relationship. We get to know an artist and collaborate with them and that is always a lot of fun. There are always things we can do with brand ambassadors. We build a solid backbone with people. We are in growth mode and we invite artists to seek us out as well. Become part of the family. We are in the spirit of collaboration. 
Music moves us all in many ways…what types of music do you listen to and how are you personally moved by the music? 
My mom was a classically trained pianist, so when my brother and I had an opportunity to learn to play an instrument, my mom very much wanted us to play the violin or piano. We were more like wanting to be like MTV and play the guitar! My parents were hugely influential in setting the table for us and we embraced that. My dad listened to Al Green, The Beatles, and more. My mom enjoyed the Commodores, Led Zeppelin and Elton John. Those are still some of my favorites. I listen to a lot of pop stuff, big arena rock, I also love new music too. 
To find out more about Aljon Go, follow him on Instagram and learn more about Gibson.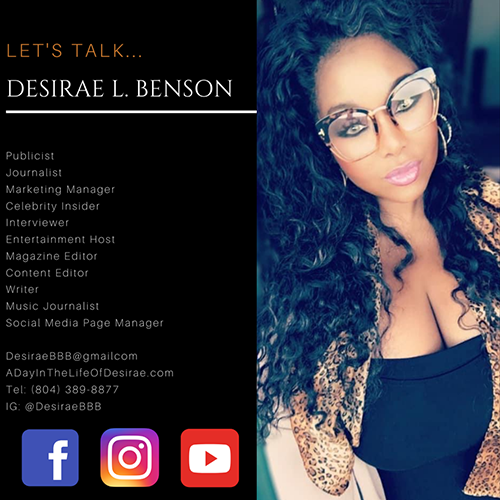 Desirae L. Benson is a publicist, journalist, content editor, and entertainment media host, residing on the west coast. She hosts her own show featuring four different segments with celebrities, musicians, and people of prominence. To find out more, visit her page on Facebook and Instagram, by using @DesiraeBBB or the hashtags:  #DesiraeBBB • #DesiraeLBensonPR #MovedByTheMusic •#AdayInTheLifeOfDesirae• For media inquiries, Email:DesiraeBBB@gmail.com 
All images by Mitch Conrad/Gibson Brands Inc