When you blend a beautiful voice with an equally beautiful and highly aware spirit, you get King Sis. Sis is a Los Angeles, CA based artist who is originally from the DMV. As a youngster, she got her start singing in her grandfather's church in Alexandria, VA. Coming from a family who had strong ties to music, her cousin, DT Lamont, taught her how to play the classical piano at the age of 8. Being someone who picked up skills quickly, songwriting and performing was second nature to her. She became interested in the recording arts after completing her first job at the age of 9 doing voiceover work for a BET commercial. She first sang on studio recordings in a high school acapella group, Flint Hill Major Minors, and continued her early career as a recording artist with commissioned projects such as theme music for local radio shows and comedians, and songs for local special events. While studying art in college, she started two gospel groups with childhood friends, REIGN & His City, and began performing across the DMV area. After moving to Los Angeles, Sis continued her performing career as a world-touring background vocalist, working with prominent artists such as Kelela.
As a spiritually connected human being, her songwriting centers around love and a return to the natural world in a modern life filled with virtual realities. These are just a few qualities that draw us in and keep our attention when she sings. I had the chance to sit down with Sis and discuss her debut album, the meaning behind some of her songs and personal experiences that have shaped who she is today.
I understand that you did your first studio job for BET at nine, my goodness. How did that even come about?
Well, actually, BET Network's headquarters is in DC, and that's where I'm from. I was born and raised in Arlington, Virginia. One of my dad's friends who went to the same church as we did, actually worked for them at the time. I think he still does some stuff for them. But anyway, he was closely tied to BET Networks at the time. They were doing commercials for the AIDS campaign. I think they had the Wrap it Up campaign at the time. And so, they were using young kids in the commercials, and I did a voiceover for one of the commercials. I did a couple. I can't remember if I was in one of them or not, but if not all of them, the majority of them were voiceovers. 
Eventually, you picked up and you went to LA. What sparked that big move for you?
A few different things. I always wanted to move, and I really was deciding between New York and LA. I knew that if I wanted to pursue music, I didn't have to, but it would be best if I moved outside of the DC area. So, I always wanted to, and then a life event happened that kind of triggered it for me. I talk about it in the first song on the album, which is really cool. It was a major tragedy in my life, and it just catapulted me into leaving the area and starting completely new. I really just moved with nothing. It was me and my car and all my things.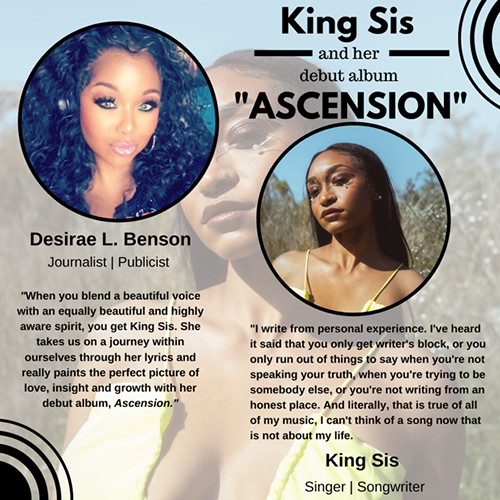 Did experiencing a life changing event lend to your creativity?
Absolutely, it can, but at the time, no. A lot of people are able to work while they're grieving. A lot of people at the time would say like, "Oh, you're going to make your best music now." And I'm not that way. That does not work for me. When I'm in my deepest grief, I can't. I don't have anything left to emote in music when I'm emoting within myself. So, it took time after until I got to a place where I was able to speak about it. Sometimes when you're in the deepest of emotion, you don't even have the words. You just feel, and it took time to get to a place where I had the words, and then was ready to compact them into songs that actually made sense or connect to the emotion. A lot of what I write comes out of that time period of my life, for sure.
Wow. Well, everything that I've heard from you is absolutely beautiful. I was also reading that you had linked up with Kelela and went on a world tour with her doing background vocals. How did that even come about for you?
Well, that was actually one of the first things I auditioned for when I got to LA. Here in LA, it's a very connected city. So, most of the people that get the gigs are already in the field or they know somebody, or they already worked with somebody else that has been working with them before. And so, it was really random. I of course, was sleeping in my car and my friend found or saw on Instagram an ad for the audition, and I didn't even know who the audition was for. It was one of Saint Heron's artists, Saint Heron being Solange's music group. And so, she's like, "Just go, just audition for it." And it was in a time where I was like, "Sure, whatever. I'm out here. I might as well go." So, I did…scruffy and all. I remember everybody in the audition room having makeup and heels and I was just in there looking like, "Huh?" But out of that comes a different kind of confidence, because all you have is your voice. So, I auditioned for that and got it. And it actually was such a blessing because when you go on tour, you have a bed. You either have the tour bus bed or when you're staying in hotels, you've got a bed. And at that time, I was still sleeping in my car. So aside from traveling the world, just having a bed, I was so grateful. And then to be able to finally work doing music, just singing, that was a huge blessing to me.
That is awesome. So what year was that? When did you stop working with her?
Let me see. That was 2017. And I think we wrapped up touring at the beginning of…or maybe like mid 2018. We had done Coachella and that kind of thing, and other major festivals that summer. And then after that, we just did shows here and there whenever she would have a show, here or overseas. And I think maybe the last show I did with her was the end of 2018 or the beginning of 2019. And I went to just focus on my music for my solo career.
Did a lot of what you experienced on tour spark your desire to want to go out on your own even more?
Yeah. And a learning experience too. I learned a lot, I'm still close with Kelela now. She's incredible. Hopefully soon she'll be releasing a new project, and she's doing a lot herself as well. So, it's a great connection to have, super huge learning experience for me, just seeing the inner workings, the touring and seeing the best things to do. She's super hands-on with her career. So, it was great learning from her and watching how she handles her work as well as her music itself. So super, super inspiring.
Your debut album, features songs like, "We Could Go" and "Don't Wait Up." I love it. You even made mention of your intuition in your lyrics. Would that be from personal experience?
Oh yeah, I'm writing from personal experience. I've heard it said, I don't know who said it first, but that you only get writer's block, or you only run out of things to say when you're not speaking your truth, when you're trying to be somebody else, or you're not writing from an honest place. And literally, that is true of all of my music, I can't think of a song now that is not about my life.
So, tell me a little bit about the single, "Yeah You" before we get into the new music that you just released. 
Well, "Yeah You" was actually produced by a Swedish producer. She's incredible. Her name is Louice Lindberg and she produced that song when we were in Sweden. So, the label that I work with now is Swedish. And sometimes we have workshops where we all come together and just spend a week collaborating. That was one of the songs that came out of those sessions in Stockholm. She had an idea for the loop of the song, and it was co-written by Victoria Alkin. Victoria had the idea for the repetitive singing, "I just can't stop thinking about you." And so, I thought about the story of what that feels like to not be able to stop thinking about somebody. Oh my gosh. Once the phase wears off where you come down to earth a little bit and you're like, "Wait a minute. Do I need to take a break? Maybe I'm too deep in it." The song speaks about all the feelings that come with new love.
So why did you decide to release your debut album now?
I'm always working on music. And I always have either songs that I just think are standalone that can be released just as a single because it's not really telling a complete story along with other songs. And then this just happened to be a time where all the songs I was working on really spoke to each other, and really ended up telling a story from beginning to end. And that's where the title Ascension came from as well, just from a journey to a spiritual awakening at the end. And so, all the songs that I chose for this album really do have a specific placement on the album. I don't want to get too deep into the symbolism, but there are 11 songs on the album. There's a lot of symbolism that once you hear the lyrics, you'll hear where the storylines flow and where…like you said earlier, intuition comes in, it's something that trails throughout every song on the album as well.
Talk about the outro on your album. 
The outro on the album actually is a little voicemail from my grandmother. And so, the beginning of the album is my relationship with myself, the last song on the album is of the relationship with my grandmother and coming up on her ascension soon. And so, it's very reconnecting to real life.
How does your music or anybody else's music for that matter, move you in your spirit?
Music has always been my refuge. It's there a lot of times in periods of grief or even in periods of extreme happiness, just extreme emotions. Sometimes I don't have the words and you'll hear something that connects either with the sound or with the lyrics or both that says, that's exactly what I'm feeling, it pinpoints the exact emotion. It's been my refuge since I was a kid in that way, when I was too shy or didn't really know how to express or emote in the ways that I really felt, that's what music did for me. 
Who are you listening to now? If we were to look at your playlist who would be on it?
Let me see. It's pretty random what I listen to now, but I will say of the female artists of this time, I really like H.E.R, she's incredible. I love this artist named Peter Collins. He's incredible. Oh, Chloe and Halle, I love SZA, there's some SZA sprinkled into my playlist, but then I'm very much into the music that I listened to when I was in my teens and my formative years, because those songs were all usually closest connected to us. You remember where you were at that time and what made you fall in love with music and certain sounds in the first place. And those artists would be Brandy, Lauryn Hill, India Arie for me, I still very much listen to a lot of gospel artists, like CeCe Winans…she was a huge inspiration in the beginning. I'm trying to think who else. And then I cannot forget Jazmine Sullivan. She, I think, is one of the greatest voices of this time for sure.
You're the perfect mixture of all of those artists that you actually love and listen to. That makes you so very powerful. It has been such a pleasure talking to you and I have no doubt that everything you put your name on is going to achieve skyrocketing success. Thank you so much for talking to me.
I appreciate that. Thank you so much. I appreciate you.
To find out more about what's going on with King Sis, follow her on Instagram.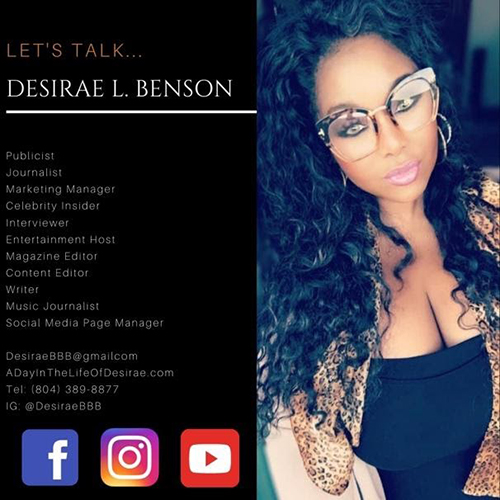 Desirae L. Benson is an entertainment publicist, journalist, content editor, and entertainment media host, residing on the west coast. She hosts her own show featuring four different segments with celebrities, musicians, and people of prominence. To find out more, visit her page on Facebook and Instagram, by using @DesiraeBBB or the hashtags:  #DesiraeBBB • #DesiraeLBensonPR #MovedByTheMusic •#AdayInTheLifeOfDesirae• For media inquiries, Email:DesiraeBBB@gmail.com 
Featured Image by Shawn Whittaker