We are bound to nothing, not even to the reality we have planned for ourselves. Keeping in mind to receive the message in every lesson, Singer Jayd Ink subsides the likeness of other artists by rebutting to her higher self. Filling the fixtures through many dark nights, as she lends the hands to one dream, soon another shall follow. Awaiting her third EP, Catching Redlights makes headway, Ink continues to rely on her presence to foresee a new kind of light.
Tell me about the beginning of your music career.
My music career started off with me aspiring to be a songwriter. The goal was to get other artists to sing my songs but, I was having a difficult time doing that, so I decided to start releasing music in hopes that it would lead to songwriting. In the back of my mind, I also wanted to be an artist, but it wasn't my main goal when I started. I began to release singles here and there, did a few shows. The response overall was organic…Before the release of my first EP "Invitation Only" I drove to Atlanta and stayed there for about 4 months after being let go from my IT job at the time. Atlanta was a memorable trip for me, I got a chance to create with some amazing producers and artists. It was very productive. When I returned to Toronto, I released my EP, travelled to Japan for a mini tour and got my first sync placement. It was a great year and a great start for me since I was releasing music for the first time.
What helped you decide to pursue a dream in such a cutthroat field?
Well, when you're young starting out you don't know too much about the business you're mostly concerned with the creative part, the passion, the dream. You don't really know what you're going to experience until you're exposed to the other side of the business. I knew that I was passionate about music and that's all that I needed to continue to move forward.
What kind of energy did you want to bring as a musical artist?
I just wanted to make good music, I wanted to challenge myself. I also didn't know what the hell I was doing, still don't some days but I wanted to bring my own style, my own flavor.
What about the genre's R&B/ Soul grabbed your attention you the most?
I gravitate to melodies more than anything else… The feelings behind the lyrics, the tones…there's just so many reasons why I love Rnb Music. It's sexy, it's romantic, it's raw. So many elements and emotions all in one.
Looking back, what emotions would you say helped you with your EP?
Stress, sadness, confusion, a bit of everything – I wrote these songs during the lockdown, so it's centered around how I was feeling at that time. I'm always doing 100 things, so I was forced to stop and reflect on my life, my habits, my career. I spent a lot of time sitting with myself, journaling, meditating at times and being in nature. My EP Catching Redlights is about those emotions, it's personal for me, it's a moment that I needed and I'm happy that I get to release it – in the sense of sharing it and also letting it go.
Were there any messages underlining with the songs you put on the EP?
The overall message is about self-love and reflecting. The second song on the EP "Rollin" talks about not wanting to be like everyone but is everyone just like me? We all go through the same things in life but sometimes you can feel very isolated with your own experiences and thoughts but that's not always the case. I believe we're more connected than we think. Our experiences connect us, and I think that's a good thing.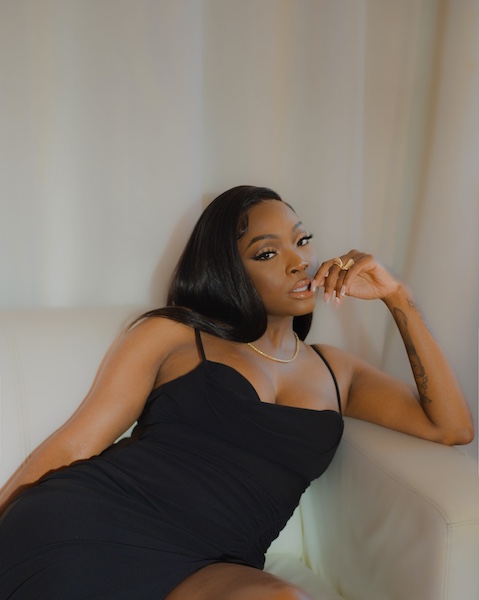 As an artist, what helps you push your pen when creating your music?
I'm inspired by life, by my own experiences and the people around me. I don't put myself in a box when it comes to my creativity. I don't only do RnB and Soul, I do Reggae, Hip Hop, POP, Dance…whatever feels good in that moment is what I push myself to do.
What can we look forward to for the next project that is currently in the works of being published?
The vibe of the project has a mixture of RnB and Reggae elements. It's a late-night ride in the car type of feeling so you can look forward to a nice lil bop while you drive home from club or from work.
Overall, how would you describe your art from your point of view?
I would describe my art as being, Versatile, Personal and Vulnerable at times.
What do you look forward to as you continue to grow as both an individual as well an artist?
As an artist I look forward to releasing more music, collaborating with more creatives, expanding my business, enjoying my journey, and just having as much fun as possible. As an individual I look forward to tapping into new spaces outside of music, continuing this journey call life and enjoying the moments as they come.