Positive energy and innovation are at the top of the list of two awesomely inspiring trailblazers, Trell Thomas and Jasper Hagan. Both of these young men have not only opened up opportunities for themselves, but for those in their own circles and beyond. Working hand in hand with Tina Knowles-Lawson and countless others, they are using their God-given gifts to elevate and build. 
Thomas, who is a media expert and activist, has a long and successful history working in the entertainment industry. His work speaks for itself and spans from career beginnings at NBC and on the historic Obama Presidential Campaign back in 2008. Professional and adept in all that he does, he has also monitored and managed talent relations and communication within some of the biggest brands at Viacom to perfectly aligning socially good causes, corporations and celebrities. He has done so much. Now he is in full swing as the executive producer and creative director for Talks with Mama Tina.
As a Morehouse graduate and a member of Alpha Phi Alpha Fraternity, Hagan is a marketing guru. He is also a cancer survivor and the founder and CEO of Full Court Marketing. What sets his marketing company apart from the rest, is that they thrive on bringing out the truth by sharing the authentic stories of multicultural consumers. At the start of his career, this powerhouse successfully created and executed local, regional and national media campaigns at iHeartmedia. His love for music and media assisted him in successfully solidifying strong business relationships during his time there. Seven years later, after leaving a significant mark in the industry, his passion for connecting brands and artists led him to create his company.
With creativity and drive, Thomas and Hagan remain on the cutting edge of all things great. Truly, anything can be accomplished with these two heading it up. They possess the passion of champions and ultimately, there are no limits to their success collectively and individually. 
Partnering up to approach the wonderful Tina Knowles-Lawson was such an awesome thing. What was the catalyst that sparked the idea within you both in the first place?
Trell: Tina is really a mentor and like one of my best friends. She is a mom away from a mom for me, so we just have a natural relationship between us that we have built over time. We have a lot of conversations just about life in general. During one of our conversations, we were talking about people getting out there to vote. We would talk about it every day in a different way. So, one day I mentioned to her that it would be great, with her reach and her voice, to do more to share information. She was already doing that really, so we decided to see if we could formulate it into a talk show and galvanize her audience from Generation Z to Baby Boomers and all. And speaking of alignment, Jasper had reached out to me, I told him what I was trying to do, and he was on board. Talks with Mama Tina was born out of that and we were out of the gate! When you operate in your purpose things come together.
Jasper: I wanted to add in that when you are operating in your purpose, the super will be placed on your natural. That's something that happened with Talks with Mama Tina. Just seeing how we've been able to amplify the message because it went from something small to garnering a billion impressions. 
Trell Thomas
Tell us about Generation Z and your work with helping to get millennials in to vote.
Trell: Mama Tina, which we all so affectionally call her, is the reason we decided to have that name in the show, she is like the mom to the world. Not only is she the mother of two of the biggest superstars of our time, Beyoncé and Solange, she also is called "Mama Tina" by so many people. You have millennials and baby boomers following her on the show, you also have these large groups of young people, kids in school, and college that are also following her. She is influential. She's in a unique position because there's not a lot of people in her age bracket that are bringing these younger people in. She draws their attention effortlessly.
Jasper: To take that a step further, what we are seeing now in looking at the news and social media, is evidence of why she is needed. The goal was to get as many people engaged as possible and in any way that we could to achieve what we saw with the voting. People who have been used to going one way, are now going another way. We saw the magic even in the middle of the pandemic. 
What are some of the creative things we can expect from Talks with Mama Tina?
Jasper: We had an amazing first season, I would remise if I did not lead with Stacey Abrams, who is a pillar in the community and also my Spellman sister, shoutout to Spellman! Just having people like her or Chloe and Halle, and so many great people in season 1, has been amazing. It just shows that the conversation is necessary. People want to hear what we have to share, and we are excited to bring future seasons together that continue to touch on topics that affect the communities that we serve. 
Trell: We want to bring in real conversations with real-life people. We are giving you truth. Giving the audience conversations with her real-life friends and family. You get laughter and nuggets of wisdom, fun and you also get truth. This past season and with the upcoming season, you're getting so much. Its all rooted in love. Mrs. Tina is very heavily involved with who we book for the show. The type of guests and the types of conversations we have sets us apart. 
Both of you have amazing histories with working with people and being on the cutting edge of bringing light to new things and experiences that are of interests to many. You both are also known for sharing the narratives of diverse communities as well. So, with all that you do, what continues to be the driving force behind your motivation to succeed and to see others succeed.
Jasper:  I am from the inner city of Chicago and I know that I have to be the voice for so many that are voiceless. I am okay with that task and want to continue to use that as fuel to not only reach new heights but share more stories. The more stories that we share, the more we can understand other viewpoints. 
Trell: I am from South Carolina, and I don't have to tell you all the things that come with that as a Black man. So, there's that history and trying to learn how to operate in and out of that was something I dealt with. Also, when you add on being successful, it adds even more to the equation. I worked at NBC and then went on to work at Viacom and then, with a lot of other brands. When you become a successful Black man, it also changes things. I went from experiencing a lot of upfront racism to racism behind closed doors. Liberating myself over and over from each of those situations, made it like my job to help others. I think of people like Martin Luther King or Harriet Tubman as true heroes. It was not enough for them to be free from a situation, they wanted to do more. Like them, I use my voice to help liberate others. Our purpose is in what we do with our freedom. Talks with Mama Tina, Black Excellence Brunch, Share Black Stories and all the other things that I do, are for the liberation of people who look like me. 
You are both synonymous for success and with the continuous climbing of that ladder, sometimes there can be challenges. What's your biggest fear as you both go about your own unique professional journey. 
Jasper: My biggest fear is thinking I've arrived too soon. There's still so much more to do. Don't get complacent, don't think that this is the top. I think that service is huge. If you've helped five people, help five more. Let's continue to help people because that's truly what we can take with us.
Trell: I just abolished the idea of fear recently. I came across this quote that resonated with me on a spiritual level from Nelson Mandela that said, "Choose hope over fear." We should do everything from a place of hope. And even though there are things that I see that may seem challenging, I don't operate from fear. Instead, I ask myself what I hope for. Sometimes we make things worse by living in fear. I'm not fearful, I'm hopeful. Does that mean everything is perfect ahead of you? No, but it's a choice to see things the way you would like them to be. I use that in my personal and professional life. 
Jasper Hagan
With being so busy, how do you balance your family life?
Jasper: Pre-Covid or now? (laugh). I will start with before the pandemic—I have a four-year-old, so I had designated hours to get my work done, time set aside to work on additional projects, spend time with family and so forth. And now during Covid, he is climbing on my neck as we speak! (laughs) 
Any advice for young people as they set out to start their own businesses? 
Jasper: Oh my God, I love this question! So, collaboration over competition. Meaning, it's okay for me to work with someone to achieve a common goal. It doesn't have to be me, me, me. We look for being number one, but our team can be number one. I learned this from my fraternity where it wasn't just about me anymore. There is no I in team. With a team, we could be setting up five winners for instance, not just one. That feels good when you can help other people get to the next level. If we all work together, more can get done. So, my advice to younger folks is to collaborate.  I would rather have 1% of 100 people's effort, than 100% of my own.
To learn more about Trell Tomas and Jasper Hagan, follow them on social media. 
Trell Thomas – Facebook, Instagram, & Twitter.
Jasper Hagan – Facebook, Instagram, & Twitter.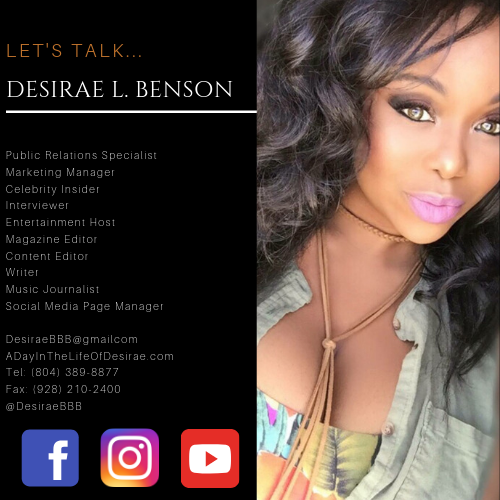 Desirae L. Benson is a publicist, journalist, content editor, and entertainment media host, residing on the west coast. She hosts her own show featuring four different segments with celebrities, musicians, and people of prominence. To find out more, visit her page on Facebook and Instagram, by using @DesiraeBBB or the hashtags:  #DesiraeBBB • #DesiraeLBensonPR #MovedByTheMusic •#AdayInTheLifeOfDesirae• For media inquiries, Email:DesiraeBBB@gmail.com