Actor, Burl Moseley has an exciting new role! TriStar/Sony Picture's upcoming holiday romantic comedy titled, Happiest Season will star Moseley as Eric. In addition, he recently voices Laurence Pine in Apple TV's Doug Unplugs. We caught up with him to discuss his new role, quarantine life as an actor, and much more!
Tell us about your role in the upcoming holiday romantic comedy, Happiest Season.
Absolutely. I play Eric, McKenzie's brother-in-law and Alison's husband. Coming into this family, we have the nuclear 2.5 kids, if you will and Sloane and Eric try to present themselves as this perfect, power couple if you will. When in reality, as in every family, there's something underneath that they're hiding. It was a really great time.
You also voiced Apple TV's Doug Unplugs recently. How was that overall experience?
It was fantastic! Everyone was so nice. I sort of came into it, but it was a blast from start to finish. The first day I met the whole team, I sang, and I laughed. It was just great. It was such a fun time.
How has quarantine life been for you as an actor?
You know, it is very uniquely challenging. Maybe not so unique because a lot of people will Zoom into things and use our phones as much as we do right now. As an actor, specifically it kind of changes the whole experience we're used to. Sometimes we get into our cars, drive to locations, whether through work or auditions and that's really not the case anymore. A lot of stuff is done from home and a lot of casting is done from home, which is very interesting. Zoom auditions is a whole new world of things. At the same time, I'm glad that there has been some ability to continue work and continue to seek work during this quarantine. At least there is that, at least it didn't fall apart completely. So, I'm very grateful for that.
What are you currently working on and what can we expect to see from you in the future?
Well currently, I have the movie and animation show in the pipeline. I'm working on getting some other stuff up and going. We'll see what that is, I can't say much about it just yet but I think in the future you can expect more honest and truthful reflections of who we are as people in society, especially America.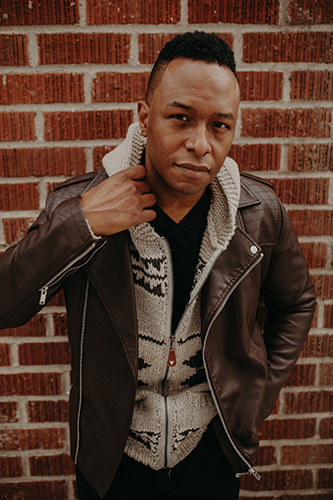 Happiest Season will premiere on Hulu on November 25th, 2020.
Follow Burl Moseley on Instagram & Twitter today!
All images by Kelly Balch