Unlocking the secrets to stronger and healthier hair can sometimes be a strenuous process. However, the innovative self-care brand, Laduora, is simplifying the realm of hair care in a smart and natural way.
Founded and based in Los Angeles, Laduora is filling a gap in the beauty industry. Providing luxurious, spa-grade, and affordable products, the creators of the world's first pod-based hair and scalp care device (a.k.a the DUO) are seeking to constantly create the best essentials for all skin and hair types. Through modern technologies, Laduora delivers unique yet personalized self-care experiences with professional results and simple processes at its core. With ethically sourced ingredients, the brand is dedicated to creating products that are safe for both our health and the environment, while still performing at an utmost quality.
Laduora's DUO is a 4-in-1 handheld, hair treatment tool that combines red light therapy and microcurrent stimulation with nutrient-rich ingredients to leave the scalp and hair nourished in just minutes. Together, the DUO and DUO pods revive the hair by giving a circulation boost through sonic vibrations while also dispensing a leave-in hair elixir. By doing so, the hair follicles are nourished with nutrients to visibly re-densify thin, sparse hair…all in the comfort of your home.
I've been using the DUO for a little over 2 weeks now and it's here to stay. It's easy to use, which I love, but it's also power packed with some of the best wellness essentials for hair growth. It feels so soothing on my scalp and to use, you simply comb the DUO from the scalp to the ends of the hair.
Maintaining and styling my natural hair has always been an integral part of my lifestyle. And with my hair ever-changing, I'm pretty open to trying new products and tools that will help me on this quest to strengthen, thicken, and lengthen my hair.
Growing up, I had luscious, lengthy, and damage-free locks (thanks, Mom). Now in my mid-twenties, like most, my hair is definitely not the same and has not only changed in volume, but in durability and scalp type as well. I've also recently noticed some thinning around my temples. Not hair loss; however, my edges definitely need a little more tender loving care, so Laduora's recent launch of the DUO was perfect timing.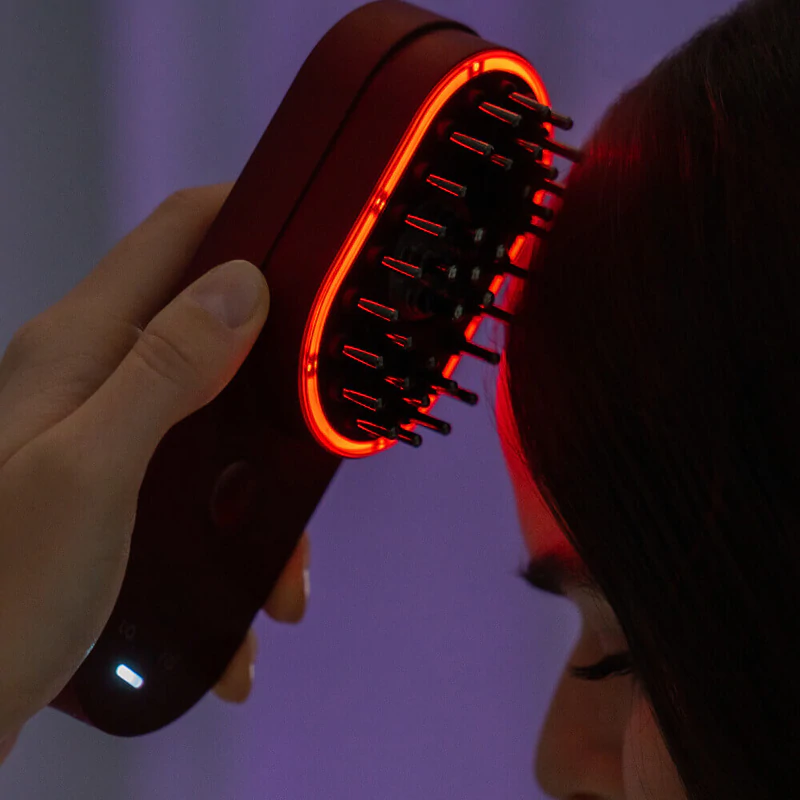 Red light therapy is one of the keynotes of Laduora's skin and hair care devices. I have a newfound love for red LED light therapy and the healing properties it provides, so I was very excited to try the DUO in my hair regimen. The DUO has 30 medical-grade red LED bulbs that provide therapeutic warmth and light energy to the hair follicles, increasing the skin's permeability and elasticity.
The DUO Pods, that click right in the center of the DUO device, are replaceable capsules that contain restorative ingredients. There are two kinds of DUO pod elixirs available: Balance and Awaken. I've been using the Balance DUO pod preferably because it has a formulation of rose flower, argan oil, raspberry seed, and castor oil, and that's just the blend my hair needs.
Castor oil and argan oil are two of my favorite oils for my hair and skin. Argan oil is rich in vitamin E, improves moisture, and protects the hair from breakage and styling damage. And we all know that castor oil is like the holy grail of beauty oils. Rose water softens, reduces oiliness and dandruff, soothes irritation on the scalp, and also repairs the hair's porosity. Red raspberry seed oil was one I was less familiar with, and after doing some research, I became obsessed! This anti-inflammatory oil helps retain hydration, fights split ends, and is a great source of vitamin's A and E.
The Awaken DUO pod has a cooling blend of peppermint oil, tea tree oil, aloe vera extract, ashwagandha extract, and rosemary water. This detoxifying pod restores balance and soothes an itchy, irritated, or flaky scalp. Both elixirs contain biotin, which is a vitamin that prevents hair loss, and hyaluronic acid that basically boosts the hair's ability to hold moisture while improving the overall texture of the hair.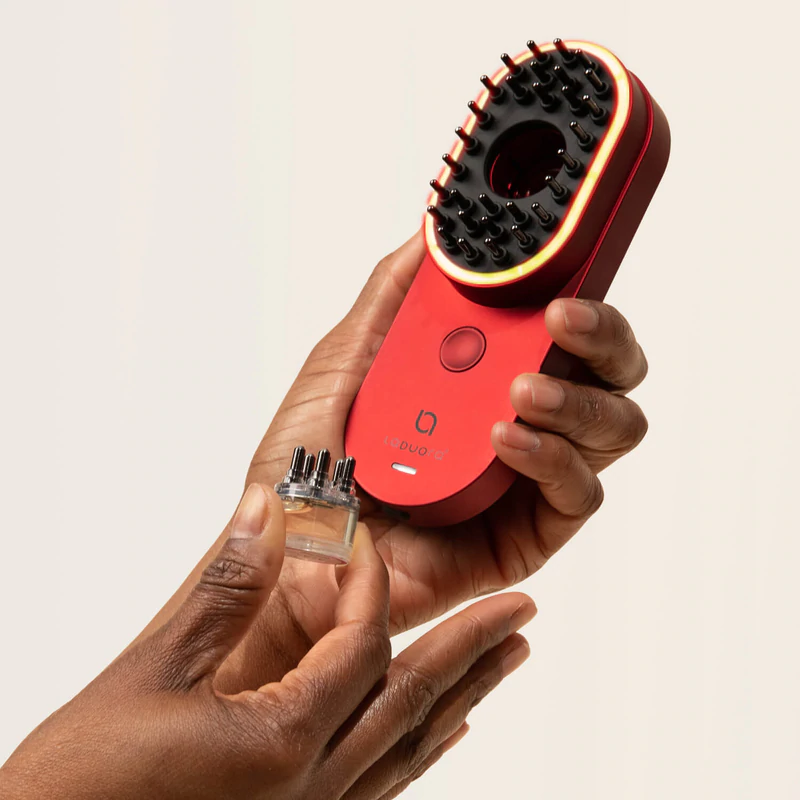 These vegan elixirs are lightweight which is perfect for my hair type. My hair gets oily pretty quickly, so I prefer products that leave a soft, non-greasy finish, and the DUO does just that. Laduora recommends using the DUO on freshly cleaned hair; however, my hair can get oily prematurely with even the slightest impact, so I've been keeping it comfortable by using the DUO on my week-old hair. Surprisingly, I've found that the elixirs by Laduora absorb swiftly, so I don't have to worry about any sticky residue, unlike a lot of other hair products. I've already noticed less oiliness in my hair throughout these past few weeks, which has allowed my hair to last longer between my typical once a week washes.
In addition to the therapeutic and pod features, Laduora notes that the microcurrent stimulation safely and effectively helps increase oxygen-rich blood flow into the muscle tissues by activating dormant hair follicles. The device gives you the option to toggle through three different vibration modes for an automatic, five minute scalp massage that not only benefits your scalp but also your wellness, relieving stress and tension. It's a relaxing five minutes that I look forward to in my nightly routine, and I'm excited to continue seeing the results, especially around my temples.
The evolution of my hair has me on a continuous journey of learning, experimenting, and embracing what works for me. Overall, the DUO is something that I'd strongly suggest to anyone looking to address specific hair concerns and to maintain their hair health. It's also suitable for those with sensitive, dry, oily, or irritated scalp. If used for five minutes daily, Laduora mentions that clear improvements in hair density can be seen in just four months. The DUO is compatible with all hair types, is color safe, and silicone-free. To learn more about the DUO and other beauty gadgets that Laduora provides, visit Laduora.com!