With over 20 years of experience in the beauty industry – it's no secret she's a known name. Everett has styled many of our favorite stars such as Taraji P. Henson, H.E.R., Daniella Perkins, and many more. We caught up with her to discuss her journey to beauty, the industry itself, and much more.
With over 20 years of experience in beauty; can you please share with what intrigued you to make this your career?
I decided to make this my career because I love my ability to make women look good which in return makes them feel good. I learned pretty early on that the beauty industry is vast. I was a sociology minor in school, so I wanted to go off and explore how beauty represented the masses of people, specifically black women.
You clearly have a ton of experience. What do you believe being in this field has taught you about yourself?
I've learned quite a few things about myself. I've learned that there are not that many black women at the top as I would like to see. I've learned that the average person really does look to words of celebrities or media for cues on their everyday beauty standard. I've learned that if I am a part of those conversations, marketing campaigns, advertisements, and working with celebrities, I have helped shape how the everyday woman feels about herself. I've been blessed to work with a lot of celebrities who for example don't want their hair texture altered, now we're seeing celebrities on red carpets showing off their natural hair texture. That filters down to the everyday woman to feel confident to wear her natural hair texture.
You've worked with so many of Hollywood's biggest stars. Would you say there is one that has left a special mark on you?
So many! I love Merle Dandridge – her warm energy. I also love Dominique Fishback for always pushing me to learn to style kinky hair for all occasions without using any type of heat. Daniella Perkins gives me the joys of styling curly hair in many ways yet still showing her curls. I'm blessed to have so many amazing clients.
Tell us what you are currently working on.
Right now, during the pandemic, I have been working on educating other stylists on how to get where I am in the celebrity world. I have online classes that can be found on my website – it gives you instant access to courses as well as one to one consultation. I'm promoting my book Stunning Braids, and I am pivoting into public speaking about diversity within the beauty industry.
What can we expect to see from you in the years to come?
You can expect to see many more fabulous celebrities styled by myself as well as me working with amazing brands to bring education to hairstylists.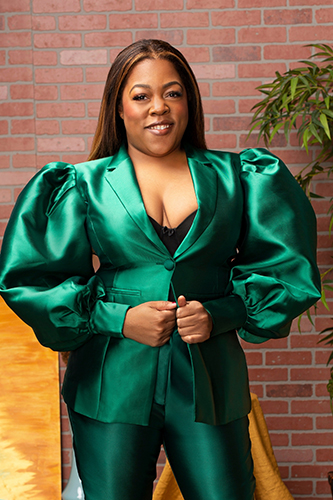 For more on Monaé Everett, click here!
Stay connected with her by following her on Facebook, Instagram, & Twitter.
Featured Image by Ajani Simms