Comedian, actor, and businessman, Keonche Hines is a true triple threat in the world of entertainment. The North Carolina native began filming skits on Instagram back in 2014, and since then, his fans have not been able to get enough of him. As the man known to spread love to others through comedy, it's clear to see in his work that Hines truly loves what he does and that is making people laugh. I recently spoke with him to discuss how he has been showcasing his art in the time of COVID-19, what he's currently working on, and much more.
How do you juggle life as a comedian, actor, and businessman?
Being a comedian, actor, and businessman, you have to separate the three titles. They are different hats, and it comes with being different characters. Each perfection comes with a different mind, style, and attitude.
You often say, "Comedy is a lifestyle, not a hobby." Can you elaborate what that means to you?
When I say, "Comedy is a lifestyle and not a hobby," I mean just that. Some do it for fame, some do it just for money, and some do it just because it's something to do. I do it for the enjoyment and laughs. Money is not on my mind, and neither is fame. I love this! It's my life and my life is comedy. I'm not just someone who just wants to pick up the mic, I write from the heart.
How has it been being a creative during this time of COVID-19?
It's been hectic. It has kind of been hard doing films for my fans when everyone is cautious of being around one another. Even in stand up, when you can't have too many people in one place, it makes it hard, but I manage to still give out good content.
What are you currently working on and what can we expect to see from you in 2021?
I'm currently working on a new movie and more stand-up comedy. I currently have a show in May and more to come. I also have more films for my fans. I didn't know I was loved as much as I am, and I love it… So, you will see much more of me.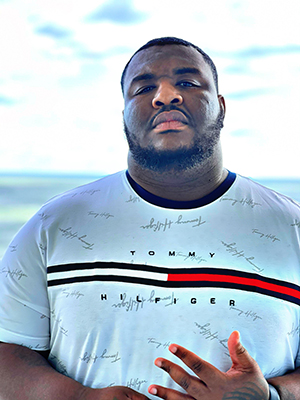 For more on Keonche Hines, follow him on Facebook, Instagram, Twitter, & TikTok.
All images by Hinestown Productions