Chicagoland native Jasmine Jordan was born into a dynasty. Without her knowledge, as she was opening her eyes to the world in the early 90s, her father, Michael Jeffrey Jordan was cementing himself into the history books, as the greatest basketball player of all time. Fast forward to the present day, SHEEN Magazine meets with Jasmine.
The oldest daughter of Michael Jordan's five children, Jasmine has a presence that exudes subtle style and cool confidence. She will undoubtedly never be the loudest person in the room but her personality commands authority because she is authentically Jasmine.
Recently, nearly six million sports fans, including Jordan's first daughter, found time in quarantine to watch the ten-part docu-series on ESPN called The Last Dance. The series chronicled the 1998 championship run and the history of the Chicago Bulls organization with her father at the helm. We spoke to her about the series, her go-to quarantine look, motherhood, and more. Check it out below.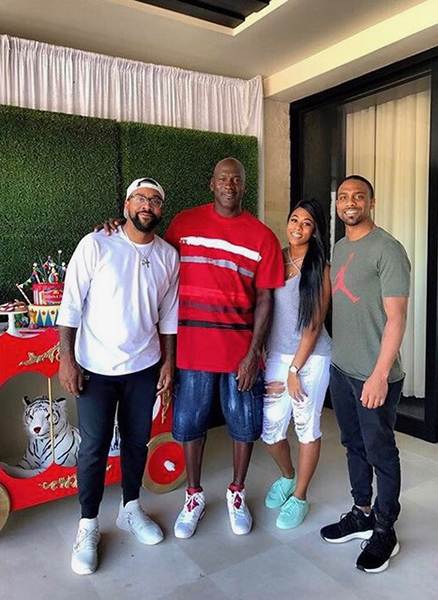 With extremely successful parents, how has their influence impacted your work ethic? 
It played a big role. At the end of the day, both my parents have strived to be successful in everything that they do, they've given their all and produce 100%. That's something that translated for me at Jordan Brand. I want to make sure that if I'm given a project or an athlete to represent, I want to make sure I'm committed to it. I want to make sure that I give my best. So that way the athletes or my coworkers would never be able to say, 'She didn't give her all.' They're going to say, 'She got the job done.'
So it's safe to say you've earned everything you've been given with no nepotism?  
Far from it!  I've been working since I was 15, my first job was at Forever 21! I've been diligent in making sure that nothing was ever handed to me and my work ethic is out of this world, so no nepotism or anything like that over here.
Can you describe your role at Jordan Brand? 
I'm in sports marketing and I'm a field representative. I serve as a liaison between the athletes and the brand. I represent the athletes with the Charlotte Hornets, a couple of athletes with the Washington Wizards like Rui Hachimura. I also represent a few WNBA players, Mya Moore, Asia Durr, and Kia Nurse. In short, I make sure our athletes are getting our products, loving our products, and if not, that feedback is being communicated to our brand and team members. My responsibility is to ensure communication is fluid.
We have the understanding that we want our players to succeed on and off the court. We want to make sure we are marketing to their fans and our consumers as well. I love being that liaison, and as our women's line continues to build, being a contributor and authenticator of our apparel is another thing I do with the brand.
We've been peaking at your Instagram and love your latest protective style. Tell us about your favorite go-to hairstyles.  
I feel like I have a plethora of hairstylists, but for this install, I worked with Tiffany Tiff and she's one of my favorite hair braiders here in Charlotte. I like to bounce around and change my hair as much as possible. It's a reflection of my mood and how I'm feeling. I can go from straight hair to short hair, to an afro-puff, and back to braids. I love having the ability to switch up and change styles

We have to know, what's your favorite Jordan Silhouette? 
That answer changes a lot. It's a tie between the 1's since they're the first ones and the foundation for the Jordan brand within itself, but I also love 11's. Those are typically my go-to silhouettes.
What is your favorite thing about being a new mom? 
I love seeing how much he is changing and evolving every day. Being able to pinpoint like, 'Oh, that's me.' He's one and he already does this laugh where one of his eyes squints smaller than the other. It's like, 'OMG, I do the same thing' and just seeing how much of you is poured into your child. How much of my fiancé is in him, and how much is just uniquely his own. It's like a new thing every day. I'm enjoying it because it helps me get a glimpse of what my parents saw too. Like my dad was able to pinpoint things like his laugh, and I've been told I'm practically him with a wig on. It just goes to show how love created a human being and that's beautiful. I think I'm going to love it even when he's 25 asking me for money.
Your father has been so much to so many people. What piece of advice has he given you that you in part the most? 
Just being authentic. That's the first thing that comes to mind when I think about the life lessons I've gotten from my father. He's always said that if you're yourself no one can take that from you. You don't have to live a lie because your truth is exactly that – it is the truth. That has been the root of anything and everything I do. Whether it's having interviews, posting on social media, or being a mom, I want to make sure that it's authentically me; that it's genuine.  I love being who I am. I love what I see in the mirror and it is something that I'm constantly building on a consistent basis. There's a lot of power in knowing who you are.
That foundation started with him and my mom. They made sure that they told me regularly, you are who you are, and you have to love that. And if you don't you need to adjust and change. But you gotta be yourself no matter what.
Speaking of your mom, she has an amazing personal style. 
Absolutely. My mom's style is a-1 and by far an inspiration for how I dress from time to time, no doubt.
Images provided by PR Werks 
For more information on Jasmine Jordan: