Is your hair in need of a moisturizing treatment? Well look no further because Congo's Lock & Twist Conkoction is a product that deserves a conversation.
This week, we're highlighting Congo Professional's Lock & Twist Curl is an easy-to-use product that contains natural ingredients such as mongongo and coconut oil. The two together could not be more of a perfect combo.
How to use: Apply a generous amount of the product to the root or new growth. Twist with your fingers or by using a small comb. We also recommend using the palm roll technique. The great thing about this product is that it is multi-functional depending on the style of your choice It works great not only on groomed twists but also locks too.
We love it so much we wanted to show you just how easy it is to use.
Congo Professional Perfecta Lock & Twist Conkoction is available in 4oz.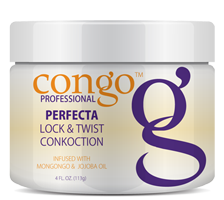 For more information and to purchase your Congo Professional products today, click here!