When powerful sister duo, Miko and Titi Branch collaborated in order to release a curly hair brand, it was pretty much history from there! Since 2004, the two have been able to use their expertise in order to provide beauties with curly, kinky, and wavy hair with products that are just too good for words. Today, their brand, Miss Jessie's has created a go-to line that is loved by many across the world – me being one of those people. For years, I struggled finding products that catered to my hair type. I have naturally wavy hair that can take a great amount of product but let me not confuse you. Just because my hair can take a lot of product does not mean it can take products that were not created specifically for my hair type. The brand inspired by their grandmother's curly hair product creations has quickly become one of my all-time favorites. If you've been following along my features then you know that I absolutely adore Miss Jessie's and well, I don't stand alone! I'm highlight three products I've been loving as of recently from the brand!
Today's SHEEN Review is dedicated to Miss Jessie's.

Miss Jessie's Harm Me Knot Gentle Sulfate-Free Shampoo, $14
I love a good cleanse of the hair and when I mean cleanse, I mean squeaky clean! I only wash my hair about once or twice a week and my hair has been loving this shampoo from Miss Jessie's. My hair is currently at the healthiest state it's ever been and I owe a lot to this shampoo. As mentioned before, my hair can take a lot of product but if I'm only washing the hair once or twice a week, then you can imagine how much build up I have. I love that this shampoo does not leave residue on the hair. It has worked wonders for my dandruff as well! My hair is always so clean and soft after shampooing it with this product.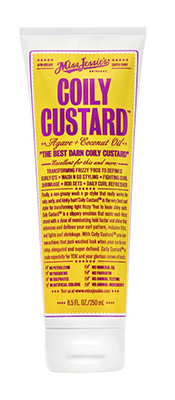 Miss Jessie's Coily Custard, $14
I swore by the hair gel that I was using for over five years until I found this goodie. It has a great amount of moisture to it which I love because who loves dry curls? I love that it enhances the curls and waves in my hair without mkaing it crunchy. It always makes my hair so bouncy – which I never knew my hair could do.

Miss Jessie's Pillow Soft Curls, $22
For starters, I am absolutely obsessed with how this product smells. I swear by this product not only for my curls but I love that it is super affordable. It's a great example that your curls can be enhanced without having to spend a fortune and/or the use of multiple products. It does not weigh the hair down, which is a huge must for me. I have experienced a lot of damage to my hair due to the amount of heat I put on my hair but this product always makes my curls fluffy, voluminous, and moisturized as if it has never experienced a damaged state.
For more products from Miss Jessie's, click here.
All images obtained from Miss Jessie's official website